More than 50 Isis fighters have been killed by coalition air strikes in Syria, the US Army claims, although monitors claim only civilians were hit.
Major Curtis Kellogg, a spokesperson for Central Command , said there were no civilians near the village of Birmehli when fighter jets struck overnight on Thursday.
At least 50 Isis fighters were among the casualties, he said, but Centcom had "no indication that any civilians were killed".
"Prior to the air strikes, Kurdish forces, who held the town before leaving after being attacked by ISIL (Isis), reported there were no civilians present in that location and that there had not been any civilians present for two weeks prior to the coalition air strikes," Major Kellogg added.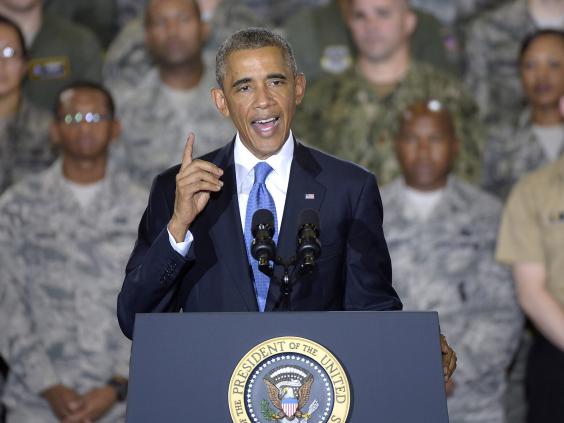 "We have significant mitigation measures in place within the targeting process and during the conduct of operations to reduce the potential risks of collateral damage and civilian casualties.
"We work extremely hard to be precise in the application of our air strikes and take all allegations of civilian casualties very seriously."
The Syrian Observatory for Human Rights maintained that not one Isis fighter had been killed in what it branded a "massacre".
In its own count based on evidence from activists on the ground, it listed the death of 64 civilians 64 civilians including 31 children under the age of 16 and 19 women.
Rami Abdulrahman, who founded the UK-based group, said families were sleeping in their homes as the planes struck, reportedly after a procession of Isis vehicles passed through.
"The US should admit responsibility and investigate who gave them the wrong information," he told The Independent.
"We have names, ages, pictures, videos, everything…how do they know it was Isis fighters that were killed? Did (the Americans) go down and count?"
The Observatory recorded a separate strike in the same region that night that killed several Isis fighters.
Confirming claims of civilian deaths in Syria is difficult as journalists have been targeted by insurgent groups and warring factions are often reluctant to admit losses.
The Kurdish militia, which goes by the name of the People's Protection Units or YPG, maintained that there were no civilians in the area targeted on Thursday night.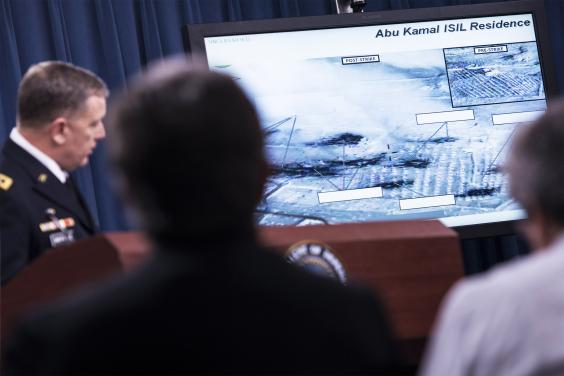 Shorsh Hassan, a spokesperson for the group, told the Associated Press that Birmehli had been emptied of civilians before fighting began between Kurds and Isis.
However, Salem al-Meslet, a spokesperson for the Western-backed Syrian National Coalition, said it appeared the air strikes had most likely killed civilians.
"Available information from activists on the ground, and the fact that the US-led coalition has conducted air strikes in the area, lend credence to reports that it was a US-led coalition that caused the civilian casualties," he added.
Lying on the eastern banks of the Euphrates River in Aleppo province, Birmehli is close to the front lines where Isis militants have been clashing with Kurdish fighters and rival rebels.
The so-called Islamic State controls vast areas of Aleppo and is fighting the Syrian and Iraqi armies as well as other militant groups to seize more of the region.
US-led strikes are thought to have killed more than 2,000 Isis fighters since the campaign began last year.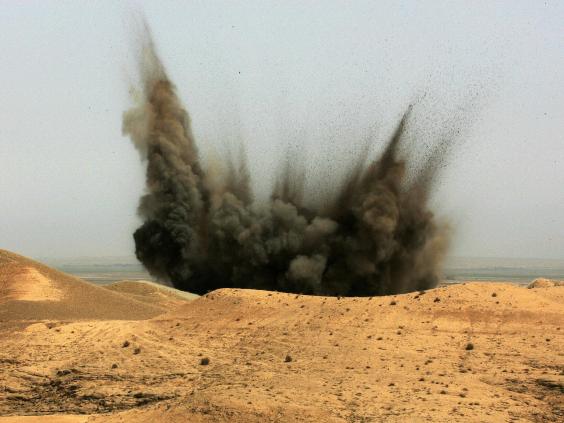 The number of civilians killed could not be confirmed but observers claimed as many as a dozen died on 23 September last year when a Tomahawk missile struck the village of Kafr Daryan in Syria's Idlib province.
The village was reported to be a Jabhat al-Nusra stronghold and US officials believed members of the Khorasan group were plotting attacks against international aircraft.
But at a House Foreign Affairs Committee briefing afterwards, Syrian rebel commanders described women and children being hauled from the rubble after a home for displaced civilians was destroyed.
Images of badly injured children appeared on YouTube, helping to fuel anti-US protests in a number of Syrian villages.
A US Central Command spokesman said at the time that it had seen "no evidence to corroborate claims of civilian casualties".
Britain has not joined air strikes in Syria but is targeting the group in Iraq following a request for help from the government.
Washington and its allies say their aim is to support "moderate" rebels fighting against both Syrian President Bashar al-Assad and Isis.
Analysts have disagreed on the impact operations by the United States, Bahrain, Jordan, Qatar, Saudi Arabia and the United Arab Emirates have had against Isis and other extremists in Syria.
Militants' advances appear to have been slowed but Isis' power in its strongholds has not been substantially weakened.
Government forces have also seen a series of setbacks on the battlefield recently and Islamist fighters have edged closer to Assad's costal stronghold by capturing parts of Idlib.