A Belgian militant had a medical note saying he had back pain and would not join the battle. A fighter from France claimed he wanted to leave Iraq to carry out a suicide attack at home. Several requested transfers to Syria. Others just simply refused to fight.
The documents on 14 "problem" fighters from the Tariq Bin Ziyad battalion – made up largely of foreigners – were found by Iraqi forces after they took over an Isis base in a neighbourhood of Mosul last month.
At its peak, Isis drew thousands of recruits each month and controlled about a third of Iraq's territory, and the foreigners who poured in from dozens of countries have been characterised as the most die-hard fighters. But the group has steadily lost ground and appeal.
The militants are now besieged in the western half of Mosul, once the biggest city Isis controlled and the heart of its self-proclaimed caliphate. But the group's losses have triggered concerns in Europe that disillusioned fighters might find their way home.
"He doesn't want to fight, wants to return to France," said the notes on a 24-year-old listed as a French resident of Algerian descent. "Claims his will is a martyrdom operation in France. Claims sick but doesn't have a medical report."
He was one of five fighters in the file listed as having French residency, or as originally from France.
More citizens from France have joined Isis than from any other country in Europe since 2011, when Syria's popular uprising against President Bashar al-Assad turned violent and fuelled the rise of extremist groups.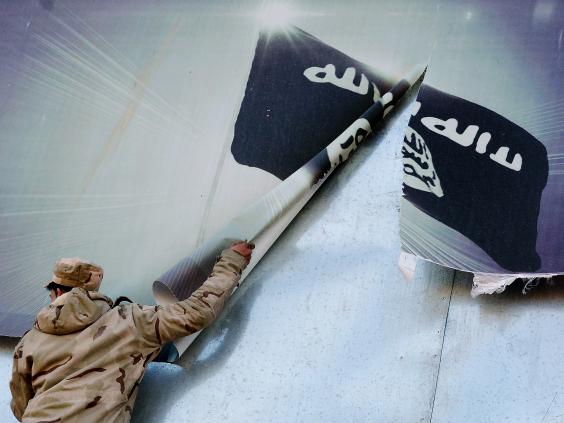 The French government reported a sharp decrease in the number of its citizens travelling to Syria and Iraq to join the group in the first half of 2016 but said that nearly 700 still remain there, including 275 women and 17 minors.
The forms in the file are marked with the year 2015 but appear to have been filled out later as they specify the dates that some of the militants joined, which stretch into 2016.
In addition to each militant's name, country of origin, country of residency, date of birth, blood type and weapons specialties, the documents list the number of wives, children and "slave girls" each had. A photo is also included. It was not possibly to verify the personal information, but Iraqi officers who found the file said they believe it is genuine.
Two men from Kosovo refused to fight and asked to move to Syria. One said he had head pain.
Of the more than 4,000 foreign fighters who have left European Union nations for Iraq and Syria, around a third have returned, according to a report from The Hague-based International Centre for Counter-Terrorism. About 14 per cent have been confirmed dead, while the rest remain overseas or their whereabouts are unknown.
"People say that they are the most motivated, but there are plenty of foreign fighters that went and found that the Isis experience wasn't what they thought it would be; they thought it would be a great adventure," said Aymenn al-Timimi, an analyst specialising in militant groups who has compiled an online database of Isis documents, some of which indicate similar issues of morale.
The organisation keeps meticulous records, leaving clues to its inner workings as the fighters are ejected from territory.
Iraqi counter-terrorism forces discovered the documents in a house in Mosul's Al Andalus neighbourhood that was being used as an administrative base for the Tariq Bin Ziyad battalion.
The militants were seen removing documents and computers from the building, according to neighbours, before they set fire to the building as Iraqi forces retook the area, said Lt-Col Muhanad al-Tamimi, whose unit found the documents unscathed in a desk drawer.
"Those foreign fighters are the most furious fighters we ever fought against," he said. "When those fighters refuse to fight it means that they've realised this organisation is fake Islam and not the one they came for."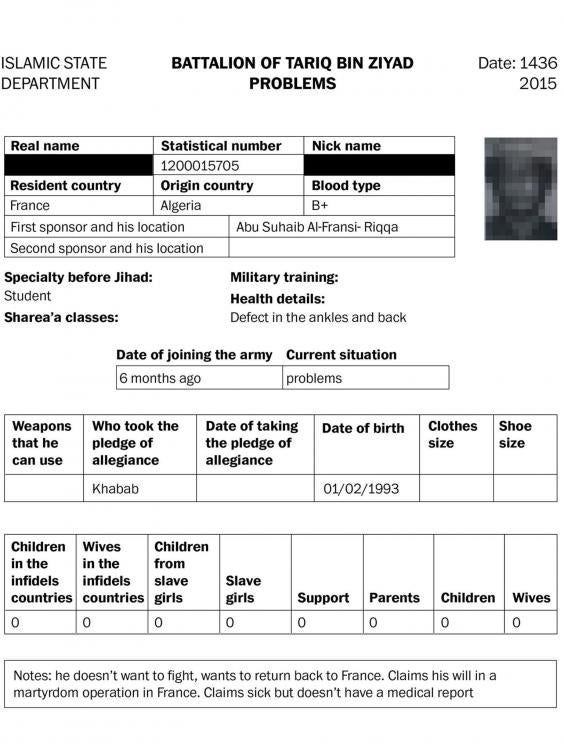 Iraqi troops faced a barrage of suicide car bombs and fierce resistance during the first month of their operations to retake Mosul last year. However, after pausing to reorganise, the forces have made rapid progress on the eastern side of the city this year.
Late last month, Prime Minister Haider al-Abadi said his forces had recaptured all neighbourhoods of Mosul east of the Tigris river and that Isis militants had "collapsed quickly".
Edwin Bakker, a research fellow at the International Centre for Counter-Terrorism and a professor of counter-terrorism at Leiden University in the Netherlands, said that fighters from Western European countries are largely known to intelligence agencies, but that there is less information on those from countries such as Bosnia and Kosovo.
World news in pictures
World news in pictures
1/29 23 March 2017

The Brandenburg Gate is illuminated with the colours of the British flag to show solidarity with the victims of the recent attack in London, in Berlin, Germany

Reuters

2/29 21 March 2017

A Nepalese woman carries a metal container locally known as 'gagri' containing fresh water during the early morning one day before World Water Day in Bhakatpur, Nepal

EPA

3/29 21 March 2017

World Water Day is held annually on 22 March as a means of focusing attention on the importance of freshwater and advocating for the sustainable management of freshwater resources

EPA

4/29 21 March 2017

Filipino fishermen arrange a fishing net next to a sewage pipe at a fishing village in the town of Bacoor, Cavite province, Philippines

EPA

5/29 20 March 2017

High-rise buildings are partly covered by heavy fog at Hong Kong's Victoria Harbour

AP

6/29 20 March 2017

Libyan fishermen rescue migrants from a sinking dinghy off the Libyan coastal town of Zawiyah, east of the capital, as they attempted to cross from the Mediterranean to Europe

Getty Images

7/29 20 March 2017

Migrants wait to be rescued from a sinking dingey off the Libyan coastal town of Zawiyah, east of the capital

Getty Images

8/29 19 March 2017

Lebanese activists from the Civilian motionless, and from various parties wave national flags during a protest against new high taxes in front of the Lebanese government palace in Beirut , Lebanon

EPA

9/29 19 March 2017

People march to protest the regional Catalan government's push to break away from the rest of Spain, in Barcelona, Spain

AP

10/29 19 March 2017

An activist lays half-naked with fake blood in a cage during a protest for animal rights, against the suffering and murdering of animals and against animal testing in Athens, Greece

EPA

11/29 18 March 2017

Passengers wait at Orly airport southern terminal after a shooting incident near Paris, France

Reuters

12/29 16 March 2017

Wearing Coyote masks and business suits and waving signs against Canada Goose and their use of fur, PETA members gather outside the New York Stock Exchange

Getty Images

13/29 16 March 2017

View of the Tocqueville high school after a shooting has taken place injuring at least eight people, in Grasse, southern France

Reuters

14/29 16 March 2017

Suspects with their hands tied in plastic straps walk past residents during a raid by the Philippine Drug Enforcement Agency (PDEA) at an informal settlers' area inside a public cemetery in Manila

Getty Images

15/29 16 March 2017

A SpaceX Falcon 9 rocket launches from Kennedy Space Center, over Cocoa Beach and Cape Canaveral skyline in Florida

AP

16/29 16 March 2017

French Police officers secure the scene near the Paris offices of the International Monetary Fund (IMF) in Paris, after a letter bomb exploded in the premises

Getty Images

17/29 16 March 2017

A man poses as crying firebrand anti-Islam lawmaker Geert Wilders during a small demonstration outside parliament in The Hague, Netherlands

AP

18/29 15 March 2017

Acting Assistant Attorney General Mary McCord, speaks during a news conference at the Justice Department in Washington

AP

19/29 14 March 2017

A four-month-old Syrian baby receives treatment at a make-shift hospital following reported air strikes in the rebel-held district of Barzeh, on the north-eastern outskirts of the capital Damascus

Getty Images

20/29 14 March 2017

Miguel Angel Munoz faces a 25-year prison sentence for the alleged murder in 2015 of the US tourist Denise Pikka Thiem, who was hiking the Santiago pilgrim trail

Getty Images

21/29 14 March 2017

Malaysian censors have reportedly cut out a 'gay moment' in the Disney film 'Beauty and the Beast' before agreeing to its release in the Muslim-majority nation

Getty Images

22/29 14 March 2017

Tibetan spiritual leader the Dalai Lama sits on his ceremonial chair during a religious talk at the Tsuglakhang temple in Dharmsala, India

AP

23/29 14 March 2017

Members of the Iraqi forces prepare to fly a drone armed with grenades in the fight against Islamic State (IS) group jihadists in the northern Iraqi city of Mosul

Getty Images

24/29 14 March 2017

A member of the Iraqi forces carries two grenades carrying feathers, which are to be fired from a drone in the fight against Islamic State (IS) group jihadists in the northern Iraqi city of Mosul

Getty Images

25/29 13 March 2017

Members of the Iraqi forces advance towards the Old City in western Mosul, during an offensive to retake the city from Islamic State (IS) group fighters

Getty Images

26/29 13 March 2017

US President Donald J. Trump holds up a note and drawing depicting him that was created by the child of Greg Knox of Ohio, during a meeting on healthcare in the Roosevelt Room of the White House in Washington, DC

EPA

27/29 13 March 2017

Relatives hold up placards with pictures of victims as they gather in commemoration on the first anniversary of the March 13 terror attack at the former site of the bombing in central Ankara

Getty Images

28/29 12 March 2017

People celebrate Holi festival at a temple in Vrindavan, Uttar Pradesh, India

Rex

29/29 12 March 2017

A Sadhu or Hindu holy man with his face smeared with powdered colours looks on during Holi festival celebrations at Sri Laxmi Narayan Temple in Amritsar, India

EPA
With open borders in Europe, these fighters might return home and stage attacks on the continent, he said. But warnings of a "tsunami" of returning foreign fighters are exaggerated, he said.
"We shouldn't underestimate the numbers that have gone to live there and die there," he added.
Another 30-year-old French national in the file is noted as having been "involved in the departure of Abu Azzam al-Fransi and his wife from the land of the caliphate". "Fransi" indicates that the fighter he helped leave was also from France.
Lt-Gen Abdul Ghani al-Assadi, commander of Iraq's counter-terrorism forces, said there are many foreign fighters in Mosul, and that foreign suicide bombers have been responsible for many of the 350 car bombs launched toward their lines.
In one Isis headquarters in the Dhubat neighbourhood of Mosul, his forces found a stash of passports – 16 Russian and four French. There were also 20 blank Iraqi passports taken from Mosul's passport department, he said, speculating that the militants are forging them to be able to leave the country.
Despite the recent rapid advances in eastern Mosul, Iraqi generals still expect a bloody fight ahead. The western side of the city, home to 750,000 civilians, is surrounded by Iraqi forces and the Isis members still there will have little choice but to fight or die.
"There are still a lot of people that are motivated," Bakker said. "The majority is there to fight."
© The Washington Post