Isis has littered the ground around its largest known mass grave with land mines aiming to kill investigators documenting the terrorist group's atrocities as it continues to lose territory in Iraq.
Shifa Gardi, a Kurdish journalist for Rudaw television, was conducting an interview on the edge of the sinkhole near Mosul when she was killed in an explosion on Saturday.
The network said the Popular Mobilisation Forces commander she was speaking to walked into a wire that triggered the buried device, which killed him, Ms Gardi and four other fighters, while injuring several others.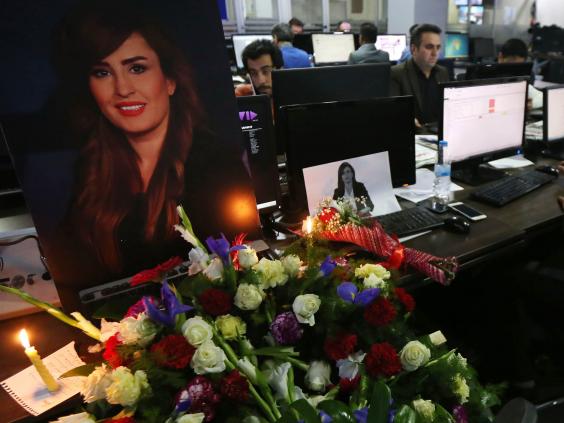 Sources believe soldiers led the 30-year-old news anchor off a path known to be safe, in an area that had previously been off limits to journalists and guarded by a federal police checkpoint.
The natural sinkhole, known locally as the "khasfah", was gruesomely repurposed by Isis during its brutal three-year rule over the area to become an execution site and grave for up to 4,000 bodies.
It lies outside the village of al-Athba, around 12 miles south of Mosul, which was recently freed from Isis by forces advancing towards the terrorist group's last major Iraqi stronghold. 
Journalists, de-mining experts and international observers following in their wake are investigating the site, which is the largest Isis mass grave yet discovered as increasing evidence of the jihadis' atrocities is revealed by their retreat.
Human Rights Watch (HRW) has been documenting activity at the khasfah using satellite images, which showed the natural sinkhole being filled with earth between March and June 2015.
Belkis Wille, a senior Iraq researcher for HRW, said families of victims killed or buried at the site claimed it contained around 4,000 bodies.
Most were said to be prisoners taken to the site and shot, while locals also reported Yazidi men being locked inside a bus and pushed over the edge.
"I don't know of any other mass graves in Iraq that come anywhere near that," she told The Independent.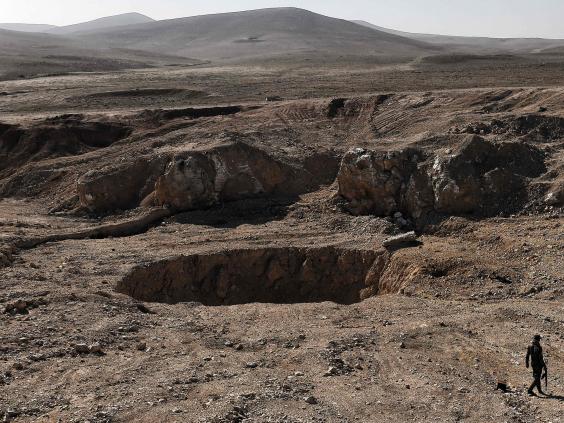 Even after losing control of the killing ground, Isis is still attempting to inflict death and destruction on those who visit by planting countless mines in the surrounding earth.
"I think the notion is that these are sites where once the area gets retaken, security forces and foreign journalists are likely to rush there," Ms Wille said. 
"This is just another way of maximising causalities…it's really grim."
Isis' homemade landmines were previously found at another mass grave discovered in November, near Hammam al-Alil, where around 100 decapitated bodies were uncovered.
Ms Wille said there were "serious concerns" about other mass graves in Iraq being rigged with explosives as de-mining agencies are overwhelmed attempting to make liberated towns and cities safe for returning civilians.
Isis is known to use a chilling array of methods to disguise its improvised explosive devices (IEDs), which have been found concealed inside household devices including teddy bears and toy cars.
Footage taken by Turkish-backed rebels who recently drove Isis out of the Syrian city of al-Bab appeared to show a factory manufacturing IEDs built into polystyrene blocks modelled to resemble rocks.
Among the groups working to remove the devices is the UK-based Mines Advisory Group (MAG), which has called for increased international efforts to address the "landmine emergency" in Iraq.
Sean Sutton, a spokesperson for MAG, said the scale of explosives left by retreating Isis fighters was "unprecedented", with more than 1,000 devices found in a single village.
In pictures: Isis' weapons factories
In pictures: Isis' weapons factories
1/11

A mortar round fin manufactured by Isis in Gogjali, Mosul, November 2016

Conflict Armament Research

2/11

Isis rocket components discovered in Gogjali, Mosul, Iraq in November 2016

Conflict Armament Research

3/11

Isis mortars discovered near Karamlais, Iraq, in November 2016

CAR

4/11

An Isis rocket launch frame in Qaraqosh, November 2016

Conflict Armament Research

5/11

A memo from Isis' COSQC on quality control at a manufacturing facility in Gogjali, Mosul, November 2016

Conflict Armament Research

6/11

Electrically-operated initiators manufactured by Isis in forces Gogjali, Mosul, November 2016

Conflict Armament Research

7/11

Isis mortar tubes at a manufacturing facility in Karamlais, November 2016

Conflict Armament Research

8/11

An Isis mortar production facility discovered in Gogjali, Mosul, in November 2016

Conflict Armament Research

9/11

An Isis weapons manufacturing facilities near Mosul in November 2016

Conflict Armament Research

10/11

Stocks of French-manufactured Sorbitol, Latvian potassium nitrate and Lebanese sugar at an Isis weapons factory in Iraq

Conflict Armament Research

11/11

A destroyed Isis weapons facility in Qaraqosh, Iraq, November 2016

Conflict Armament Research
"It's a race against time," he told The Independent. "We don't actually know how many people have died because there's no system for that kind of data, but we know it's horrendous."
MAG researchers have uncovered Isis minefields running through villages and acting as barriers around extremists' territory, with explosives ranged across areas up to 10 miles long and five mines deep.
Military mines used in the past by conventional armies are frequently built to be triggered by tanks or heavy weaponry, but the weight of a child can set off Isis' IEDs.
Mr Sutton said they are constructed using the group's homemade explosives, which are around half as powerful as their commercial equivalents but cheap to manufacture and used in huge quantities.
"Around 100g of explosive is enough to disable someone or to blow off their foot, whereas the smallest ones we've found are 6kg," he added, saying MAG had found mines weighing up to 1.5 tonnes.
"The devastation from these explosions when they go off is extraordinary."
Isis is believed to have been preparing its defences for several years, carefully maintaining killing fields mined with a mix of devices using long-lasting batteries or mechanical detonators waiting to be triggered by concealed pressure pads.
Thousands of mines have been cleared so far but many more await Iraqi government forces continuing the advance on western Mosul, as thousands of families displaced by the fighting start to return home.
US-backed units took control of the last major road leading out of the city in an effort to cut off Isis fighters' escape on Wednesday, amid mounting concern for up to 750,000 civilians trapped alongside them.

Reuse content