Isis has published a propaganda "letter" from beheaded American journalist Steven Sotloff to his family more than a month after his murder.
The message, apparently sent to his mother days before his death, has appeared in the terrorist group's English language magazine Dabiq.
The fourth issue, called The Failed Crusade, had a faked image of the black flag flying in the Vatican City on the cover and also included a message claiming to be from British hostage John Cantlie.
Militants appear to be attempting to characterise the US-led effort to stop its bloody advance in Iraq and Syria as a religious war akin to the Crusades and boasted of massacres and the enslavement of Yazidi women and children.
The article on Mr Sotloff's "letter" claimed he was killed "in retaliation for the numerous Muslims killed in Iraq by the US American air strikes".
"Below you will read the message sent from Steven Sotloff to his mother days before his execution," an introduction to the letter reads.
"Again, his killing was in consequence of US arrogance and transgression which all US citizens are responsible for as they are represented by the government they have elected, approved of, and supported, through votes, polls, and taxes."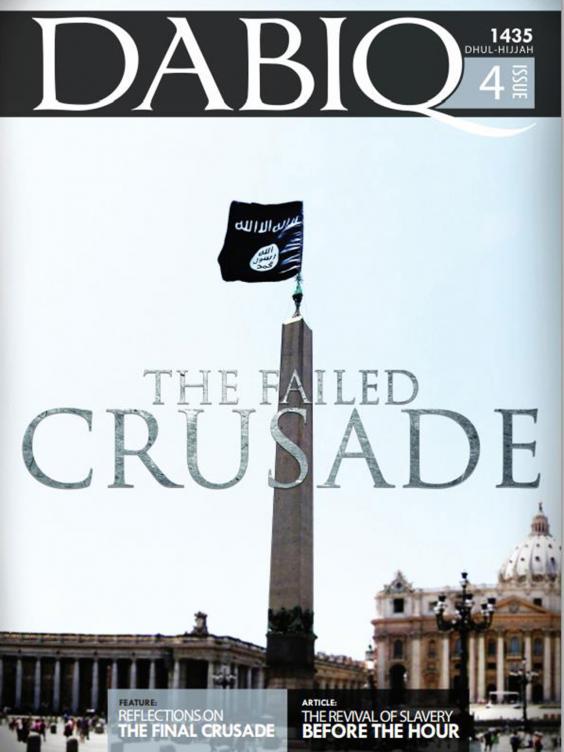 The letter, which was at the very least written under duress and edited and may not have had any involvement by Mr Sotloff at all, was addressed to his mother.
"Beseeching the Caliphate to spare my life will not help either of us, as the matter is in Obama's next judgment," it said.
"Mom, please don't let Obama kill me."
He was the second hostage to be beheaded by Isis in a video that emerged on 3 September.
The 31-year-old, from Miami, had been kidnapped near Aleppo in August last year while trying to cross the Syrian border from Turkey while working as a freelance reporter.
Passages from two letters apparently written by Mr Sotloff during his captivity that had been smuggled out of Syria were read at his funeral.
"Everyone has two lives. A second one begins when you realise you only have one," one said. "Hug each other every day. Please know I am okay. Live your lives to the fullest and pray to be happy."
In pictures: Steven Sotloff
In pictures: Steven Sotloff
1/7 Steven Sotloff

Steven Sotloff inside Al-Fateh Mosque in Manama, Bahrain, in 2010

EPA

2/7 Steven Sotloff

Journalist Steven Sotloff, left, pictured in Libya in 2011

Getty Images

3/7 Steven Sotloff

Steven Sotloff pictured in 2010 near Lulu Roundabout in Manama, which later became the iconic center for the 2011 pro-reform protests in Bahrain

EPA

4/7 Steven Sotloff

Journalist Steven Sotloff pictured in Egypt

5/7 Steven Sotloff

Media gather outside Steven Sotloff's family home in Pinecrest, Florida

AP

6/7 Steven Sotloff

Shirley Sotloff during a recent appeal to the captors of her son

AP

7/7 Steven Sotloff

Pinecrest police officers are positioned at the home of Arthur B. Sotloff and Shirley Sotloff, the parents of American freelance journalist Steven Sotloff, in Pinecrest, Florida
Here is the unedited "letter" published by Isis in full.
Reuse content