Shia militiamen will now attempt to block the road to Baghdad after Isis fighters defeated elite units of the Iraqi armed forces and captured the city of Ramadi, 70 miles west of the capital.
The fall of Ramadi is the worst military disaster suffered by the Iraqi government since it lost the north of Iraq to an Isis offensive almost a year ago. One local councillor in Ramadi described the situation as "total collapse".
Burnt bodies litter the streets and there are reports of massacres of policemen and tribesmen opposed to the self-proclaimed "Islamic State".
Fall of Ramadi
Fall of Ramadi
1/17 Fall of Ramadi

A displaced Iraqi Sunni man pushes an elderly woman in a wheelchair on the outskirts of Baghdad.

Reuters

2/17 Fall of Ramadi

An Iraqi family, who fled the city of Ramadi after it was seized by Islamic State (IS) group militants, gathers inside a tent at a camp housing displaced families.

AFP

3/17 Fall of Ramadi

Displaced Iraqis from Ramadi.

AP

4/17 Fall of Ramadi

Iraqi fighters of the Shiite militia Asaib Ahl al-Haq (The League of the Righteous) stand guard outside their headquarters

AFP

5/17 Fall of Ramadi

Iraqis fleeing from their hometown of Ramadi walk on a street near the Bzebiz bridge, 65 kilometers (40 miles) west of Baghdad.

AP

6/17 Fall of Ramadi

Iraqi Sunni tribal leaders demand Prime Minister Haider al-Abadi to send forces to protect their city and regain Ramadi shortly after Iraqi security forces withdraw from the city.

AFP

7/17 Fall of Ramadi

Displaced Iraqis from Ramadi rest before crossing the Bzebiz bridge after spending the night walking towards Baghdad.

AP

8/17 Fall of Ramadi

Ramadi, after fighting on Friday, was one of the army's few strongholds

Reuters

9/17 Fall of Ramadi

Iraqi security forces withdraw from the Anbar state capital, Ramadi, in defeat on Sunday, 17 May (AP)

AP

10/17 Fall of Ramadi

Iraqis fleeing from their hometown of Ramadi walk on a street near the Bzebiz bridge, 65 kilometers (40 miles) west of Baghdad

AP

11/17 Fall of Ramadi

130,000 remaining inhabitants of Ramadi, an overwhelmingly Sunni city, have fled the fighting (AP)

AP

12/17 Fall of Ramadi

Thousands of civilians fled the Isis advance in Ramadi

AP

13/17 Fall of Ramadi

Iraq security forces were seen fleeing from Ramadi, the capital of Iraq's Anbar province

AP

14/17 Fall of Ramadi

Civilian belongings can be seen in an abandoned truck during fighting in Ramadi

Reuters

15/17 Fall of Ramadi

Isis led its renewed assault on Ramadi with suicide car bombs on Friday

Reuters

16/17 Fall of Ramadi

The last remaining Iraqi security forces defending their headquarters against Isis in the eastern part of Ramadi on 14 May

Reuters

17/17 Fall of Ramadi

Civilians fled Ramadi as Isis advanced earlier in May.

Reuters
Armoured vehicles belonging to the Iraqi army's so-called "Golden Division", considered its best unit, could be seen streaming out of Ramadi in a retreat that looked, at times, as if it had turned into a rout. Heavy equipment, including armoured Humvees and artillery, was abandoned.
Some 500 soldiers and civilians have been killed in fighting in Ramadi over the past few days as Isis closed in on the remaining government outposts, suicide bombers destroying fortifications by ramming them with vehicles packed with explosives.
Around 25,000 people who lived in Ramadi have fled, though they have had difficulty getting past army and militia checkpoints in Baghdad where displaced Sunni are suspected of being Isis sympathisers. Omar, a journalist from Ramadi, told The Independent that Isis fighters regard the majority of people in Ramadi as hostile to them and were telling them: "Get out! We don't need you!"
He blamed the fall of his city on the failure of Baghdad to send military aid. "For a year-and-a-half we have been calling for help from Baghdad," he said.
The fall of Ramadi may turn out to be a decisive event, changing the political and military landscape of Iraq and Syria. In some respects, it is a worst defeat for the Iraqi government than the capture of the northern Iraqi city of Mosul in a surprise Isis attack last year.
The Isis pressure on Ramadi has been ongoing since April and a further assault was fully expected. Moreover, the garrison of the city consisted of some of the best troops in the Iraqi army and they were supported by US air strikes.
US generals have been downplaying the extent of the calamity, but the US policy of rebuilding the Iraqi army and aiding it with US air power is in ruins.
The Baghdad government now has little choice but to deploy the Hashd Shaabi, the Shia paramilitaries which the US sees as being under Iranian influence and has not wanted to see in the frontline fighting in Sunni areas like Ramadi, the capital of the giant Anbar province.
The latest victory of Isis, which had been portrayed inside and outside Iraq as having lost momentum since a run of victories between June and October last year, will strengthen its appeal to Sunni people as a winner.
It is already causing dismay among the opponents of the Sunni jihadists who had hoped that the military situation had stabilised and Isis was on the retreat.
Isis lost Tikrit, the home town of Saddam Hussein, earlier this year and failed to take the Syrian Kurdish town of Kobani in a 134-day siege despite suffering heavy losses.
Fuad Hussein, chief of staff to President Massoud Barzani, the Kurdish leader, said he was concerned at what the fall of Ramadi meant for the Kurdish region and the rest of Iraq. He was particularly worried that Isis would follow up its latest victory by attacks on the vast Iraqi army base at al-Assad, which is full of weapons, as well as the Haditha Dam that controls the water level of the Euphrates.
Isis has been fighting for Ramadi since early 2014 when it took over much of Anbar province, including the city of Fallujah. Five Iraqi army divisions were unable regain the province, but government forces still held on to the central administrative complex in Ramadi. After a carefully planned assault that began on Thursday, the last pockets of government resistance were eliminated on Sunday with an attack on the Malaab district of south Ramadi.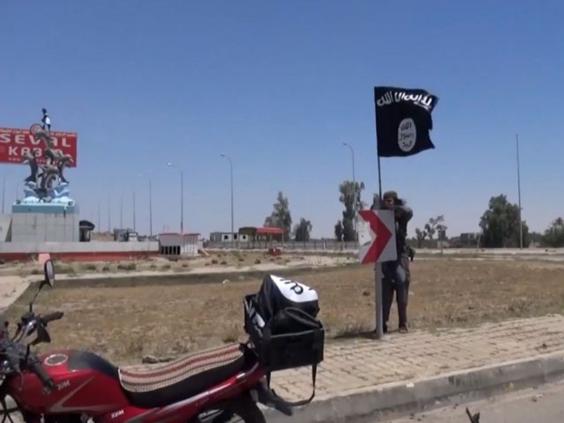 Four suicide bombers killed at least 10 police and wounded 15, including Colonel Muthana al-Jabri, the chief of the Malaab police station. Later in the day, three suicide bombers drove cars packed with explosives into the gate of the Anbar Operation Command, the military headquarters for Anbar province, killing a further five soldiers and wounding 12.
A police officer who was stationed at the headquarters said retreating troops left behind about 30 army vehicles and weapons that included artillery and assault rifles. The best Iraqi military units such as the Golden Division and Swat forces number perhaps 5,000 men and have been rushed from crisis point to crisis point over the past year and are reported to be suffering from desertions.
Iran has offered to aid the Baghdad government in its hour of need. A senior Iranian official said his country would provide any help necessary.
The US has conducted 19 air strikes in the vicinity of Ramadi in the last 72 hours. But the most crucial development could be comments from Ali al-Sarai, a spokesman for the Shia militia, Hashid Shaabi.
He told Reuters in Baghdad that "the Hashid has received the order to march forward, they will definitely take part. They were waiting for this order and now they have it". However, it is doubtful if the Hashid have the strength to recapture Ramadi.
Among senior Shia leaders in Baghdad there is a growing feeling that they have no choice but to look to Shia militias for their salvation, even if this angers the Americans and alienates the Sunnis.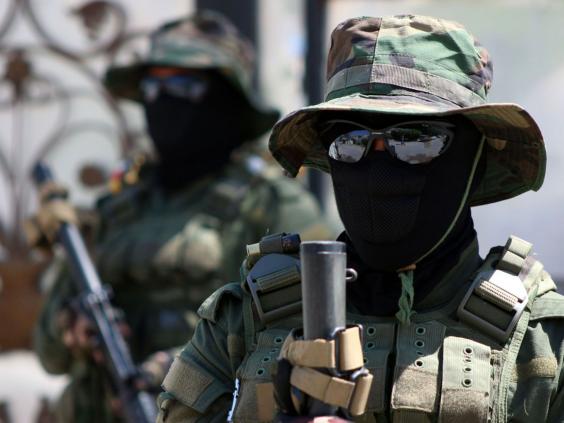 One former minister said: "I think there is growing pressure to throw away the straitjacket that the US has imposed on the government's relationship with the Hashid. It is pretty clear that they are the only fighting force that can confront Isis."
The US has said that Iranian-backed militias will be denied air support and intelligence.
After a series of setbacks, success at Ramadi will be welcome to Isis because it has portrayed its victories as proof of divine support.
It is in triumphant mood, saying that in Ramadi it has seized tanks and killed "dozens of apostates", while other police and soldiers are being urged via loudspeaker to throw away their weapons if they want to be shown mercy.
The defeat at Ramadi is likely to prove an important staging post in the break-up of Iraq because the Shia majority may decide they are getting very little from the Kurds or the anti-Isis Sunni politicians.
The former minister said that there is a perception among Shia at all levels that the Kurds should go their own way, but in that case should leave the central government.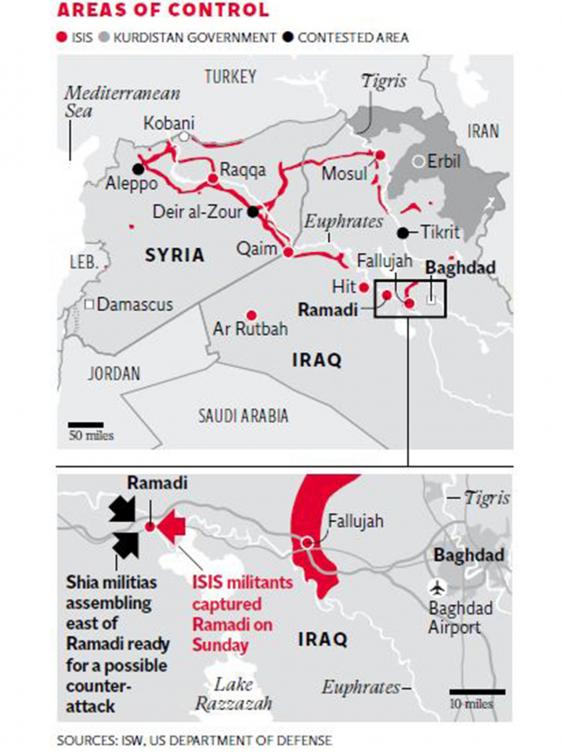 The Sunni leaders should "stand up and be counted" as active supporters of the government or be seen as covert enemies and supporters of Isis. Many Shia feel that the Sunni in the government have been having it both ways as theoretical opponents of Isis, but without giving real backing to the government and hampering its efforts to defend itself.
Three key battles in the war with Isis
Mosul
Isis seized Iraq's second city, Mosul, in  June last year. The city of 1.4 million people, garrisoned by a large Iraqi security force,  was captured with as few as 1,300  jihadists. A joint Iraqi-Kurdish military force of up to 25,000 fighters was reportedly being prepared to retake the Iraqi city this month before the defeat at Ramadi.
Kobani
Kurdish fighters drove Isis militants out of Kobani, in Syria near Turkey's border, in January, ending a four-month fight for the town. Kobani was seen as a major test of the US-led coalition's strategy to combat Isis in Syria with air strikes. The fighting forced thousands to flee across the border.
Tikrit
In late March, aided by Shia militia and US air strikes, Iraqi security forces retook Saddam Hussein's hometown of Tikrit after it fell to Isis last year. Tikrit, 90 miles north of Baghdad, was captured by Isis in June as they swept south from Mosul.