The little boy lying on the hospital bed, Ali, was three years old. He had not said a word since being dug out of the rubble three hours earlier. Sofia, aged six, was on the next bed; four members of her family – her parents and two brothers – had been killed the day before. She, too, was silent, her eyes beseeching, full of pain and incomprehension.
The bed after that was Yusuf's, aged seven, the most heavily bandaged of the three. He whispered that he was thirsty, tried to smile when given a glass of water and then turned his face to the wall.
Visitors came, one of them commiserated with Maha, sitting at Ali's bedside, about Ramadan al-Bakari. The girl started crying; she had not known that her brother, Ali's father, had died. I had seen the body, in parts, being carried out of the collapsed building a little earlier.
We left behind the ward, the frozen faces of the children, to step outside Shifa Hospital to breathe some fresh air only to remember that there is no real fresh air in Gaza, just a hot wind bringing a smell of burnt things.
That was my last visit to Shifa Hospital after a month in Gaza. Earlier, I had been to what was left of the Bakari home in Gaza City. A missile had landed six minutes after yet another ceasefire had been declared, this time by Israel, and six members of the family were missing, while seven were dead. There were the familiar recriminations after each side had accused the other of breaching the truce; Israeli and Palestinian delegations, meeting in Cairo, again threatened to walk out of the talks intended to bring the bloodbath to an end.
In the early evening we made our daily calls to get the body count. A little later, at the terrace of Al-Deira Hotel, a young Palestinian journalist described to me how he, too, had been at Shifa recording a report when a cousin was wheeled in, paralysed from the neck down. The 20-year-old had been walking near the Bakari's home when jagged shrapnel had come whistling through a narrow alley and sliced through his spinal cord.
The cousin was hopeful of getting a scholarship to study management in Germany. "He was desperate to get away from all the trouble here, now he won't even be able to walk again," the reporter said. It was, we agreed, very bad luck. The attack had taken place at al-Shati camp where, the previous week, there had been another attack, killing 11 people, 10 of them children. Hamas and the Israeli military had blamed each other for the deaths.
In pictures: Israel-Gaza conflict - summer 2014
In pictures: Israel-Gaza conflict - summer 2014
1/18 Israel-Gaza conflict

A Palestinian woman uses a piece of reebar she found amid the rubble, for support as she walks past destroyed homes in a street in Beit Hanun, northern Gaza

Getty Images

2/18 Israel-Gaza conflict

Palestinian men wait for their names to be called to receive a ration of food aid at a UN compound in Gaza City

Getty Images

3/18 Israel-Gaza conflict

Posters calling people to boycott Israeli products

Getty Images

4/18 Israel-Gaza conflict

Residents of a neighborhood in Gaza City gather to put out a fire at a soap factory moments after it was hit by an Israeli airstrike

5/18 Israel-Gaza conflict

A Palestinian, who was injured in clashes in the Gaza strip, is carried on a stretcher to an ambulance after the arrival of a group of injured Palestinians at Ankara's Esenboga airport

6/18 Israel-Gaza conflict

A Palestinian, who was injured in clashes in the Gaza strip, is carried on a stretcher to an ambulance after the arrival of a group of injured Palestinians at Ankara's Esenboga airport

7/18 Israel-Gaza conflict

Firefighters try to extinguish a fire that witnesses say was caused by an Israeli air strike in Gaza City. Israel has accepted a new Gaza ceasefire proposed by Egyptian mediators and will send negotiators to Cairo if the truce holds, Israeli officials said

8/18 Israel-Gaza conflict

Smoke from fires caused by Israeli strikes rises over Gaza City

9/18 Israel-Gaza conflict

People watch as a fire burns in a building that witnesses say was hit by an Israeli air strike in Gaza City

10/18 Israel-Gaza conflict

Palestinian fire fighters extinguish a blaze at a soap factory moments after it was hit by an Israeli airstrike

11/18 Israel-Gaza conflict

Palestinian firefighters try to put out the fire at a cleaning materials factory after it was hit by Israeli airstrike in Al-Meena neghbourhood in the west of Gaza City

12/18 Israel-Gaza conflict

Palestinians react as they put out a fire in an apartment which witnesses said was hit by an Israeli air strike in Beit Lahiya in the northern Gaza Strip

13/18 Israel-Gaza conflict

A relative kisses the body of Palestinian Nader Driss, whom medics said died of a gunshot wound by Israeli troops during clashes at a protest against the Israeli offensive in Gaza, during his funeral in the West Bank City of Hebron

14/18 Israel-Gaza conflict

Relatives of Palestinian woman Amani Baraka, whom medics said was killed in an Israeli air strike, mourn during her funeral in Khan Younis in the southern Gaza Strip

15/18 Israel-Gaza conflict

A Palestinian boy, whom medics said was wounded by Israeli shelling, is visited by members of a local aid society wearing costumes at a hospital in Gaza City

16/18 Israel-Gaza conflict

Jamal Doghmosh, a 48-year-old Palestinian mechanic who was injured in an Israeli air strike, recuperates at Shifa hospital in Gaza City. When Doghmosh woke up in hospital after the attack, he could not hear properly and found that three fingers from his right hand were also gone. He is one of thousands of Palestinians who have been left physically disabled by the conflict with Israel in the Gaza Strip

17/18 Israel-Gaza conflict

An injured Palestinian man from the Al-Elaa family sits inside his house after it was hit by an Israeli military strike in the Jabalia refugee camp, in the northern Gaza Strip

18/18 Israel-Gaza conflict

A view of the living room of the Okasha family house destroyed by an Israeli strike, in Jebaliya refugee camp, Gaza Strip. Two female members of the family were critically wounded in the strike
The human cost of the Gaza conflict has become an issue of impassioned debate. According to the UN, a total of 2,015 people have been killed so far: 1,402 civilians, 456 of them children, and 237 women. The injuries stand at 9,861. The Israeli military insist it has killed at least "253 Hamas operatives; 147 Islamic Jihad operatives; 65 operatives of various organisations; and 603 operatives whose affiliations are unknown". My colleagues and I were not in a position to analyse the exact make-up of the maimed and the dead with any degree of certainty. It was not possible to do so amid the maelstrom of bombs and missiles, buildings crumbling around us, the general chaos.
There has been much written and many pictures published of child casualties with inevitable impact in the outside world. Many of us there have covered conflicts before and witnessed acts of terrible violence in Afghanistan and Iraq, Syria, Libya, the Balkans and Africa. But in Gaza what kept some of us awake was not just the nightly explosions near our hotels, shaking the buildings, but knowing that there will be more maimed and dead babies the next day, the day after, and the day after that, an appalling and unrelenting cycle with the victims overwhelmingly the most vulnerable.
This grim pattern was set the first day I arrived in Gaza. Alla al-Masri was sitting on a metal bench in the corridor amid the tumult of Shifa Hospital, staring at the ground. He and his wife, Hanan, had craved a baby and Mariam came after years of IVF treatment. An only child, she was the apple of her parents' eyes and they had constantly cautioned her not to stray far from home. The girl, nine years old, was peppered by shrapnel as she played in the garden of the family home. "She was the centre of our life, she was the most precious thing in the world to us, we had waited so long for her," Masri, burying his face in his hands, said. "Now we don't know whether she will wake again."
On the same day we met another family, the Hamads, in Beit Hanoun, who had lost six members of their family, including three children. And over the next few weeks there were the Batsh with 18 family members killed, the abu Jarad, with eight, the Najjars, with 21, the abu-Jabrs, with 17... So it went on.
At the end I would have to ask my colleague and translator, Yasmine Dawaas, to remind me again which of the families we had met had lost how many, my questions sounding callous to my own ears. But it was proving difficult to keep track of such details as the lethal toll continued to rise.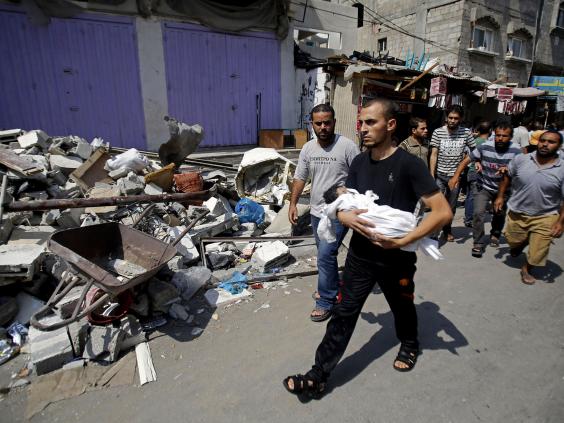 There was an intimacy to the violence, bringing home that Gaza is, as the name says, a strip, just 25 miles long and a few miles wide. Orders by the Israeli military to residents in a swathe of areas where military action would take place meant that 1.7 million people had been constrained to an even tighter killing ground.
Hussein al-Najjar was one of four survivors from his family. Among those who died were his 18-month-old daughter, Somiya, and his six-year-old son, Mowtaz. His wife, Rehan, who was eight-months pregnant, was from the abu-Jamaa family, 24 of whom were killed in nearby Khan Younis .
Dawaas, my translator, a 22-year-old studying to be a doctor, had spent a morning worrying about what had happened to a fellow student who, she had heard, had got caught in an air strike. On the same ward as Mariam al-Masri we chanced across Musab Dahir – both of his legs had been amputated along with his right arm.
A shopkeeper, Khalid Abdullah, was telling me on a Tuesday in Beit Lahiya how business was because of the war. I saw him at the Kamal Udwan Hospital on the Friday; his store had been bombed and he was visiting his 16-year-old son, Amr, who used to help with the work but was now in a critical condition. When I arrived at a UN school in Jabaliya, being used as a refugee shelter, after it had been hit by Israeli tank shells, a voice behind me said: "I told you that you would be back here." It was Mohamed, of the abu Jarad family. I had met him 10 days previously at the family funeral.
The death toll was topping 100 a day and with that came questions about Israel's targeting. The attacks would take place without warning, or there would be calls, texts or what has become known as the "knock on the roof" – a missile without a warhead, with five minutes to get out of the building. It was difficult to understand, or justify, the tactical or moral rationale in some of the strikes. On visiting the scenes of each, I would ask if there was anyone present who was a member of Hamas or Islamic Jihad. The answer, in almost all the cases, would be in the negative. We tried, where possible, to find out if this was true.
Tawfiq Abu Jamaa was at prayers when missiles destroyed his home and killed 24 members of his family. He was a policeman. Did that make him a legitimate target? I asked in my article. On my way out of Gaza, I met an Israeli official, whom I had known for a number of years, in Jerusalem. "What you did not know is that a Hamas member was visiting the house. Ahmad Suleiman Sahmoud, that was his name, he was seen to be going in," the official said. In that case, Sahmoud had obviously been tracked. Why then, wasn't he killed on the road? Why wait until he went to have dinner in a house full of women and children? The official said he was not privy to all the details.
The Israelis had always claimed that Hamas had stored weapons and fired them from populated areas. There is a degree of truth in that. The United Nations Relief and Works Agency for Palestine refugees (UNRWA) found rockets in schools, although they were unused at the time, not full of refugees. But there were also dozens of attacks on places where the Israelis failed to show military links. Some may have been based on faulty intelligence. After the bombing of the Mobarat Felestin Centre, a home for the disabled, in which two of the residents were killed and four others injured, there were claims that a member of Islamic Jihad had lived in the building. Jamilla Alaiwa, the 59‑year-old social worker who had founded the home, produced documents showing no one else, apart from the patients and their helpers, was living there.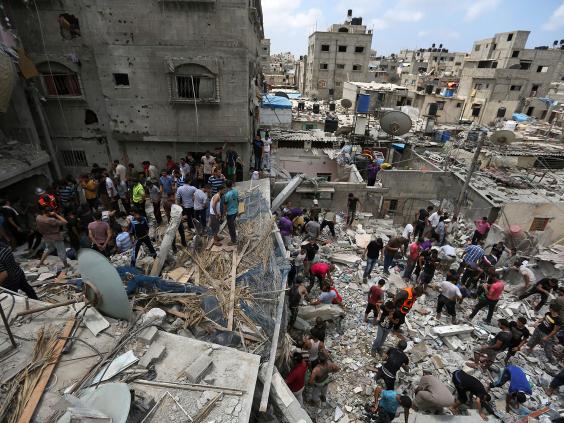 A charge laid by the Israeli government and some Israeli journalists was that the foreign media had deliberately avoided covering Hamas activities. This, I subsequently discovered, had become a persistent theme. I had only seen Hamas fighters fleetingly. One sighting was in the district of Shujaiya when a few took advantage of a limited ceasefire to escape along with residents. We saw two men carrying out what appeared to be a body wrapped in a shroud. On closer inspection they turned out to be fighters, in body armour, with a machine-gun wrapped in a sheet. I wrote about this. Similarly, I wrote of the possibility that the blast that killed 10 children may have been a misfiring Hamas rocket.
Some colleagues did, however, come under pressure. A television journalist had mentioned during a live broadcast that a missile that had whizzed past his hotel balcony was aimed at a nearby stretch of open ground from where Hamas had been firing rockets. He was subjected to vilification and threats on Palestinian social media. The journalist, who was brave, experienced and fair in his coverage, had been producing moving reports of the suffering of Gazans under the Israeli onslaught. This had led to his channel being vilified in Israel. Over a late-night shisha I pointed out the obvious: you are doing your job well if you are being attacked by both sides. It's a cliché, I know, but true.
As we were checking out of the hotel to leave Gaza, Mohamed, one of the staff, asked if we would like the same rooms again in two years when the Israelis come to smash the place up again. I said I sincerely hoped that this will not be the case. Mohamed's left hand had just come out of a bandage; he was injured when parts of a bombed building fell on his car, making it a write-off. He was lucky to be alive. "Well, in two years I hope not to be here, like most people I know. But I don't know, it's very difficult for us to travel," he said. "I used to work in Iraq many years ago; I would rather be there now with my family. I think there may be a future there, despite all that is going on. Here we have no future, no future at all."
Reuse content