Israel's parliament has approved a new law banning anyone found to support the Boycott, Divestment and Sanctions (BDS) movement from entering the country.
The bill, proposed by the pro-settlement Jewish Home party, comes after a human rights organisation had a visa denied for spreading "Palestinian propaganda" and warnings from the UN over a crackdown on activists.
It applies to any activist "who knowingly issues a public call for boycotting Israel that, given the content of the call and the circumstances in which it was issued, has a reasonable possibility of leading to the imposition of a boycott – if the issuer was aware of this possibility".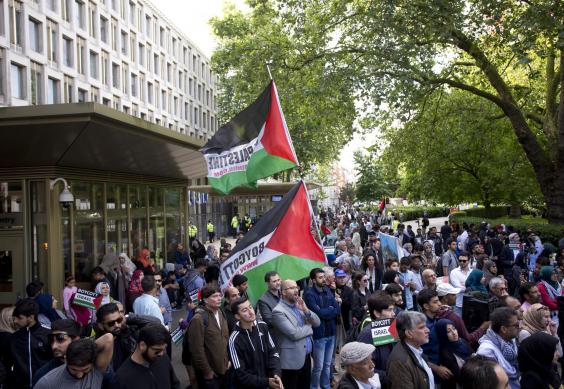 It also bans entry visas and residency rights for those who call for boycotts of Israeli institutions in any "area under its control", including Jewish settlements in the West Bank that are regarded as illegal under international law.
The bill allows for exceptions to be made by the interior ministry, but it was unclear whether foreign politicians, academics and journalists would be turned away at the border.
Jeremy Corbyn could be among dozens of British MPs affected by the law after making statements in partial support of the BDS movement.
A spokesperson for the Labour leader told The Independent: "As Jeremy made clear last summer, he is not in favour of the academic or cultural boycott of Israel or a blanket boycott of Israeli goods. 
"He does support targeted boycotts aimed at undermining the existence of illegal settlements in the West Bank."
Hannah Weisfeld, the director of British Jewish organisation Yachad, said there were concerns regular visitors with relatives in Israel could be caught up in the ban.
"Whilst BDS does not attract significant or mainstream support within Jewish communities, there is a live debate about the settlements with, according to research, the overwhelming majority of the community in UK believing the settlements are a barrier to peace," she told The Independent.
"Within that majority, there are certainly individuals who boycott settlements either publicly or privately, and it is unclear at present whether they may be caught up in this new legislation."
The Foreign and Commonwealth Office updated its travel advice to warn of the new law, saying it allowed Israeli authorities to "deny entry to foreign nationals who have publicly called for a boycott of Israel, or who belong to an organisation which has called for a boycott".
The guidance also warns that British nationals of Palestinian origin "may face problems" and that all arrivals at Ben Gurion Airport in Tel Aviv should expect lengthy personal questioning and searches that can result in a restricted visa or 10-year travel ban.
Several British councils and institutions have boycotted products produced in Israeli settlements but the Cabinet Office issued a memorandum last year saying that apart from where legal sanctions and embargoes have been imposed, procurement restrictions by public authorities were "inappropriate".
The new bill is aimed at combating support for the international BDS movement, which lobbies corporations, artists and academic institutions to sever ties with Israel. 
Supporters say they are using non-violent means to promote the struggle for independence in the Occupied Palestinian Territories and combat human rights abuses.
But Israeli politicians have argued the campaign goes beyond fighting the occupation and often masks a more far-reaching aim to delegitimise or destroy the Jewish state. 
Politicians from the Jewish Home party hailed the new law, with education minister Naftali Bennett saying it "allows Israel to protect itself against conspirators".
Bezalel Smotrich, another party member, said: "What does this law say, after all? A healthy person who loves those who love him and hates those who hate him doesn't turn the other cheek." 
The Israeli–Palestinian conflict intensifies
The Israeli–Palestinian conflict intensifies
1/10

Medics evacuate a wounded man from the scene of an attack in Jerusalem. A Palestinian rammed a vehicle into a bus stop then got out and started stabbing people before he was shot dead

AP

2/10

Israeli ZAKA emergency response members carry the body of an Israeli at the scene of a shooting attack in Jerusalem. A pair of Palestinian men boarded a bus in Jerusalem and began shooting and stabbing passengers, while another assailant rammed a car into a bus station before stabbing bystanders, in near-simultaneous attacks that escalated a month long wave of violence

AP

3/10

Getty Images

4/10

Palestinians throw molotov cocktail during clashes with Israeli troops near Ramallah, West Bank. Recent days have seen a series of stabbing attacks in Israel and the West Bank that have wounded several Israelis

AP

5/10

Women cry during the funeral of Palestinian teenager Ahmad Sharaka, 13, who was shot dead by Israeli forces during clashes at a checkpoint near Ramallah, at the family house in the Palestinian West Bank refugee camp of Jalazoun, Ramallah

AP

6/10

A wounded Palestinian boy and his father hold hands at a hospital after their house was brought down by an Israeli air strike in Gaza

Reuters

7/10

Palestinians look on after a protester is shot by Israelis soldiers during clashes at the Howara checkpoint near the West Bank city of Nablus

EPA

8/10

A lawyer wearing his official robes kicks a tear gas canister back toward Israeli soldiers during a demonstration by scores of Palestinian lawyers called for by the Palestinian Bar Association in solidarity with protesters at the Al-Aqsa mosque compound in Jerusalem's Old City, near Ramallah, West Bank

AP

9/10

Undercover Israeli soldiers detain a Palestinian in Ramallah

Reuters

10/10

Palestinian youth burn tyres during clashes with Israeli soldiers close to the Jewish settlement of Bet El, in the West Bank city of Ramallah, after Israel barred Palestinians from Jerusalem's Old City as tensions mounted following attacks that killed two Israelis and wounded a child
But Tamar Zandberg, from Israel's left-wing Meretz party, criticised the bill, calling it a "law that is against freedom of expression, that constitutes political censorship and is meant to silence people".
Haaretz quoted her as saying: "It's ostensibly against the boycotters of Israel but it doesn't make a distinction between Israel and the settlements and it thus serves the BDS movement." 
Pro-Palestinian activists already accuse Israel of discriminatory entry checks, saying people of Arab descent are more likely to be questioned or turned away at the airport.
A senior lecturer at the School of Oriental and African Studies was among at least 115 British citizens refused entry to Israel last year.
Lawyers said visitors who have joined pro-Palestinian demonstrations, supported the BDS movement on social media or critiqued the Israeli government elsewhere have been denied entry to the country.
Those being interrogated may be asked to name their Palestinian contacts, or give over the Facebook account details, allowing Israeli officials to search their friend lists, communications, comments and event history.
Two United Nations experts called on Israel to respect the rights and freedoms of human rights activists in the Occupied Palestinian Territories earlier this month, saying groups were facing increasing restrictions.
"Israel has an obligation under international law to protect human rights defenders and promote their work," said the Special Rapporteurs, after finding peaceful protesters had been tear gassed and shot with rubber bullets. 
"However, it appears that Israel's latest actions are instead targeting these activists and undermining their efforts to defend others." 
Reuse content