Israel has imprisoned a Palestinian circus entertainer for nearly three months without charge, prompting Amnesty International and a number of Palestinian rights organisations to call for his immediate release.
On 14 December, children's entertainer Mohammad Faisal Abu Sakha was detained at a checkpoint on his way work at the Palestinian Circus School. Since then, he has been detained without charge in an Israeli prison.
Mr Sakha is detained under an "administrative detention order", allowing the Israeli military to detain him indefinitely. His family have not been allowed to see him since his arrest.
According to Amnesty, Mr Sakha specialises in teaching children with learning disabilities, who make up 10 per cent of the students at the Circus School.
AFP report that Mr Sakha is suspected of association with the Popular Front for the Liberation of Palestine. Though the PFLP does have an armed wing fighting the occupying Israeli forces, the United Kingdom does not consider them to be a terrorist organisation.
His only crime, according to the European Comission-funded Circus School, is "making children happy". The arrest was also condemned by the Palestinian Performing Arts Network, an umbrella organisation which says it "represent[s] the majority of the Palestinian cultural sector."
In a statement calling for Mr Sakha's immediate release, they note that the "the Israeli practice of administrative detention has been condemned on numerous occasions by the UN Human Rights Office," and by the organisation implementing the "International Covenant on Civil and Political Rights", which Israel has signed.
There are around 7,000 Palestinians in Israeli prisons, around 700 of whom are under administrative detention. Around 300 Palestinian children are also incarcerated by Israel.
Prisoners in administrative detention lose the right to legal representation, or to defend themselves before a jury. It is understood that Mr Sakha will be appealing against his detention before a military judge on 21 March. The Israeli Army official will have absolute power over his future.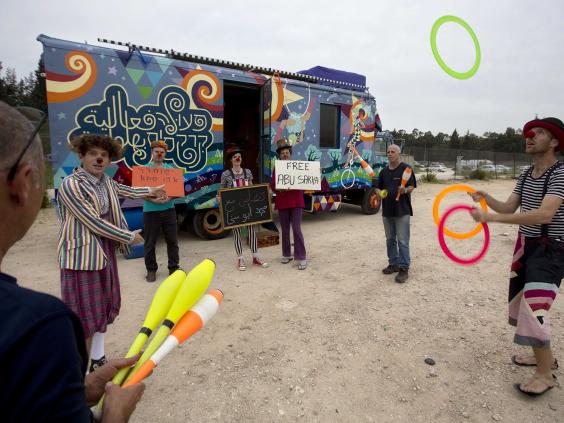 In a statement, Amnesty say that the power of administrative detention is "used by Israel as a way of sidestepping the criminal justice system and detaining people who should never have been arrested."
They continue: "We believe that some Palestinians held in administrative detention by Israel are prisoners of conscience, held solely for the peaceful exercise of their right to freedom of expression and association."
Reuse content