Israeli police have arrested 10 people in a crackdown against a far-right anti-Arab group a day after three of its members were indicted for setting fire to the only school in Jerusalem where Arabs and Jews study together.
The arrests against the Lehava group, also known as the Organisation for the Prevention of Assimilation in the Holy Land, included its director Benzi Gopstein and came after an undercover investigation lasting several months, according to the police spokesman Micky Rosenfeld. He said the arrests were made for "suspicion of incitement to carry out violence".
The group appears to be a reincarnation of the Kach movement founded by the racist US-born rabbi Meir Kahane and banned in 1994 by then Prime Minister Yitzhak Rabin after one of its members, Baruch Goldstein, killed 29 Palestinians during mosque prayers in what became known as the Hebron massacre. Mr Gopstein is an avowed disciple of rabbi Kahane. And other prominent Kach activists participate in Lehava events. At the fire in the Max Rayne Hand in Hand School for Bilingual Education two weeks ago, the arsonists left behind graffiti saying "Death to the Arabs" and "Kahane was right".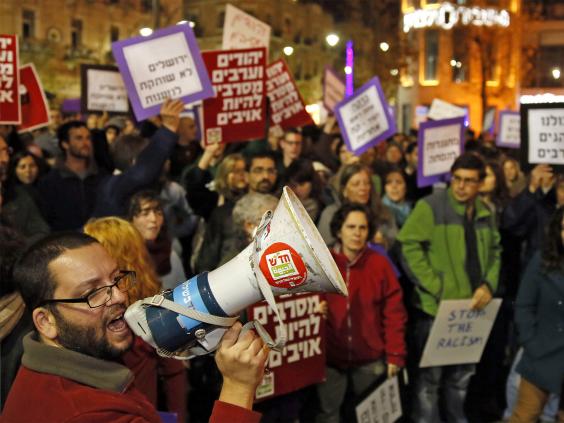 Left-wing groups and those advocates of Israel's Arab minority had been frustrated that authorities took no legal steps against Lehava since it was founded four years ago. Lehava's stated purpose, in its own words, is "saving daughters of the Israeli nation who were enticed to make relations with gentiles". Interchanging the word Arab with terrorist and enemy in its pronouncements, the group has sought to disrupt any relations between Arabs and Jews and has called on employers to fire Arabs and landlords to refrain from renting to Arabs. It established telephone hotlines for reporting on relations between Jewish women and Arab men, then publicised the names and phone numbers of the men. Activists have also sought to break up weddings between Arab men and Jewish women. According to a petition to the supreme court by the Movement for Progressive Judaism, Mr Gopstein praised the perpetrators of an attack on an Arab youth last year, saying they had upheld the honour of Jewish women.
Earlier this year, Lehava posted a picture of two Arab members of the Knesset hanging from a gallows on its Facebook page. This followed a discussion last year in which participants proposed getting organised to lynch, shoot and beat Arabs.
Zahava Galon, head of the liberal Meretz party, called on the government yesterday to declare Lehava a terrorist organisation. "It's not enough to make pronouncements and arrests. There must be an end to the lax treatment against a group which carries out terror and violence against everyone who works for co-existence."
Itamar Ben-Gvir, a far-right activist who represents those arrested, said the crackdown was politically motivated. "The police are acting against Lehava even though it is clear to them that it is a legal organisation working in the open against assimilation. This is a disgrace."