The King of Jordan is said to have quoted American actor Clint Eastwood during a meeting yesterday over the death of pilot Lt Muath al-Kasaesbeh, who was set on fire by Isis.
King Abdullah expressed his anger over the murder to members of a US foreign relations committee by mentioning the film Unforgiven – in which Eastwood stars – although Republican Duncan Hunter Jr did not say which part he quoted.
The most powerful Muslims in the world
The most powerful Muslims in the world
1/9 HE Professor Dr Sheikh Ahmad Muhammad Al-Tayyeb (Egypt)

youtube.com

2/9 HE Grand Ayatollah Hajj Sayyid Ali Khamenei (Iran)

youtube.com

3/9 HM King Abdullah II ibn Al-Hussein (Jordan)

Getty Images

4/9 HM King Mohammed VI (Morocco)

King Mohammed VI, head of the Moroccan government

Getty Images

5/9 HE. Recep Tayyip Erdogan (Turkey)

Getty Images

6/9 HE Grand Ayatollah Sayyid Ali Hussein Sistani (Iraq)

Getty Images

7/9 HM Sultan Qaboos bin Sa'id Aal Sa'id (Oman)

Getty Images

8/9 HH General Sheikh Mohammed bin Zayed Al-Nahyan(United Arab Emirates)

Getty Images

9/9 Amir Hajji Muhammad Abd Al Wahhab (Pakistan)
"He's angry," Hunter said of the king who was visiting Washington DC.
The former Marine Corp veteran said that the king plans to avenge the pilot's death, according to the Washington Examiner. The ruler is reported to have said: "The only problem we're going to have is running out of fuel and bullets."
The 26-year-old devout Muslim pilot was torched to death on camera, reportedly on 3 January, after he was captured by Isis (also known as Islamic State) in December during a bombing campaign against the militant group in Iraq and Syria.
His plane was shot down on Christmas Eve before it crashed in water near Raqqa, in Syria, and he was filmed being dragged out by his captors. The video of his death runs for more than 22 minutes in total.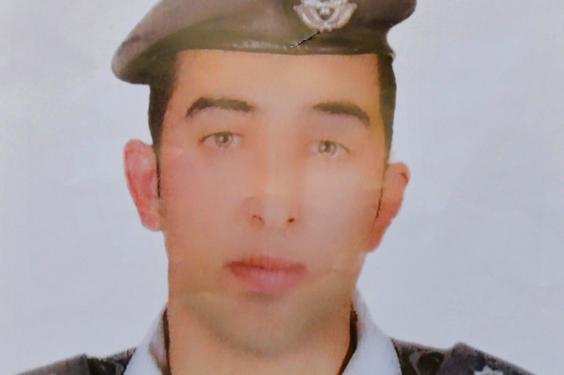 Jordan has promised swift revenge for the murder. Sajida al-Rishawi, an Iraqi al-Qaeda militant who attempted to blow herself up in a failed suicide bombing attempt during a wedding in the Jordanian capital city Amman in 2005, is believed to have been executed at dawn this morning.
Al-Rishawi, whose husband died in the same incident after his bomb-pack had detonated and killed people in the hotel ballroom, had been offered last week in exchange for Lt al-Kasasbeh.
President Barack Obama was not present at the congregation with King Abdullah, however he had met him in a separate meeting in the White House yesterday.
He also sent his condolences to the pilot's family and to the Middle Eastern nation.
He said: "On behalf of the American people, I offer my deepest condolences to Lieutenant al-Kasaesbeh's family and loved ones, to the brave men and women of the Jordan Armed Forces, and to King Abdullah II and the people of Jordan."
Reuse content