Iraqi troops are poised to seize a Christian town on the outskirts of Mosul as Isis attempts to slow the offensive on its last remaining major stronghold in Iraq with suicide bombs, tunnels and booby-traps.
An officer from the 9th Division of the Iraqi army said his troops were under half a mile from Bakhdida on Wednesday, afternoon as government forces and militias continued their advance.
The town, also known as al-Hamdaniya or Qaraqosh, was deserted by its predominantly Christian residents during the Isis advance two years ago and is now a bastion for jihadi fighters attempting to block routes towards central Mosul.
Militants sent lorries and cars loaded with explosives toward the front lines, many of which were destroyed before reaching their target, and fired mortars to slow Iraqi troops attempting to clear the region of Shora.
Isis claimed it had launched 12 "martyrdom operations" during battles and published footage claiming to show its fighters attacking enemy troops.
Families were beginning to return to one of the villages captured from the extremists overnight, finding their homes in Sheikh Amir rigged with explosives and dug in with elaborate underground defences. 
Iraqi forces, the Kurdish Peshmerga and militias are encircling the city from the north, south and east, advancing with the backing of American and British special forces and air strikes by the US-led coalition.
The assault has been hailed as decisive by commanders in Iraq and the US but analysts have warned the battle is likely to take months, with jihadis likely to flee into Isis territory in neighbouring Syria to regroup.
Renad Mansour, an academy associate of the Middle East and North Africa programme at Chatham House, told The Independent the loss of Mosul was certain but would "definitely not" signal the end of Isis.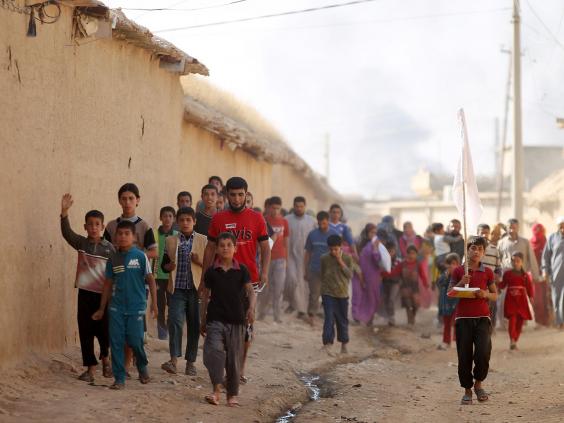 "It will continue to exist like it has done since 2003," he added. "Isis will change the narrative to make it look like Mosul is only a small battle in a much larger war, it's the only way to legitimise themselves."
Mr Mansour said the loss of the group's de facto capital in Iraq would deal a major ideological blow to Isis, damaging recruitment and fighters' morale.
He predicted Isis would revert to guerrilla-style warfare in Iraq while leaders form a new strategy to continue attempts to build the group's "caliphate".
"They will come together and wait – they know there's no political solution, as well as fear of Kurdish Peshmerga and militias," he added.
"They know at some point the ground will be ripe again for them to move back in. Everyone is still looking short term, at a military solution for Mosul rather than the future of Isis."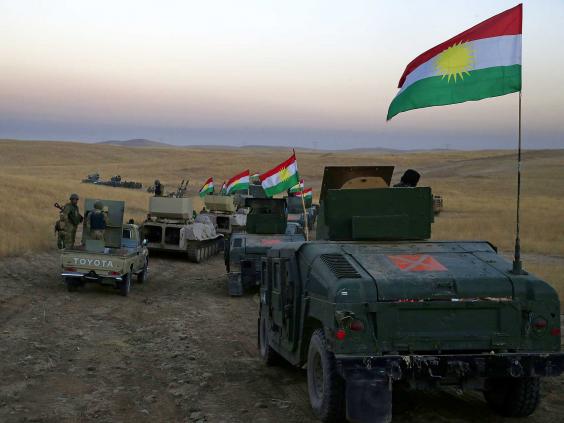 A senior Iraqi commander, Lieutenant General Talib Shaghati, called on Iraqis fighting for Isis to surrender as their approach continued for a third day, estimating that up to 6,000 militants remained in Mosul.
They are embedded among more than a million civilians, prompting warnings from the United Nations and international human rights organisations over the "impossible choice" faced by families choosing to risk their lives to flee Isis or stay and face the oncoming onslaught.
The terrorist group's Amaq propaganda agency published a video showing fighters fanning out through the city's streets in the darkness, lining deserted roads while a leader threatened "humiliation" for the US.
The stunt may have been intended for the viewing of Mosul's residents as well as Isis enemies, with the group routinely using civilians as human shields during military offensives. 
While families living inside the city have been prevented from leaving, 5,000 people who managed to flee surrounding villages have arrived in a "filthy and overcrowded" refugee camp in Syria in the past 10 days.
Save the Children warned that the al-Hol camp was already "bursting at the seams", with dire sanitary conditions and inadequate supplies of food, drinking water and medicine, with the UN estimating that 100,000 people may cross the border.
In pictures: Mosul offensive
In pictures: Mosul offensive
1/22

Iraqi army soldiers from the 9th armoured division on a truck flash the sign of victory as they drive back from Mosul to the town of Qaraqosh (also known as Hamdaniya)

Getty

2/22

Members of Iraqi forces flash the sign of victory on their vehicle as they advance towards Hammam al-Alil area south of Mosul

Getty

3/22

A member of Iraqi security forces gestures in Hammam al-Alil, south of Mosul, Iraq

Reuters

4/22

Iraqi children, one flashing the sign of victory, greet Iraqi army's soldiers from the 9th armoured division in the area of Ali Rash, adjacent to the eastern Al-Intissar neighbourhood of Mosul

Getty

5/22

Peshmerga forces look at a tunnel used by Islamic State militants near the town of Bashiqa, east of Mosul, during an operation to attack Islamic State militants in Mosul, Iraq

Reuters

6/22

An Iraqi soldier takes a photograph with his phone as his comrade stands next to a detained man, whom the Iraqi army soldiers accused of being an Islamic State fighter, who was fleeing with his family in the Intisar disrict of eastern Mosul, Iraq

Reuters

7/22

Iranian Kurdish female members of the Freedom Party of Kurdistan (PAK) hold a position in an area near the town of Bashiqa, some 25 kilometres north east of Mosul

Getty

8/22

Iraqi families, who fled their homes in Hamam al-Alil, gather on the outskirts of their town

Getty

9/22

Displaced people walk past a checkpoint near Qayara, south of Mosul, Iraq

AP

10/22

Iraqi families who were displaced by the ongoing operation by Iraqi forces against jihadists of the Islamic State group to retake the city of Mosul, are seen gathering in an area near Qayyarah

11/22

A boy who just fled Abu Jarbuah village is seen with his family at a Kurdish Peshmerga position between two front lines near Bashiqa, east of Mosul, Iraq

Reuters

12/22

An Iraqi child eats a pomegranate upon the arrival of Iraqi forces in the village of Umm Mahahir, south of Mosul

Getty

13/22

People who just fled Abu Jarbuah village sit as they eat at a Kurdish Peshmerga position between two front lines near Bashiqa, east of Mosul, Iraq

Reuters

14/22

A couple who just fled Abu Jarbuah village are escorted by Kurdish Peshmerga soldiers

Reuters

15/22

Women carry a boy over a wall as civilians flee their houses in the village of Tob Zawa, Iraq

AP

16/22

An Iraqi soldier and a civilian ride a motorbike as smoke rises behind them, on the road between Qayyarah and Mosul

Getty

17/22

A member of Iraqi forces, wearing a skull mask, waits at a checkpoint for people fleeing the main hub city of Mosul

Getty

18/22

An Iraqi soldier sits at a checkpoint in an area near Qayyarah

Getty

19/22

Iraqi men prepare food portions for Iraqi forces deployed in areas south of Mosul

Getty

20/22

Iraqi forces celebrate upon the arrival of vehicles bringing food to them

Getty

21/22

Iraqi childen smoke cigarettes upon the arrival of Iraqi forces in the village of Umm Mahahir, south of Mosul

Getty

22/22

A member of Iraqi forces distributes drinks to children in the village of Umm Mahahir, south of Mosul

Getty
"The camp is littered with waste and faeces, with a looming risk of outbreaks of disease as a result," the charity said. "There are just 16 latrines shared by more than 9,000 people."
There are also concerns over the treatment of civilians by Iraqi troops and militias, following allegations of abuse as Isis was driven out of Fallujah, where Amnesty International said hundreds of Sunni Arab civilians were detained, tortured and killed while trying to flee.
The International Rescue Committee said all men and boys over the age of 14 were to undergo security screening monitored by it and other charities.
Shia militia leaders have attempted to calm fears of sectarian tensions by announcing they would focus on Tal Afar, a town to the west of Mosul, rather than on the predominantly Sunni Muslim city itself.
The Mosul offensive is the largest launched by the Iraqi army since the 2003 invasion, involving 25,000 troops, Sunni tribal fighters, Kurdish Peshmerga forces and state-sanctioned Shia militias known as the Popular Mobilisation Units (PMU) converging on the city. 
Additional reporting by agencies
Reuse content