Simba the lion and Lula the bear – the only animals left alive in Mosul's zoo – have been evacuated from the war-torn city.
The creatures, which until Monday were housed in the Montazah al-Morour Zoo, in Iraq's second city, were first discovered in February in appalling conditions.
Vets from the charity Four Paws International coordinated the rescue mission, taking Simba and Lula first to the nearby city of Erbil, from where they were flown to Jordan.
Their rescue came a month after a failed attempt to save the animals saw Simba succumb to an illness while stuck in a lorry being held at a checkpoint. They were subsequently returned to their enclosure.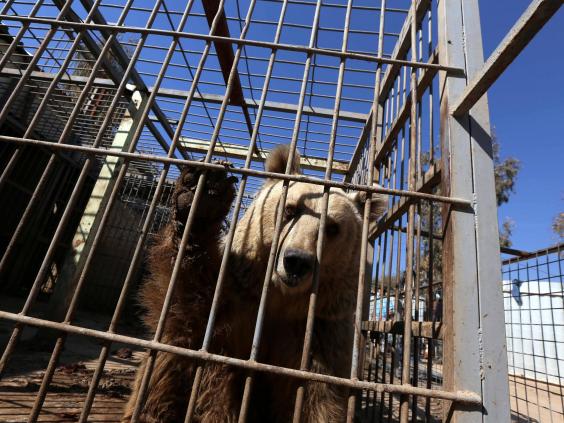 Amir Khalil, the lead vet coordinating the evacuation, told the AFP news agency: "This is a beginning of a new life for the animals.
"From now on, they won't have to be part of this war."
​Montazah al-Morour Zoo is in the east of Mosul, where a battle raged between Islamic State militants and Iraqi government forces earlier this year.
The animals' rescue was delayed last month after an attempt to remove them from the city was aborted when a lorry carrying them was detained.
Iraqi forces had cleared a window of a few hours to allow rescue workers to enter the zoo and prepare the bear and lion for transport.
But the vehicle they were in was held at a road checkpoint for nine days, causing them to miss the flight and leaving Simba with a respiratory illness.
The fate of three monkeys, three peacocks, two goats and a pregnant horse which were bought to the zoo by private owners after they discovered it was still open is unclear.
Iraqi forces recaptured the less densely populated east at the end of January and moved against the west in mid-February, where fighting is on-going.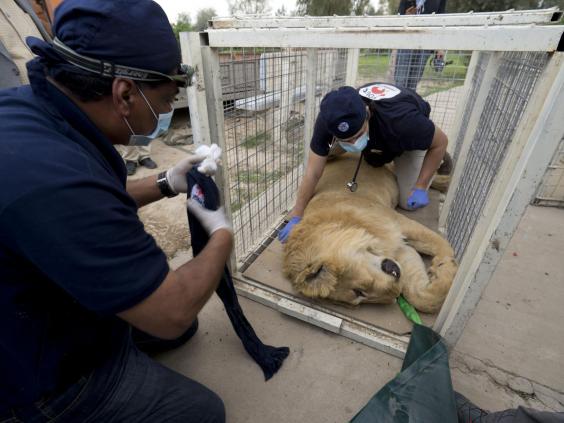 Around 1,600 civilians were killed or wounded during the 100 days of fighting to recapture the east of the city. The number of animal deaths has not been recorded.
The Iraqi military says Isis has lost more than three-quarters of the territory it seized when it swept across the country in the summer of 2014. 
Brig. Gen. Yahya Rasool, a military spokesman, said the extremist group currently controls less than 12,000 sq. miles in Iraq, or 6.8 per cent of the country's territory, down from more than 40 per cent at its height. 
The extremists have suffered a string of defeats over the past year in both Iraq and Syria. 
Brig. Gen. Rasool said more than half of western Mosul has been retaken from the militants. 
Reuse content