The Isis militant group has reportedly released a video threatening to kill a Croatian hostage within 48 hours unless Egypt releases "Muslim women" from jail.
The video showed a man in a yellow jumpsuit kneeling before a masked militant wielding a knife.
The flag of the terrorist group flutters next to him, and the video says it comes from Isis's Egyptian affiliate group in the Sinai Peninsula.
Reading from a note, the man identifies himself as 30-year-old Tomislav Salopek and says he was captured by Isis on 22 July.
He said he will be killed if Egyptian authorities do not give in to the demands, although it is not clear exactly who the group want released from prison.
Isis seizes Ramadi
Isis seizes Ramadi
1/7 Ramadi attack

Ramadi, after fighting on Friday, was one of the army's few strongholds

Reuters

2/7 Ramadi attack

130,000 remaining inhabitants of Ramadi, an overwhelmingly Sunni city, have fled the fighting (AP)

AP

3/7 Ramadi attack

Iraqi security forces withdraw from the Anbar state capital, Ramadi, in defeat on Sunday, 17 May (AP)

AP

4/7 Ramadi attack

The last remaining Iraqi security forces defending their headquarters against Isis in the eastern part of Ramadi on 14 May

Reuters

5/7 Ramadi attack

Civilian belongings can be seen in an abandoned truck during fighting in Ramadi

Reuters

6/7 Ramadi attack

Civilians fled Ramadi as Isis advanced

Reuters

7/7 Ramadi attack

Thousands of civilians fled the Isis advance in Ramadi

AP
The authenticity of the video has not yet been solidly verified, but bears resemblance to previous hostage videos released by the group, and has been shared widely by the group's supporters online.
The video could not have come at a worse time for the Egyptian government, who are currently preparing to inaugurate an $8.5 billion extension to the Suez Canal on 6 August, a huge project that is the centrepiece of President Abdel Fattah al-Sisi's plans to revitalise the country's economy.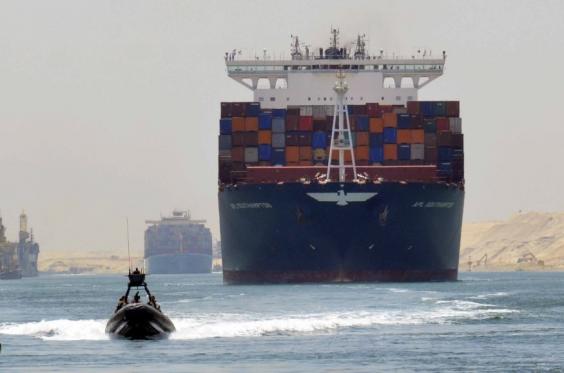 Egypt holds thousands of Islamists and suspected Muslim Brotherhood supporters in prison, following the overthrow of former President Mohammed Morsi in 2013.
Last month, Croatia's Foreign Ministry had said that one of its nationals, with the same initials as as Salopek, had been kidnapped in Cairo on their way to work.
Mr Salopek said he worked for CGG Ardiseis, a French oil and gas company, that has an office in a Cairo suburb that is home to many expats.
Neither CCG or the Egyptian authorities were available for comment.
Reuse content