A student from Bethlehem removes her gold crucifix necklace and donates it to the cause.  A man of modest means paying for his own cancer treatment contributes 50 shekels (£8.80). Day labourers hard pressed to feed their families dig into their pockets.
In the West Bank city of Ramallah, demolitions by Israeli authorities of the family homes of Palestinian attackers are having an unintended consequence: uniting the local community in sympathy and solidarity for the dead and their families. 
The funds collected in the latest charity drive will go towards rebuilding the family home of Muhannad Halabi, a 19-year-old who was shot dead on 3 October after he stabbed two Israeli men to death in the Muslim quarter of occupied East Jerusalem, prompting copycat attacks and heralding the current wave of unrest. Halabi also stabbed and seriously wounded an Israeli woman and, after grabbing a gun from one of his victims, shot her two-year-old son in the leg, police said.
The collection effort was launched 10 January, a day after Israeli army bulldozers demolished the Halabi family home in a punishment that Israel says is a measure to deter further attacks.  By yesterday it had raised 650,000 shekels  from passersby in downtown Ramallah and on the campus of nearby Birzeit University. 
A parallel drive to rebuild four destroyed family homes of slain assailants – to most Palestinians, they are martyrs – is under way in the northern West Bank city of Nablus.
"We are telling the occupation, you can destroy but we will continue to build," said Ahmad al-Ouri, a former prisoner who is on the organising committee of the drive, which is an independent initiative led in part by employees of the Palestinian Authority, but not formally linked to it. 
In Ramallah's main Manara Square last Thursday, people alighted from cars and pedestrians stopped to slip coins and bills into a box decorated with a poster of Halabi and a picture of his parents standing in the rubble of their home in Surda village, north-east of Ramallah. The posters declared Halabi "the detonator of the Jerusalem uprising".
Rather than a terrorist, the people here contributing money view Halabi as a hero who died defending Islam's third-holiest site, the al-Aksa mosque, which Palestinians perceive – despite Israeli denials – to be under threat from Israel. His parents and siblings, they feel, are innocent victims of Israel's home-demolitions policy.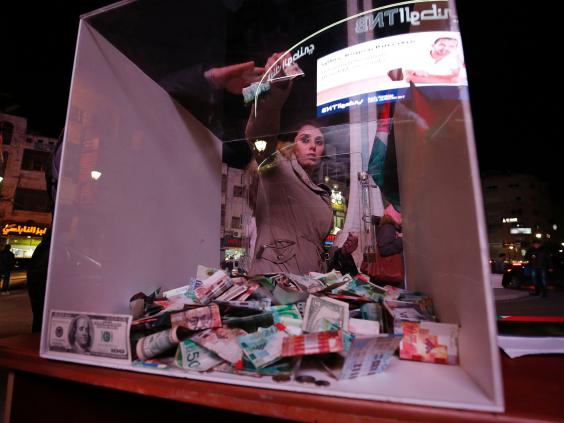 "We feel for the family and thank God we have enough so that we can give," says Maria Mohammed, from the nearby town of Turmus Aya, as her three-year-old daughter, Rasan, drops a coin in the box. "It's so sad to see them with their home destroyed while we have a home and our kids can live in comfort."
"We are one people and we help each other in times of stress," adds Thaer Abu Baker, a staffer at the Jawal telecom company, after passing on a donation of 12,500 shekels collected from 50 employees.
The Israeli–Palestinian conflict intensifies
The Israeli–Palestinian conflict intensifies
1/10

Medics evacuate a wounded man from the scene of an attack in Jerusalem. A Palestinian rammed a vehicle into a bus stop then got out and started stabbing people before he was shot dead

AP

2/10

Israeli ZAKA emergency response members carry the body of an Israeli at the scene of a shooting attack in Jerusalem. A pair of Palestinian men boarded a bus in Jerusalem and began shooting and stabbing passengers, while another assailant rammed a car into a bus station before stabbing bystanders, in near-simultaneous attacks that escalated a month long wave of violence

AP

3/10

Getty Images

4/10

Palestinians throw molotov cocktail during clashes with Israeli troops near Ramallah, West Bank. Recent days have seen a series of stabbing attacks in Israel and the West Bank that have wounded several Israelis

AP

5/10

Women cry during the funeral of Palestinian teenager Ahmad Sharaka, 13, who was shot dead by Israeli forces during clashes at a checkpoint near Ramallah, at the family house in the Palestinian West Bank refugee camp of Jalazoun, Ramallah

AP

6/10

A wounded Palestinian boy and his father hold hands at a hospital after their house was brought down by an Israeli air strike in Gaza

Reuters

7/10

Palestinians look on after a protester is shot by Israelis soldiers during clashes at the Howara checkpoint near the West Bank city of Nablus

EPA

8/10

A lawyer wearing his official robes kicks a tear gas canister back toward Israeli soldiers during a demonstration by scores of Palestinian lawyers called for by the Palestinian Bar Association in solidarity with protesters at the Al-Aqsa mosque compound in Jerusalem's Old City, near Ramallah, West Bank

AP

9/10

Undercover Israeli soldiers detain a Palestinian in Ramallah

Reuters

10/10

Palestinian youth burn tyres during clashes with Israeli soldiers close to the Jewish settlement of Bet El, in the West Bank city of Ramallah, after Israel barred Palestinians from Jerusalem's Old City as tensions mounted following attacks that killed two Israelis and wounded a child
The wave of violence against security forces and civilians known in Arabic as the haba shaabiya, or popular uprising, has been the work of individuals rather than orchestrated groups, but opinion polls show that two thirds of the public in the West Bank and Gaza support the attacks. 
Mr Ouri says the donations reflect support for the rising and are "a crucial part of participation in the haba shaabiya".
Shaul Shay, former deputy head of Israel's National Security Council, says demolitions are an effective tool to discourage attacks. "When deterrence spreads it can save the lives not only of Jews but also of the terrorist," he says. 
The practice was revived last year after a nine-year break on the grounds it was ineffective. Dovish Israeli opponents of the policy say its primary purpose is to enable the right-wing government to show their domestic audience that it is responding toughly to the attacks. 
Since the unrest started at the beginning of October,  24 Israelis and one US citizen have died in a series of stabbings, car rammings and shootings. At least 148 Palestinians have died, 98 of whom were behind attacks, according to Israel. In the latest violence, an Israeli woman was killed yesterday in a stabbing attack inside her home in the Otniel settlement in the West Bank, the army said. Media reports said her children were home at the time.
Jamal Zakout, head of the al-Ard think tank in Ramallah and a member of the Palestine National Council, says one of the reasons the campaign has struck such a chord is because people do not believe the Palestinian government is providing for families whose homes are destroyed. 
"If people would see the government declare a solution or provide an alternative home and make a political campaign internationally, maybe they wouldn't feel as strongly that they have to do this," he says.
Bassem Zakarneh, head of the 30,000 strong union of Palestinian Authority (PA) civil servants is proposing the government deduct 1 per cent from their monthly salaries to go to families whose homes were demolished. The office of the spokesman of the PA cabinet did not respond to a request for comment.
Standing near the rubble of his villa in Surda, Halabi's father, Shafiq, a plumber, says his son was "martyred for the sake of al-Aqsa". 
He said Israel had also confiscated the land on which the house was built and that he would need a significant chunk of money to buy alternative land. He claimed  such demolitions would only increase hatred of Israel among Palestinians. 
"I worked to build this house for me and the children. How do you expect me to feel?"
Of the campaign, he said: "I feel the people are behind me and that Mohanad will be in the mind, hearts and memories of Palestinians forever."
Reuse content