The US and Russia are trading accusations over the bombing of hospitals in rebel-held areas of Syria as diplomatic efforts to secure a ceasefire falter.
A Pentagon spokesperson accused Russia and Syrian government forces of destroying two major hospitals in the divided city of Aleppo on Wednesday, without specifying when the air strikes took place.
But Igor Konashenkov, from Russia's defence ministry hit back by claiming Moscow tracked two US Air Force A-10 jets bombing Aleppo on the day.
American officials denied hitting a Doctors Without Borders (MSF) hospital in the southern town of Tafas in strikes that killed three people on Friday.
The Independent asked the Russian Embassy and defence ministry whether its forces were involved but did not receive a reply.
A spokesperson for MSF said its Tafas field hospital, lying just miles from the Jordanian border in a region controlled by anti-government rebels, was targeted on Friday night.
Three people were killed and six wounded, including a nurse, while the blasts caused significant damage to the building and put its desperately-needed ambulance service out of action.
"In fear for their lives, more than 20,000 people from Tafas town fled to the surrounding countryside," a spokesperson for MSF said.
"The hospital is the latest medical facility to be hit in a series of airstrikes in southern Syria, which have been escalating over the past two months."
BREAKING: 3 killed, 6 injured following airstrike hit on MSF-supported Tafas hospital #Syria https://t.co/v6FrKCRJfY pic.twitter.com/0fQbqN7a1h

— Doctors w/o Borders (@MSF_USA) February 9, 2016
A member of staff said she had been on the way to work to help people injured in other air strikes when the hospital was hit.
"It all happened very quickly. I saw what looked like an explosion and then a flash of light, and then I lost consciousness for five minutes," she recalled.
"My colleagues saw me lying on the ground, bleeding, and rushed me inside. I was injured in both my arm and leg by shrapnel."
MSF, an international humanitarian organisation that operates in conflict zones around the world, has previously seen its facilities bombed allegedly by Saudi Arabia in Yemen and the US in Afghanistan.
Its health workers have warned that "indiscriminate bombing" in both Yemen and Syria's civil wars are killing civilians and increasingly hitting health facilities, preventing people from accessing desperately needed medical care.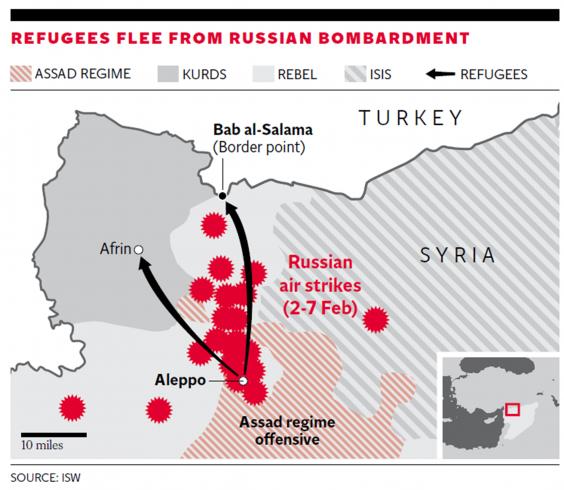 "Hospitals and clinics are no longer places where patients can recover in safety," a spokesperson said.
"MSF renews its calls for the protection of civilian life and the respect of health facilities by all parties to the conflict…the repeated attacks on medical facilities in the ongoing conflict constitute a flagrant violation of international laws."
Bryant Davis, a US Air Force captain, told The Independent the international coalition including Britain and France had conducted no strikes around Tafas.
"We take great care - from analysis of available intelligence to selection of the appropriate weapon to meet mission requirements -  to minimise the risk of collateral damage, particularly any potential harm to non-combatants," he added.
An official from United States Central Command said Coalition air strikes on 5 February were near Ayn Isa, in the north-eastern Raqqa governate, and hit Isis units, vehicles and buildings.
Recorded air strikes in the country show those by the US-led coalition concentrating on Isis held territory around the so-called Islamic State's strongholds including Raqqa and Palmyra, while Russian strikes have largely hit areas controlled by "moderate" anti-government rebels.
In pictures: Russian air strikes in Syria
In pictures: Russian air strikes in Syria
1/10

Volunteers from Syria Civil Defence, also known as the White Helmets, help civilians after Russia carried out its first airstrikes in Syria

2/10

The aftermath of Russian airstrike in Talbiseh, Syria

3/10

Smoke billows from buildings in Talbiseh, in Homs province, western Syria, after airstrikes by Russian warplanes

AP

4/10

Russian Air Forces carry out an air strike in the ISIS controlled Al-Raqqah Governorate. Russia's KAB-500s bombs completely destroy the Liwa al-Haqq command unit

5/10

Caspian Flotilla of the Russian Navy firing Kalibr cruise missiles against remote Isis targets in Syria

6/10

Caspian Flotilla of the Russian Navy firing Kalibr cruise missiles against remote Isis targets in Syria, a thousand kilometres away. The targets include ammunition factories, ammunition and fuel depots, command centres, and training camps

7/10

Russia claimed it hit eight Isis targets, including a "terrorist HQ and co-ordination centre" that was completely destroyed

8/10

A release from the Russian defence ministry purportedly showing targets in Syria being hit

9/10

A video grab taken from the footage made available on the Russian Defence Ministry's official website, purporting to show an airstrike in Syria

10/10

Russia launched air strikes in war-torn Syria, its first military engagement outside the former Soviet Union since the occupation of Afghanistan in 1979. Russian warplanes carried out strikes in three Syrian provinces along with regime aircraft as Putin seeks to steal US President Barack Obama's thunder by pushing a rival plan to defeat Isis militants in Syria
Vladimir Putin has repeatedly insisted his intervention in Syria is targeting "terrorism" but Russian officials have confirmed they share intelligence with Bashar al-Assad's forces and, after arriving at his intention, are most likely bombing groups singled out by the Syrian regime.
John Kerry, the US Secretary of State, was meeting with Russian Foreign Minister Sergey Lavrov today to try and reconcile deep differences over a proposed ceasefire.
Russia wants it to start on 1 March but US believes that will only serve to give give Moscow and the Syrian government three weeks to crush moderate rebel groups and wants an immediate truce. 
The conflict has killed more than  250,000 people, driven Europe's biggest refugee crisis since World War II and allowed the Isis to carve out its own territory across parts of Syria and neighbouring Iraq. 
Additional reporting by AP
Reuse content