A Russian special forces officer has been hailed a "hero" after reportedly ordering an air strike on himself while fighting Isis militants in Syria.
The unnamed man died during operations to retake the ancient city of Palmyra, state media reported.
A spokesperson for the Russian armed forces told RIA Novosti that the officer was stationed to hunt down crucial Isis facilities and provide co-ordinates for bombing.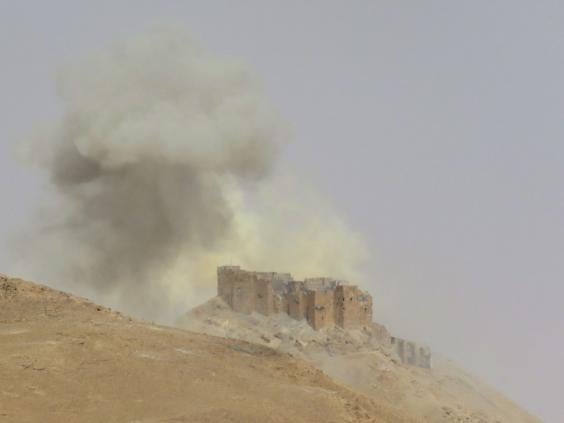 "The officer died as a hero, calling a strike on to himself after he was compromised and surrounded by terrorists," the source said.
Russian special forces have been on the ground in Syria since Vladimir Putin launched an intervention in support of the Syrian regime last September.
Colonel General Aleksandr Dvornikov said they conduct "ground reconnaissance" for air strikes in remote area, as well as other unspecified "tasks".
Moscow has acknowledged the deaths of five Russian servicemen in Syria so far, including the pilot of a fighter jet shot down by Turkey and a marine killed by rebels during a mission to rescue him.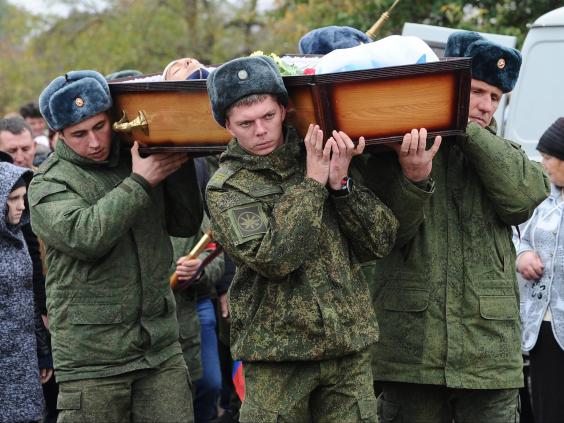 Two others were killed in mortar attacks and bombardment, while a 19-year-old soldier died in disputed circumstances at his air base in Latakia.
Officials said Vadim Kostenko hung himself after falling out with his girlfriend but his relatives insisted he did not kill himself, citing unexplained injuries on his body.
Mr Putin ordered the Russian defence ministry to begin the withdrawal of the "main part" of its military contingent in Syria last week, with fighter jets starting to arrive back in the country the following day.
But American officials said they had seen no significant reduction in Moscow's combat power, particularly on the ground, as efforts continue to deescalate the civil war and draw up a blueprint for a lasting peace agreement.
In pictures: Russian air strikes in Syria
In pictures: Russian air strikes in Syria
1/10

Volunteers from Syria Civil Defence, also known as the White Helmets, help civilians after Russia carried out its first airstrikes in Syria

2/10

The aftermath of Russian airstrike in Talbiseh, Syria

3/10

Smoke billows from buildings in Talbiseh, in Homs province, western Syria, after airstrikes by Russian warplanes

AP

4/10

Russian Air Forces carry out an air strike in the ISIS controlled Al-Raqqah Governorate. Russia's KAB-500s bombs completely destroy the Liwa al-Haqq command unit

5/10

Caspian Flotilla of the Russian Navy firing Kalibr cruise missiles against remote Isis targets in Syria

6/10

Caspian Flotilla of the Russian Navy firing Kalibr cruise missiles against remote Isis targets in Syria, a thousand kilometres away. The targets include ammunition factories, ammunition and fuel depots, command centres, and training camps

7/10

Russia claimed it hit eight Isis targets, including a "terrorist HQ and co-ordination centre" that was completely destroyed

8/10

A release from the Russian defence ministry purportedly showing targets in Syria being hit

9/10

A video grab taken from the footage made available on the Russian Defence Ministry's official website, purporting to show an airstrike in Syria

10/10

Russia launched air strikes in war-torn Syria, its first military engagement outside the former Soviet Union since the occupation of Afghanistan in 1979. Russian warplanes carried out strikes in three Syrian provinces along with regime aircraft as Putin seeks to steal US President Barack Obama's thunder by pushing a rival plan to defeat Isis militants in Syria
The United Nations and humanitarian organisations have raised concern about the death of civilians and opposition fighters Russian air strikes, but the Kremlin insists it has been targeting Isis.
Russian jets are currently supporting troops loyal to Bashar al-Assad, along with allies from Hezbollah and the Iranian Revolutionary Guards, in an advance on the Isis stronghold of Palmyra.
The defence ministry said it launched 41 sorties between Sunday and Wednesday, hitting "more than 320 terrorists" along with tanks, vehicles, artillery positions and ammunition depots.
But while Russian and Syrian media claimed progress was being made after the capture of a castle on the outskirts of Palmyra, other reports said Isis was still in control of the city centre.
Reuse content