Saudi Arabia is accused of killing up to 40 people at a refugee camp in Yemen as it continues to lead an international coalition waging war on Houthi rebels.
Yemen's state news agency, which is under the Houthis' control, said the camp at Haradh was hit by Saudi planes in bombardment that killed women and children yesterday.
Footage showing the bodies of five children laid out on a blood-streaked floor could not be verified, nor could the death toll.
The International Organisation for Migration said 40 people were killed and 200 wounded, while Doctors Without Borders said at least 34 injured people were brought to a hospital in Haradh which it supports and a further 29 were dead on arrival.
"People in Al-Mazraq camp have been living in very harsh conditions and now they have suffered the consequences of an air strike on the camp," said Pablo Marco, the organisation's operational manager for Yemen.
"We call all parties to spare civilians from violence, respect the neutrality of medical facilities and staff, and allow unhindered access to medical assistance for the wounded."
The strike is believed to have targeted Houthi fighters battling President Abd-Rabbu Mansour Hadi, although his administration blamed the rebels themselves for misdirected artillery fire.
A humanitarian worker said a truck of militants were hit at the gate to the Mazraq camp in an explosion that killed residents, guards and fighters.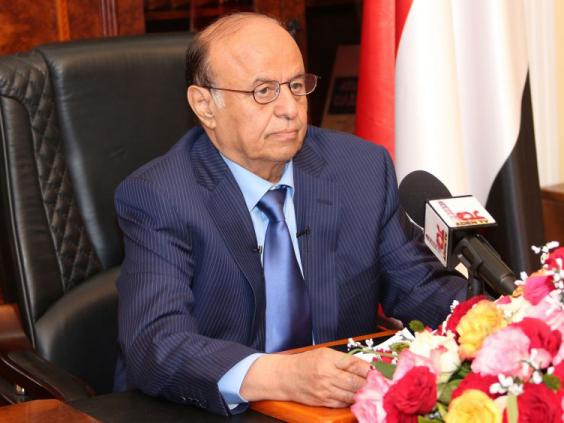 A spokesperson for the UN's Refugee Agency (UNHCR) said details were "very sketchy" about the attack at around 11.30am local time on Monday in the Al-Mazraq area of Hajjah province.
He told The Independent that there were "unconfirmed reports of 15 to 20 deaths and as many injured".
"We are not able to confirm how the attack happened, but remain concerned for the safety and security of the displaced Yemeni civilians," he added.
The area hosts two camps - Mazraq I and Mazraq III – for internally displaced people that house around 1,100 refugees.
They were originally set up in 2009 for those fleeing fighting between Houthi rebels and government forces in northern Yemen.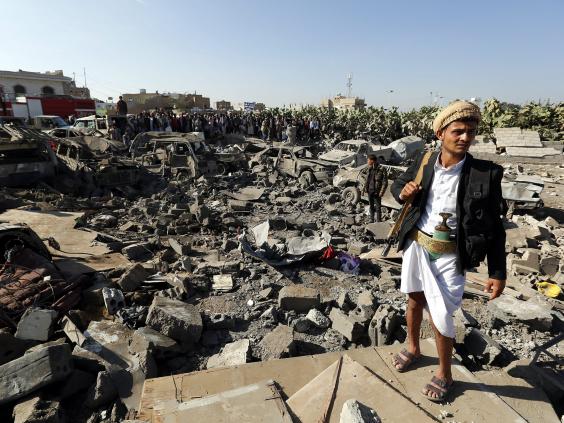 An estimated 500 new families are believed to have arrived in the camps over the last three days, escaping bombings in the western area of Saada and clashes in Aden, Lahj and other southern districts.
A Saudi military spokesperson said the kingdom was seeking clarification on the incident.
"It could have been that the fighter jets replied to fire, and we cannot confirm that it was a refugee camp," Brigadier General Ahmed Asseri said.
"We will ask the Yemeni official agencies to confirm that."
In pictures: Global refugee crisis
In pictures: Global refugee crisis
1/41 Yemeni refugees

Yemeni refugees carry water to their tent at the Mazraq internally displaced people's camp in the northwestern province of Hajja

2/41 Yemeni refugees

A displaced man from Yemen's Saada province amid UNHCR tents at a camp set up by the United Nations High Commissioner for Refugees in Mazraq in Yemen's Hajja region, 360 kms northwest of Sanaa

3/41 Yemeni refugees

Yemeni refugees queue to get food aid at the Marzaq internally displaced people's camp in Harad in the northwestern province of Hajjah

4/41 Yemeni refugees

Displaced Yemenis from al-Jaachan Al-Ansin, a village in the province of Ibb, some 200km South-East of Sanaa, stand next to their tents in a makeshift refugee camp in Sanaa

5/41 Yemeni refugees

Yemeni refugees walk to a refugee camp in the southern Saudi province of Jizan after crossing the border from Yemen into Saudi Arabia

6/41 Syrian refugees

Syrian refugees arrive in Turkey at the Cilvegozu crossing gate of Reyhanli, in Hatay. The number of people driven from their homes by conflict and crisis has topped 50 million for the first time since World War II, with Syrians hardest hit, the UN refugee agency (UNCHR) said, in an annual report released on World Refugee Day

7/41 Syrian refugees

Syrian refugees walking among tents at Karkamis' refugee camp near the town of Gaziantep, south of Turkey

8/41 Sudanese refugees

South Sudanese refugees waiting for food in the Kule refugee camp near the Pagak Border Entry point in the Gambella Region, Ethiopia

9/41 African refugees

African refugees live homelessly at a temporary shelter beside a road on World Refugee Day in Sana'a, Yemen. The number of African refugees who have come to Yemen during the past few years has reached 750,000, most of them are Somalis

10/41 Iraqi refugees

An Iraqi refugee girl from Mosul stands outside her family's tent at Khazir refugee camp outside Irbil, 217 miles (350 kilometers) north of Baghdad, Iraq. The militants' capture of Iraq's cities of Mosul and Tikrit makes their dream of a new Islamic state look more realistic. It already controlled a swath of eastern Syria along the Euphrates River, with a spottier presence extending further west nearly to Aleppo, Syria's largest city. In Raqqa, the biggest city it holds in Syria, it imposes taxes, rebuilds bridges and enforces the law - its strict version of Shariah

11/41 Iraqi refugees

Refugees queue to register at a temporary camp in northern Iraq

Getty Images

12/41 Syrian refugees

A young Syrian refugee stands near jerry cans used to collect water at Al-Zaatri refugee camp in the Jordanian city of Mafraq, near the border with Syria. The United Nations hopes that political talks between the warring sides in Syria will clinch local ceasefires to allow vital food and medicines to reach millions of civilians

13/41 Syrian refugees

A child refugee from the northern province of Raqqa in Syria, reacts from the cold weather in a Syrian refugee camp beside the Lebanese border town of Arsal, in eastern Bekaa Valley

Reuters

14/41 Syrian refugees

Boys help their father remove snow in front of their tent in the Azaz refugee camp

15/41 Syrian refugees

A Syrian refugee family from Aleppo crosses the Bosphorus from Uskudar to the European side of Istanbul

16/41 Syrian refugees

A child refugee stands next to a home constructed using a billboard in the settlement of Qab Elias in the Bekaa Valley, Lebanon

PA

17/41 Syrian refugees

Refugee baby Rim in the settlement of Qab Elias in the Bekaa Valley, Lebanon

PA

18/41 African refugees

Refugees arriving at a camp near Bossangoa, 190 miles north of Bangui, the capital. Forty-one thousand people fled their homes following mass executions in the area

Juan Carlos Tomasi/Médecins Sans Frontières/Doctors Without Borders

19/41 Syrian refugees

Representatives of Syrian President Bashar al-Assad, a deeply divided opposition, world powers and regional bodies started a long-delayed peace conference aimed at bringing an end to a nearly three-year civil war

20/41 Iraqi refugees

A women and a girl wash at a tap at a temporary displacement camp set up next to a Kurdish checkpoint in Kalak. Thousands of people have fled Iraq's second city of Mosul after it was overrun by Isis (Islamic State of Iraq and Syria) militants. Many have been temporarily housed at various IDP (internally displaced persons) camps around the region including the area close to Erbil, as they hope to enter the safety of the nearby Kurdish region

21/41 Iraqi refugees

Families arrive at a Kurdish checkpoint next to a temporary displacement camp in Kalak

22/41 Iraqi refugees

An Iraqi refugee girl from Mosul stands outside her family's tent at Khazir refugee camp outside Irbil, 217 miles (350 kilometers) north of Baghdad, Iraq. Days after Iraq's second-largest city fell to Isis fighters, some Iraqis are already returning to Mosul, lured back by insurgents offering cheap gas and food, restoring power and water and removing traffic barricades

23/41 Iraqi refugees

A girl, who fled from the violence in Mosul, carries a case of water at a camp on the outskirts of Arbil in Iraq's Kurdistan region

24/41 Iraqi refugees

A displaced Iraqi woman washes her family's laundry as the children shower outside their tent at a temporary camp set up to shelter civilians fleeing violence in Iraq's northern Nineveh province in Aski kalak, 40 kms west of the Kurdish autonomous region's capital Arbil

25/41 Iraqi refugees

Iraqi refugees from Mosul arrive at Khazir refugee camp outside Irbil, 217 miles (350 kilometers) north of Baghdad

AP

26/41 Sudanese refugees

The international Red Cross said that the road from Bor to the nearby Awerial area 'is lined with thousands of people' waiting for boats so they could cross the Nile River and that the gathering of displaced 'is the largest single identified concentration of displaced people in the country so far'

27/41 Sudanese refugees

People unload the few belongings at Minkammen, that they were able to bring with them to the camps

28/41 Sudanese refugees

Thousands of exhausted civilians are crowding into the fishing village of Minkammen, a once-tiny riverbank settlement of a few thatch huts 25 kilometres (20 miles) southwest of Bor

29/41 Sudanese refugees

Many people had spent days hiding out in the bush outside Bor as gunmen battled for control of the town, which has exchanged hands three times in the conflict, and remains in rebel control

30/41 Sudanese refugees

A young boy pulls his suitcase of belongings as he walks to find a place to rest after getting off a river barge from Bor

31/41 Sudanese refugees

A displaced family camp under a tree providing partial shade from the midday sun

32/41 Sudanese refugees

A boy carries a fish, caught from the nearby Nile river, in a cardboard box on his head back to his relatives to eat

33/41 Sudanese refugees

A mother and her baby, one of the few to have a mosquito net, wake up in the morning after sleeping in the open

34/41 Sudanese refugees

Four-month old Haida Majzub was born in the Ajuong Thok refugee camp inside South Sudan. The camp, in northern Unity State, hosts thousands of refugees from the Nuba Mountains, located across the nearby border with Sudan

35/41 Sudanese refugees

A girl fills a container with muddy water in the Ajuong Thok Refugee Camp

36/41 Sudanese refugees

The clashes in South Sudan began when uniformed personnel opened fire at a meeting of the governing party, the Sudan People's Liberation Movement

37/41 Myanmar refugees

45 year old Dilbhar looks towards the camera as she stands in the Shamalapur Rohingya refugee settlement in Chittagong district. She escaped to Bangladesh from the Bodchara village in the Mondu district of Myanmar

38/41 Myanmar refugees

32 year old Mahada Khatum, 5 year old Hasan Sharif, and 9 year old Umma Kulsum sit outside their home in the Shamalapur Rohingya refugee settlement in Chittagong district. The family escaped violence and discrimination from the Zomgara Baharchara village in the Meherulla district of Myanmar

39/41 Myanmar refugees

Hamid and his daughter Rajama sit inside their home in the Shamalapur Rohingya refugee settlement in Chittagong district. They fled to Bangladesh from the Dhuachopara village in the Rachidhong district of Myanmar

40/41 Afghan refugees

Afghan children wait for relief supplies from the Muslim Hands United For The Needy during an aid distribution at a refugee camp on the outskirts of Kabul

41/41 Afghan refugees

Afghan people carry relief supplies received from the Muslim Hands United For The Needy during an aid distribution at a refugee camp on the outskirts of Kabul
Wars between the Houthis and the Yemeni state have sporadically raged for more than a decade, as well as conflict with East African migrants.
Saudi Arabia, supported by regional Sunni Muslim allies from Egypt, Jordan, Sudan and other nations, launched an air campaign to support President Hadi after he withdrew last month from the capital to Aden.
He left Yemen on Thursday to attend the Arab League summit and has not returned.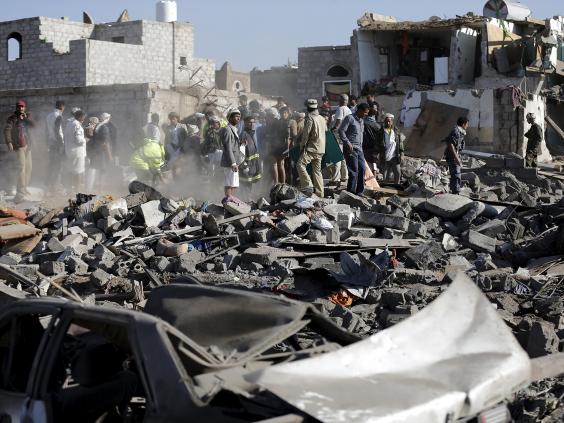 Sunni tribes allied with Mr Hadi are battling northern Zaydi Shias backed by soldiers loyal to former President Ali Abdullah Saleh, who stepped down after mass protests during the 2011 Arab Spring against his 33 years in office.
Yemen was already sliding into chaos with a growing southern separatist movement and a covert US drone campaign against al-Qaeda in the east, which has now stalled.
Bombardment yesterday struck the capital, Sanaa, which is controlled by the Houthis, the port city of Aden and Khor Maksar.
The escalating violence has led several countries to evacuate citizens, including China, India and Pakistan.
Additonal reporting by Reuters
Reuse content