Elections are unnecessary in Saudi Arabia because its people are happier with the current system of government "than almost any other country in the world", the kingdom's UN ambassador has claimed. 
Abdallah al-Mouallimi was challenged as to why the Saudis were calling for elections in Syria, but only allow limited municipal elections in their own country, where it is illegal to call for a change of government or publish criticism of the state.
Mr Al-Mouallimi, the Permanent Representative of Saudi Arabia to the United Nations, was grilled on the point in an interview for Al Jazeera by British journalist Mehdi Hasan.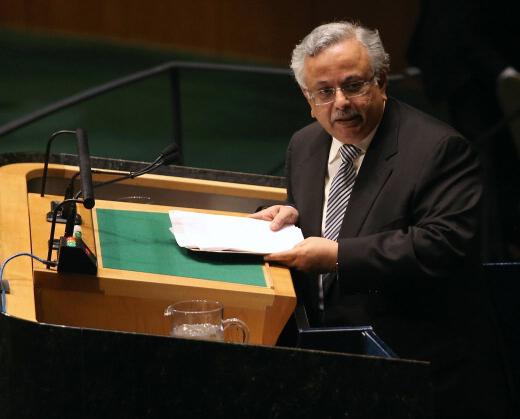 Mr Hasan asked: "If the people of Syria should get to choose their own head of state, why not the people in Saudi Arabia as well?"
Mr Al-Mouallimi responded: "Elections are not the panacea for everything. Just because there are elections in Syria doesn't mean there have to be elections in Saudi. 
10 examples of Saudi Arabia's human rights abuses
10 examples of Saudi Arabia's human rights abuses
1/10

In October 2014, three lawyers, Dr Abdulrahman al-Subaihi, Bander al-Nogaithan and Abdulrahman al-Rumaih , were sentenced to up to eight years in prison for using Twitter to criticize the Ministry of Justice.

AFP/Getty Images

2/10

In March 2015, Yemen's Sunni President Abd-Rabbu Mansour Hadi was forced into exile after a Shia-led insurgency. A Saudi Arabia-led coalition has responded with air strikes in order to reinstate Mr Hadi. It has since been accused of committing war crimes in the country.

Getty Images

3/10

Women who supported the Women2Drive campaign, launched in 2011 to challenge the ban on women driving vehicles, faced harassment and intimidation by the authorities. The government warned that women drivers would face arrest.

Getty Images

4/10

Members of the Kingdom's Shia minority, most of whom live in the oil-rich Eastern Province, continue to face discrimination that limits their access to government services and employment. Activists have received death sentences or long prison terms for their alleged participation in protests in 2011 and 2012.

Getty Images

5/10

All public gatherings are prohibited under an order issued by the Interior Ministry in 2011. Those defy the ban face arrest, prosecution and imprisonment on charges such as "inciting people against the authorities".

Getty Images

6/10

In March 2014, the Interior Ministry stated that authorities had deported over 370,000 foreign migrants and that 18,000 others were in detention. Thousands of workers were returned to Somalia and other states where they were at risk of human rights abuses, with large numbers also returned to Yemen, in order to open more jobs to Saudi Arabians. Many migrants reported that prior to their deportation they had been packed into overcrowded makeshift detention facilities where they received little food and water and were abused by guards.

Getty Images

7/10

The Saudi Arabian authorities continue to deny access to independent human rights organisations like Amnesty International, and they have been known to take punitive action, including through the courts, against activists and family members of victims who contact Amnesty.

Getty Images

8/10

Raif Badawi was sentenced to 1000 lashes and 10 years in prison for using his liberal blog to criticise Saudi Arabia's clerics. He has already received 50 lashes, which have reportedly left him in poor health.

Carsten Koall/Getty Images

9/10

Dawood al-Marhoon was arrested aged 17 for participating in an anti-government protest. After refusing to spy on his fellow protestors, he was tortured and forced to sign a blank document that would later contain his 'confession'. At Dawood's trial, the prosecution requested death by crucifixion while refusing him a lawyer.

Getty Images

10/10

Ali Mohammed al-Nimr was arrested in 2012 aged either 16 or 17 for participating in protests during the Arab spring. His sentence includes beheading and crucifixion. The international community has spoken out against the punishment and has called on Saudi Arabia to stop. He is the nephew of a prominent government dissident.

Getty
"The key question is: Is the population content and happy and satisfied with the form of government they have and I would like to claim if you went to Saudi Arabia and conducted a survey… you will find a high degree of support for the system."
Mr Hasan responded: "Isn't that partly because they do say they want another government they will go to jail?"
Mr Al-Mouallimi denied this, claiming that even an "anonymous survey" would return support for the political system.
He added: "What is important is the pact between the government and the governed, the mutual acceptance.
"I can tell you that mutual acceptance is much higher in Saudi Arabia than almost any other country in the world."
Municipal elections were held in Saudi Arabia in December, with women allowed to vote for the first time in the country's history. Representatives were elected to its "consultative assembly", which can propose laws but does not have the power to enact them.
Political parties are banned in Saudi Arabia and the country is run by a king, who serves as head of state and absolute monarch. Calling for a change of government or removal of the monarchy is illegal, and it is a crime to publish anything which damages the state's reputation. 
Saudi Arabia is one of several countries to call for "free and fair elections" to be held in Syria.
Reuse content