The day after Saudi Arabia faced international condemnation for executing 175 people in the past year, four more people have been executed.
On 25 August, human rights group Amnesty International called for a moratorium on the death penalty in Saudi Arabia after a high number of executions occurred in a year, which they said were often "based on 'confessions' obtained under torture or other ill-treatment in flagrant miscarriages of justice."
Saudi Arabia has also received criticism for executing people for offences that do not meet the definition of "most serious crimes" for which capital punishment can be given under international law, such as drug-related offences.
Nearly half of the 2,208 people executed in the kingdom since 1985 were foreign nationals - some of whom were denied proper translators, leaving them forced to sign documents, including confessions, that they did not understand.
Ten places where most executions were carried out in 2013
Ten places where most executions were carried out in 2013
1/10 1. China

Amnesty International does not have an official figure on executions in China during 2013, but believes the figure to be in the thousands

2/10 2. Iran

Iran carried out 369 public executions

3/10 3. Iraq

Iraq committed 169 public executions in 2013

4/10 4. Saudi Arabia

Saudi Arabia carried out 79 executions in 2013

5/10 5. USA

Thirty-nine people were executed in the US in 2013

6/10 6. Somalia

In Somalia, 34 people were publicly executed last year

7/10 7. Sudan

Twenty-one people were executed in Sudan

8/10 8. Yemen

Thirteen people were executed in Yemen in 2013

9/10 9. Japan

Eight people were executed in Japan, according to the report

10/10 10. Vietnam

Vietnam does not release public figures on executions but Amnesty estimate the number to be a minimum of 7
The day after this moratorium was urged, four more people were executed - three Saudis for murder and a Syrian for drug smuggling.
Their executions bring the total number of executions in the last year to at least 179.
Around one person is executed every two days in Saudi Arabia, mostly by having their head cut off with a sword in public.
Around half of the executions that have occurred in recent years are for non-lethal crimes, and people in the country can be executed for blasphemy, witchcraft and adultery, which is punishable by stoning - however, executions for adultery are incredibly rare in practice.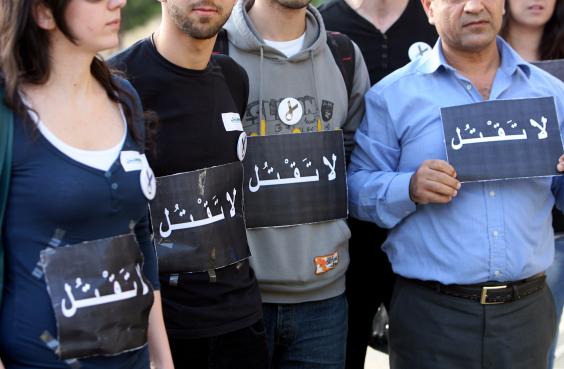 Amnesty claimed that Saudi Arabian trials are often marked by a "lack of basic safeguards".
The country's Sharia-based justice system lacks a criminal code, meaning definitions of crimes and their punishment are often left widely open to the interpretation of judges.
Judges can also use their discretion in sentencing, often leading to huge discrepancies between punishments.
Executions are becoming more common in Saudi Arabia - 102 people were executed in the first six months of this year, compared to 90 in all of 2014.
Said Boumedouha, Acting Director of Amnesty's Middle East and North Africa Programme said Saudi Arabia's track record on the death penalty is "utterly shameful".
He added: "Claims that the death sentence in Saudi Arabia is carried out in the name of justice and in line with international law could not be further from the truth."
"Instead of defending the country's appalling record, the Saudi Arabian authorities should urgently establish an official moratorium on executions and implement international fair trial standards in all criminal cases."
Reuse content