The beheading of dozens of Sunni and Shia prisoners by the West's main Middle East ally, Saudi Arabia, threatens to renew sectarian violence in the oil-rich kingdom and plunge the Middle East into greater turmoil.
The mass executions – in Riyadh, Mecca, Medina and in the eastern and northern regions – have been seen as a bloody statement of intent delivered by an increasingly powerless Saudi Interior Minister.
Among those killed was Sheikh Nimr al-Nimr, a leading Shia cleric with the rank of ayatollah, a political prisoner and vocal supporter of protests against the Saudi royal family. His death, which has sparked outrage in Iran, the dominant Shia power in the region, is likely to lead to an escalation of hostilities in Yemen, where a proxy war between the two nations is being fought. 
Iran's leaders reacted furiously. Seminary students marched through the holy city of Qom in protest. Ayatollah Ahmad Khatami, a senior cleric, told the Mehr news agency: "I have no doubt that this pure blood will stain the collar of the House of Saud and wipe them from the pages of history." 
Protests were also reported in Indian-controlled Kashmir, Pakistan, Bahrain, Iraq and the Eastern Province of Saudi Arabia. Hundreds of armoured vehicles have been sent to Qatif in the province to contain protests. Security forces in other Shia-populated areas are also said to be on high alert. The cleric's brother, Muhammad al-Nimr, appealed for calm, saying his brother had wanted only "peaceful protests".
Protesters in Bahrain held up placards reading: "Damn you." Tear gas was later fired to disperse the crowds. "In Bahrain, we knew Sheikh Nimr as a peaceful reformist," said Sayed Ahmed Alwadaei, the advocacy director at the Bahrain Institute for Rights and Democracy. "His loss will be mourned throughout the world." 
Juveniles on death row in Saudi Arabia
Juveniles on death row in Saudi Arabia
1/8 Abdullah al-Zaher

Abdullah al-Zaher was arrested at the age of 15 for attending a protest and he is was the youngest in a group of juvenile offenders put on death row

2/8 Abdullah al-Zaher

Previously held alongside fellow juvenile offender Ali al-Nimr, whose case sparked outrage around the world, Abdullah has now been moved to solitary confinement at a new facility and could be beheaded at any moment

3/8 Abdullah al-Zaher

His family and lawyers believe he was forced to sign a document without knowing its contents, and which later was used as a "confession" in the closed trial against him

4/8 Ali Mohammed al-Nimr

Ali Mohammed al-Nimr faces imminent beheading and crucifixion for crimes he reportedly committed as a child

5/8 Ali Mohammed al-Nimr

The UN has issued an urgent call for Saudi Arabia to halt his execution but a Saudi court has upheld the sentence of Ali Mohammed al-Nimr, the son of a prominent government dissident, despite growing and high-level international condemnation

6/8 Ali Mohammed al-Nimr

Mr al-Nimr, who was arrested in 2012 for his participation in Arab Spring protests when he was just 16 or 17 years old, could now be put to death at any time

7/8 Dawood al-Marhoon

Dawood al-Marhoon was 17 year old when he was arrested for participating in an anti-government protest

8/8 Dawood al-Marhoon

After refusing to spy on his fellow protesters, he was tortured and forced to sign a blank document that would later contain his 'confession'. At Dawood's trial, the prosecution requested death by crucifixion while refusing him a lawyer
Regional sources told The Independent on Sunday that the deaths were ordered as part of a feud that threatens the future of the Saudi royal family. The executions went ahead despite international condemnation and calls to spare six Shia prisoners who had been jailed – three as juveniles – under the kingdom's draconian anti-terror laws.
The execution of Sheikh Nimr, ordered by Interior Minister Muhammad bin Nayef, has escalated the sectarian hatred that is tearing the region apart. An internecine power struggle within the ruling family is predicted to affect the country's relationships with both its neighbours and the West, which holds lucrative arms contracts with Saudi Arabia.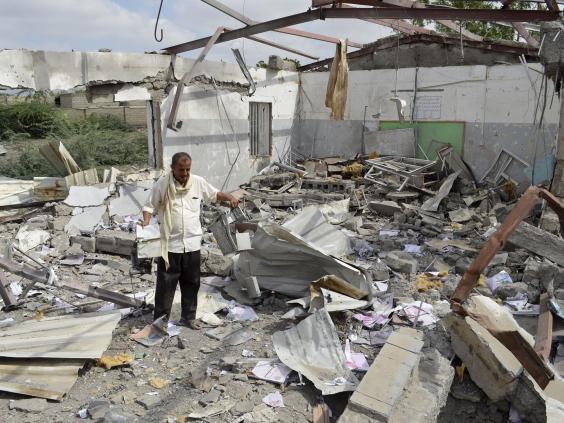 In Britain, it was left to the Foreign and Commonwealth Office to offer qualified criticism of the Saudis. An FCO spokesman said that Britain "opposes the death penalty in all circumstances and in every country", adding that it undermined human dignity and did not work as a deterrent. Responding to questions from The IoS, the shadow Foreign Secretary, Hilary Benn, said Saudi Arabia was "profoundly wrong" to have executed Sheikh Nimr. He said London should "seek assurances" from Riyadh that his nephew Ali al-Nimr would not be killed.
In Iraq, where Iranian militia have been fighting Islamic State alongside the army and where, this week, Saudi Arabia reopened its embassy for the first time since Iraq's invasion of Kuwait in 1990, the former prime minister Nuri  al-Maliki said: "We strongly condemn these detestable sectarian practices and affirm that the crime of executing Sheikh al-Nimr will topple the Saudi regime."
Iraq's Prime Minister, Haider al-Abadi, said: "Violating human rights leads to repercussions on the security, stability and the social fabric of the peoples of the region." Mohammed al-Sayhud, an MP from Iraq's ruling coalition, said the execution of Sheikh Nimr was intended to "set the region on fire". 
Of the six sentenced to death as young men, three were killed – Mohammed al-Sheikh, Ali al-Rebh and Mohammad al-Suwaimil. Writing to The Independent a day before the executions, the mothers of the six, and Fatimah al-Faraj, the mother of Sheikh Nimr, described their collective torment. "Their right to life could be taken away at any moment," the women wrote.
Mohammed bin Nayef, the Interior Minister, was once viewed as the most significant power in the Saudi elite.  In an attempt to reassert his authority over the Defence Minister, Mohammed bin Salman, he ordered the 47 men to be executed, The IoS has learned. "[He] was desperate to prove his authority inside the ruling family," a source said. "Mohammed bin Nayef had nothing left. Mohammed bin Salman had taken everything else. He had no other tools."
Also killed were two Sunni clerics, Faris al-Showail and Hamad al-Humaiti, both held for several years before being executed. They were advocates of violent jihad and al-Qaeda sympathisers. Saudi Arabia's top cleric, Grand Mufti Sheikh Abdulaziz al-Sheikh, said the executions were carried out in line with Islamic law and the need to safeguard the kingdom's security. He described the executions as a "mercy to the prisoners".
Sheikh Nimr was seen as a key figure in protests that broke out among Shia communities in the oil-rich Eastern Province in the wake of the Arab Spring in 2011. He was arrested a year later. His nephew, Ali al-Nimr, who was 17 when he was arrested and also faces execution, was not listed as one of those killed. Neither was Dawoud al-Marhon and Abdullah al-Zaher, whose mothers wrote to The Independent last week. 
The former foreign secretary Sir Malcolm Rifkind told The IoS: "The sad fact is that, over the last 100 or 200 years, this is what the Saudi system of justice has produced. We deplore it and find it abhorrent, but it is not done as an act of terrorism. We probably did the same a few hundred years ago when we burnt people at the stake."
Iran's retaliation could come in Yemen, where Shia Houthi rebels backed by Tehran are fighting a Saudi-led coalition. The Saudi-led coalition, which has been bombing the Houthis in Yemen for nine months, announced the end of a ceasefire that began on 15 December. The ceasefire had been repeatedly violated by both sides. Almost 6,000 people have been killed since the Saudi coalition entered the conflict in March, almost half of them civilians. 
Asked if the UK should be pressing the Saudis to reform their policies, Sir Malcolm said: "That is not the way the world works. You can't just trade with the countries you approve of, otherwise you would be ruling out trade with China, Russia, and probably three-quarters of the world."
Reuse content