The World Health Organisation (WHO) has urged the Syrian government to allow further urgent medical aid to be sent to the besieged town of Madaya, after aid workers described the "heartbreaking" conditions endured by its starving residents.
Doctors said 300 to 400 people needed urgent special medical care, according to Elizabeth Hoff, the WHO representative in Damascus, who went into Madaya with the first aid convoy allowed in for months. "I am really alarmed," she said later by telephone from Damascus.
"People gathered in the market place. You could see many were malnourished, starving. They were skinny, tired, severely distressed. There was no smile on anybody's face. It is not what you expect to see when you arrive with a convoy. The children I talked to said they had no strength to play."
Some 40,000 people are trapped by encircling government forces and some residents have starved to death.
"It's really heartbreaking to see the situation of the people," said Pawel Krzysiek of the International Committee of the Red Cross.
The WHO said it had asked the Syrian government to allow it to send mobile clinics and medical teams to Madaya to assess the extent of malnutrition and evacuate the worst cases. Ms Hoff said medical staff had told her that mothers had no milk for breast feeding and many malnourished people were too weak to leave their homes. Rice was on sale, she said, but at $200 or $300 a kilogram. "An elderly lady had not eaten for 20 days. She was picked up unconscious on the street and brought in," she said.
The US ambassador to the United Nations, Samantha Power, accused the government of Syrian President Bashar al-Assad of "grotesque starve-or-surrender tactics".
The difficulties in getting aid into Madaya and other besieged places could also set back efforts to hold new peace talks on the five-year-old war in Syria, scheduled to take place under UN auspices in Geneva on 25 January.
A United Nations "road map" for the talks calls on the parties to allow aid agencies unhindered access throughout Syria, particularly in besieged and hard-to-reach areas. 
An opposition grouping has told the UN that this must happen before the talks can begin.
Negotiations to get into Madaya and two villages in the north of the country, also besieged by rebels, were lengthy and difficult. There are up to 15 such sieges across Syria, where 450,000 people are trapped, the UN says.
The main Syrian opposition coordinator, Riad Hijab, said the United States had backtracked over the departure of President Assad as part of any settlement and this meant the opposition would face hard choices on whether to attend the talks.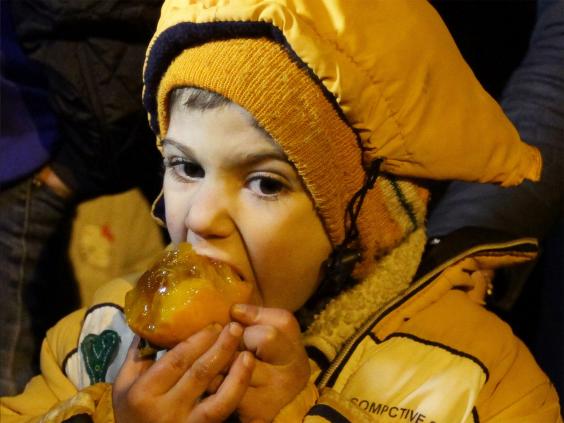 He added that the continued Russian bombing of opposition targets was putting peace talks at risk. "We cannot negotiate with the regime while there are foreign forces bombing the Syrian people," he said.
In an interview with the German newspaper Bild, President Vladimir Putin maintained that the Russian army was militarily supporting both the Syrian army and opposition forces "that combats Isis", adding: "We support both the Assad army and the armed opposition. Some of them have publicly declared this, others prefer to remain silent." 
Mr Putin also said Russia could grant asylum to Mr Assad if he were forced to flee his country. He said that granting asylum to the Syrian leader would be easier than it was to give refuge to fugitive NSA contractor Edward Snowden, though he added that at present any such plan was "premature". 
World news in pictures
World news in pictures
1/30 24 June 2016

A rider rears up on his horse while surrounded by a cheering crowd during the traditional Fiesta of Sant Joan (Saint John) in downtown Ciutadella, on the island of Menorca, Spain

REUTERS

2/30 24 June 2016

A man throws a bucket of water at a motorcyclist as residents join in a water-splashing frenzy to honor their patron St. John the Baptist's Feast Day in San Juan, Metro Manila, Philippines

REUTERS

3/30 23 June 2016

Migrant workers supporting Myanmar Foreign Minister and State Counselor Aung San Suu Kyi wave to her during a meeting at the coastal fishery centre of Samut Sakhon, Thailand

REUTERS

4/30 23 June 2016

A general view shows the financial district of Lujiazui in Shanghai

AFP/Getty Images

5/30 23 June 2016

A cat walks past Muslim women offering afternoon prayers at a mosque at the shrine of Sufi Saint Khawaja Naqashband during the holy month of Ramadan in Srinagar

REUTERS

6/30 23 June 2016

A test launch of ground-to-ground medium long-range ballistic rocket Hwasong-10 in North Korea

REUTERS

7/30 22 June 2016

Family members cry near coffins containing the bodies of Nepali nationals, who were killed when a suicide bomber struck a minibus in Kabul, lined up after being flown from Afghanistan at Tribhuvan International Airport in Kathmandu, Nepal

REUTERS

8/30 22 June 2016

Villagers carry banners which read "Plead the central government to help Wukan" (in red) and "Wukan villagers don't believe Lin Zuluan took bribes" during a protest in Wukan, China's Guangdong province

REUTERS

9/30 21 June 2016

A plane drops retardant on a wildfire as it attacks the flames on a hillside in the San Gabriel mountains near Monrovia, California

REUTERS

10/30 21 June 2016

Aymara indigenous hold up their hands to receive the first rays of sunlight in a New Year's ritual in the ruins of the ancient city Tiwanaku, Bolivia. Bolivia's Aymara Indians are celebrating the year 5,524 as well as the Southern Hemisphere's winter solstice, which marks the start of a new agricultural cycle

AP

11/30 21 June 2016

A resident making his way through a flooded area in a village in Poyang county, in southeast China's Jiangxi province

AFP/Getty Images

12/30 20 June 2016

Seagulls fly as the full moon rises behind the ancient marble Temple of Poseidon at Cape Sounion, southeast of Athens, on the eve of the summer solstice

AP

13/30 20 June 2016

An aerial view shows people practising yoga on a glass sightseeing platform ahead of the International Day of Yoga, on the outskirts of Beijing, China

REUTERS

14/30 20 June 2016

Dessana indigenous shaman Raimundo Dessana holds the Olympic Torch during a ritual at the Tupe Reservation in the outskirts of Manaus, Amazonas, Brazi

AFP/Getty Images

15/30 20 June 2016

An emu runs to escape an approaching wildfire as it burns near Potrero, California

REUTERS

16/30 20 June 2016

Wales' supporters cheer downtown Toulouse, before the Euro 2016 football match of Russia vs Wales

AFP/Getty Images

17/30 19 June 2016

A rescuer grabs a rope to prevent a raft carrying residents from being flushed away as residents are evacuated from a flooded area in Jiujiang, China

REUTERS

18/30 19 June 2016

Palestinians scuffle with an Israeli border policeman as Israeli troops demolish sheds belonging to Palestinians near the West Bank village of Yatta, south of Hebron

REUTERS

19/30 19 June 2016

People hold placards reading "A kiss against hate", "Rome loves Europe" as they gathered in front of the Colosseum to send a message of affection, sealed with a kiss to Britain, before next week's referendum, in Rome, Italy

REUTERS

20/30 19 June 2016

People perform dragon dance and present it in a shape of the Chinese character "father" to celebrate Father's Day in Yueyang, China

REUTERS

21/30 19 June 2016

A humming bird is seen landing on a bird feeder at a public square in Santiago, Chile

REUTERS

22/30 18 June 2016

A reveller participates in Regenbogenparade gay pride parade in Vienna, Austria

REUTERS

23/30 18 June 2016

Mohammed Tofeeq holds his 10-month-old daughter, Gulshan Tofeeq, while he prays at the grave of his wife Muqadas Tofeeq, who local police say was killed by her mother, in Butrawala village on the outskirts of Gujranwala in Pakistan. Police have arrested the mother of Muqadas Tofeeq who is accused of killing her pregnant daughter for marrying against the wishes of her family. Violence against women is not uncommon in Pakistan where nearly 1,000 women are killed each year in so-called "honor killings" for violating conservative norms on love and marriage

AP

24/30 17 June 2016

A relative of a an Indian man convicted for the 2002 Gujarat riots cries after the court announced the lengths of the sentences in Ahmadabad, India. An Indian court has sentenced 11 people to life in prison for murder in one of the many deadly religious riots that swept across the western state of Gujarat in 2002, leaving more than 1,000 dead. Special Court Judge P. B. Desai rejected the demand for death penalty as the prosecution failed to prove charges of criminal conspiracy against the defendants. The judge also sentenced 12 defendants to seven years in prison and one to 10 years in prison in the case

AP

25/30 17 June 2016

Police officers hug as they pay homage to the two police officials killed by an extremist claiming allegiance to IS, during a ceremony in Versailles, near Paris. Police commander Jean-Baptiste Salvaing and his companion, police administrator Jessica Schneider were stabbed by attacker Larossi Abballa, who was killed in a police raid

AP

26/30 17 June 2016

A long exposure photograph shows star trails in the night sky over a camp in Altyn-Emel national park, in Almaty region, Kazakhstan

REUTERS

27/30 16 June 2016

A member of the Indian LGBT community attends a vigil in Mumbai, in solidarity with the victims of the Orlando mass shooting

AFP/Getty Images

28/30 16 June 2016

Dockers hold up flares during a protest against what they say is a lack of job stability in Lisbon, Portugal

REUTERS

29/30 16 June 2016

New recruit "Pepper" the robot, a humanoid robot designed to welcome and take care of visitors and patients, holds the hand of a new born baby next to his mother at AZ Damiaan hospital in Ostend, Belgium

REUTERS

30/30 16 June 2016

Souad Hamidi, 19, removes the niqab she said she had been forced to wear since 2014, after U.S.-backed Syria Democratic Forces took control of her village Am Adasa in northern Syria from Islamic State fighters, in the outskirts of Manbij, Aleppo province, Syria

REUTERS
He urged constitutional reform in Syria and said that the president should have no need to leave the country at all if democratic presidential elections were held, whether or not he remained in power.
"On the basis of the new constitution, early presidential and parliamentary elections should be held [in Syria]," he told Bild. 
"It's the Syrian people themselves who must decide how their country should be run, and by whom." 
Lisa Barrington reported for Reuters