The World Health Organisation (WHO) has urged the Syrian government to allow further urgent medical aid to be sent to the besieged town of Madaya, after aid workers described the "heartbreaking" conditions endured by its starving residents.
Doctors said 300 to 400 people needed urgent special medical care, according to Elizabeth Hoff, the WHO representative in Damascus, who went into Madaya with the first aid convoy allowed in for months. "I am really alarmed," she said later by telephone from Damascus.
"People gathered in the market place. You could see many were malnourished, starving. They were skinny, tired, severely distressed. There was no smile on anybody's face. It is not what you expect to see when you arrive with a convoy. The children I talked to said they had no strength to play."
Some 40,000 people are trapped by encircling government forces and some residents have starved to death.
"It's really heartbreaking to see the situation of the people," said Pawel Krzysiek of the International Committee of the Red Cross.
The WHO said it had asked the Syrian government to allow it to send mobile clinics and medical teams to Madaya to assess the extent of malnutrition and evacuate the worst cases. Ms Hoff said medical staff had told her that mothers had no milk for breast feeding and many malnourished people were too weak to leave their homes. Rice was on sale, she said, but at $200 or $300 a kilogram. "An elderly lady had not eaten for 20 days. She was picked up unconscious on the street and brought in," she said.
The US ambassador to the United Nations, Samantha Power, accused the government of Syrian President Bashar al-Assad of "grotesque starve-or-surrender tactics".
The difficulties in getting aid into Madaya and other besieged places could also set back efforts to hold new peace talks on the five-year-old war in Syria, scheduled to take place under UN auspices in Geneva on 25 January.
A United Nations "road map" for the talks calls on the parties to allow aid agencies unhindered access throughout Syria, particularly in besieged and hard-to-reach areas. 
An opposition grouping has told the UN that this must happen before the talks can begin.
Negotiations to get into Madaya and two villages in the north of the country, also besieged by rebels, were lengthy and difficult. There are up to 15 such sieges across Syria, where 450,000 people are trapped, the UN says.
The main Syrian opposition coordinator, Riad Hijab, said the United States had backtracked over the departure of President Assad as part of any settlement and this meant the opposition would face hard choices on whether to attend the talks.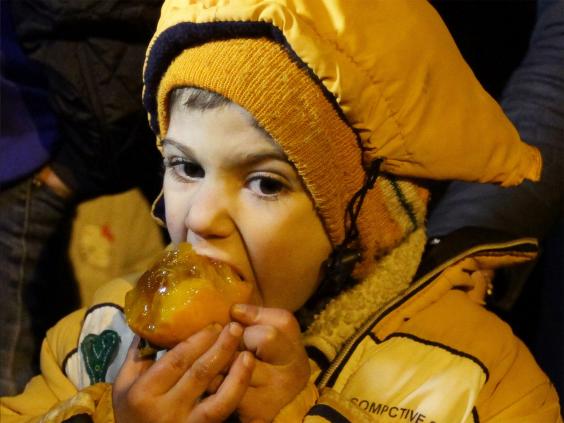 He added that the continued Russian bombing of opposition targets was putting peace talks at risk. "We cannot negotiate with the regime while there are foreign forces bombing the Syrian people," he said.
In an interview with the German newspaper Bild, President Vladimir Putin maintained that the Russian army was militarily supporting both the Syrian army and opposition forces "that combats Isis", adding: "We support both the Assad army and the armed opposition. Some of them have publicly declared this, others prefer to remain silent." 
Mr Putin also said Russia could grant asylum to Mr Assad if he were forced to flee his country. He said that granting asylum to the Syrian leader would be easier than it was to give refuge to fugitive NSA contractor Edward Snowden, though he added that at present any such plan was "premature". 
World news in pictures
World news in pictures
1/30 19 July 2016

A woman stands by the new makeshift memorial in tribute to the victims of the deadly Bastille Day attack at the Promenade des Anglais in Nice, after it was moved from the pavement of the road to the seafront so that the street can be re-opened

AFP/Getty Images

2/30 19 July 2016

CodePink demonstrators protest at an anti-Donald Trump rally in Cleveland, Ohio, near the Quicken Loans Arena site of the Republican National Convention

AFP/Getty Images

3/30 19 July 2016

Lightning is seen in the sky over the Ostankino TV tower during a storm in Moscow, Russia

AP

4/30 18 July 2016

A Turkish police restrains a man on the ground during an operation in front of the courthouse in Ankara. Turkey has detained more than 7,500 suspects involved in the coup plot seeking to oust the government

AFP/Getty Images

5/30 18 July 2016

Tents are seen set up along a mountain road during a camping festival in Luoyang, China

REUTERS

6/30 17 July 2016

A woman lays her head on the coffin of a victim of the failed coup attempt during his funeral in Istanbul

Getty Images

7/30 17 July 2016

People gather at a makeshift memorial on the Promenade des Anglais in Nice, in tribute to the victims of the Bastille Day attack that left 84 dead

Getty

8/30 17 July 2016

Police officers stand in front of an East Baton Rouge police car with bullet holes as it's towed away from the scene where three police officers were killed in Baton Rouge, Louisiana

Getty Images North America

9/30 16 July 2016

Surrendered Turkish soldiers who were involved in the coup are beaten by a civilian

Reuters

10/30 16 July 2016

People occupy a tank on the streets of Istanbul. Istanbul's bridges across the Bosphorus, the strait separating the European and Asian sides of the city, have been closed to traffic. Reports have suggested that a group within Turkey's military have attempted to overthrow the government. Security forces have been called in as Turkey's Prime Minister Binali Yildirim denounced an 'illegal action' by a military 'group', with bridges closed in Istanbul and aircraft flying low over the capital of Ankara

EPA/TOLGA BOZOGLU

11/30 15 July 2016

A man reacts near bouquets of flowers near the scene where a truck ran into a crowd at high speed killing scores and injuring more who were celebrating the Bastille Day national holiday in Nice

Reuters

12/30 15 July 2016

A child's toy is placed among the floral tributes laid out near the site of the truck attack in the French resort city of Nice

AP

13/30 15 July 2016

Investigators continue at the scene near the heavy truck that ran into a crowd at high speed killing scores who were celebrating the Bastille Day in Nice

Reuters

14/30 14 July 2016

Rescue workers help an injured woman to get in a ambulance, after a truck drove into a crowd watching a fireworks display during Bastille Day in the French Riviera town of Nice. A truck ploughed into a crowd leaving at least 84 dead and scores injured

AFP/Getty Images

15/30 14 July 2016

A dike between two lakes is seen under demolition in Wuhan, Hubei Province, China

REUTERS

16/30 14 July 2016

Mount Bromo spews ashes into the air during a volcanic eruption. Mount Bromo lies within Bromo-Tengger-Semeru National Park, a huge caldera containing several volcanoes, Indonesia

AFP/Getty Images

17/30 13 July 2016

Residents chant slogans during a protest against government's decision on deploying a U.S. THAAD anti-missile defense unit in Seongju, South Korea. The banner reads "Desperately oppose deploying THAAD in Seongju"

REUTERS

18/30 13 July 2016

Spanish bullfighter Miguel Angel Perera gets tackled by a bull during a bullfight at the San Fermin Festival in Pamplona

REUTERS

19/30 13 July 2016

The Solar Impulse 2 flying over the pyramids, Egypt Cairo. The experimental solar-powered airplane has arrived in Egypt as part of its global voyage

AP

20/30 13 July 2016

A man holding a Palestinian flag protests as he sits in the scoop of an Israeli excavator as tries to prevent it from clearing his land during a protest against Jewish settlements, near the village of Deir Qaddis near the West Bank city of Ramallah

REUTERS

21/30 13 July 2016

A man stands between thousands of paper lanterns, which were displayed and lit up the precincts of the shrine, where more than 2.4 million war-dead are enshrined, during the Mitama Festival at Yasukuni Shrine in Tokyo, Japan

REUTERS

22/30 13 July 2016

A cooling tower is seen under mechanical demolition in Binzhou, Shandong Province, China

REUTERS

23/30 12 July 2016

A bargeman works onboard a tow boat, which pulls a 750-metre-long (2461 feet) timber raft to the Novoyeniseisk wood processing plant down the Angara river near the Siberian village of Strelka in Krasnoyarsk region, Russia. Timber rafts or tied logs of the high quality Angara pine and larch are transported for about 500 kilometres (311 miles) from the areas of industrial wood felling in Taiga forest to the Novoyeniseisk wood processing plant, located on the bank of the Yenisei River in Lesosibirsk. The plant exports timber to Europe, Northern Africa and Asia, according to representatives

REUTERS

24/30 12 July 2016

The wreckage of a train after a head-on collision between two trains, near Corato, in the southern Italian region of Puglia. At least 20 people were killed in a head-on collision between two passenger trains, in one of the country's worst rail accidents in recent years. Investigators said at least one of the trains had been travelling very fast, and it was possible the collision was caused by human error

AFP/Getty Images

25/30 12 July 2016

People standing on the edge of the crater while watching the eruption of Mount Bromo in Probolinggo, Indonesia

REUTERS

26/30 12 July 2016

An activist wearing a hat representing the Philippine navy boat "Sierra Madre", now half-submerged at Second Thomas shoal of the Spratly islands, sits with protesters during a demonstration in front of the Chinese consulate in Manila, ahead of a UN tribunal ruling on the legality of China's claims to an area of the South China sea contested by the Philippines. Beijing lays claim to virtually all of the South China Sea, putting it at odds with regional neighbours the Philippines, Vietnam, Malaysia, Brunei and Taiwan, which also have partial claims

AFP/Getty Images

27/30 12 July 2016

The balloon of Russian adventurer Fedor Konyukhov is seen after it lifted off in his attempt to break the world record for a solo hot-air balloon flight around the globe near Perth, Australia

REUTERS

28/30 11 July 2016

A woman writes with a lipstic on police shields during an anti-government protest in Skopje. Macedonia has been locked in political crisis for more than a year, with anti-government protests fueled by allegations that the ruling conservatives had authorised wiretaps of opponents and thousands of senior officials. Political leaders have faced delays in implementing a European Union-brokered agreement to hold early elections

AFP/Getty Images

29/30 11 July 2016

An airport firefighter's unit spray water in the national colours over the aircraft carrying Portugal's national football team members during a welcome at Lisbon airport, after the Euro 2016 final football win over France The Portuguese football team led by Cristiano Ronaldo returned home to a heroes' welcome today after their upset 1-0 win triumph over France in the Euro 2016 final. / AFP PHOTO / PATRICIA DE MELO MOREIRAPATRICIA DE MELO MOREIRA/AFP/Getty Images

AFP/Getty Images

30/30 11 July 2016

A critically endangered Maui's dolphin swimming off the west coast of New Zealand's North Island. The International Whaling Commission (IWC) has called on New Zealand to take urgent action to save the world's rarest dolphin from extinction, voicing "grave concern" about its future

AFP/Getty Images
He urged constitutional reform in Syria and said that the president should have no need to leave the country at all if democratic presidential elections were held, whether or not he remained in power.
"On the basis of the new constitution, early presidential and parliamentary elections should be held [in Syria]," he told Bild. 
"It's the Syrian people themselves who must decide how their country should be run, and by whom." 
Lisa Barrington reported for Reuters
Reuse content