As Syrian delegates arrived in Geneva to attend talks aimed at ending the civil war in their country, activists stood behind a buffet table stationed outside, offering up the delicacy of the besieged areas of their homeland: grass soup. 
Hundreds of thousands of people are said to be living under siege in Syria, mainly in the countryside outside Damascus, the majority constrained by the forces of President Bashar al-Assad. However, in Deir al-Zour, in the country's north-east, up to 200,000 are believed to be besieged by Islamic State (Isis) and the regime, according to the campaign group Siege Watch, while the towns of Fua and Kefraya in Idlib province are under siege by rebel groups opposed to President Assad. 
The five-year war in Syria has killed more than 250,000 people and forced many more to flee. It is these lives, and the plight of the besieged, that many hope the delegates remember amid the chaotic start to the talks. There is a complex web of interests in Syria, from the government to rebel opposition groups, as well as the threat posed by Isis and the al-Qaeda affiliate in the country, Jabhat al-Nusra. Therefore it is no surprise that the UN-brokered talks are proving difficult. The fact that the main opposition group threatened a complete boycott, before a delegation arrived in Geneva late on 30 January, only added to the problems.      
But the difficulties in Switzerland pale in comparison with the situation on the ground for those under siege. In Daraya, in the western Ghouta area outside Damascus, the siege by regime forces is tightening and bombardment from the air is increasing, local activists say. 
Mohammad Shihedeh, a member of Daraya's local council, told The Independent on Sunday: "Here, all the services have been cut off since 2012. No electricity, no running water, no communications."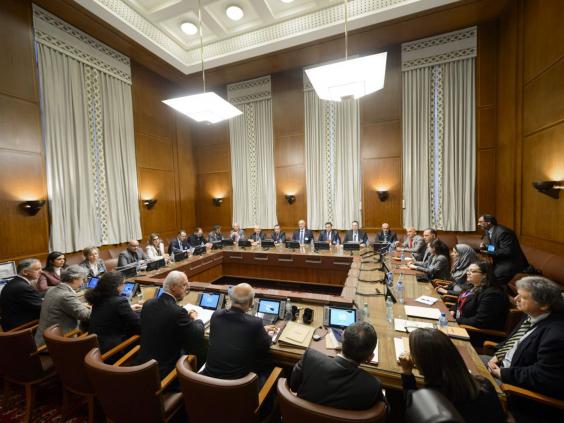 Water must be drawn from wells. What little electricity residents have is generated using diesel smuggled in, or by burning plastic to create oil. Conversations with Mr Shihedeh are hurried, and often cut off until the next time he can charge his phone. 
The temperature in Daraya dropped to -9C at night last week. The rubble of houses destroyed by the bombing  was being searched for wood to build fires, to keep as warm as possible, Mr Shihedeh said.  
Neighbouring Moadamiya signed a fragile truce with the government two years ago and, until recently, some supplies could be smuggled into Daraya from there. But the government has now severed the road between them, rendering Daraya completely isolated from the outside world. 
Another town living under siege is Madaya, near the border with Lebanon. The Syrian government allowed aid convoys to enter the town in recent weeks, but this was a minor tonic for a much more serious illness. The humanitarian group Médecins Sans Frontières reported yesterday that 16 people have died within Madaya since that limited aid was delivered in early January.
In Daraya, residents eat anything that can be grown locally, but the nature of the siege makes agriculture a dangerous undertaking, Mr Shihedeh said. Rice and bread are scarce and expensive – a kilo of rice costs £9, while the same product in a British supermarket costs 60p. 
"We depend on local farming, but mainly inside the houses, because we can't farm large areas, as they are targeted by barrel bombs and with air strikes."
British jets prepare for air strikes in Syria
British jets prepare for air strikes in Syria
1/10

A Tornado jet takes off from RAF Lossiemouth in Scotland, as RAF Tornado jets carried out the first British bombing runs over Syria

2/10

Pilots and ground crew prepare combat aircraft Panavia Tornados at RAF Marham at RAF Marham, UK

Getty

3/10

A Eurofighter Typhoon jet takes off from RAF Lossiemouth in Scotland, as RAF Tornado jets carried out the first British bombing runs over Syria

4/10

A RAF Tornado arrives at RAF Akrotiri to begin operations in Akrotiri

5/10

A Tornado jet ahead of taking off from RAF Lossiemouth in Scotland, as RAF Tornado jets carried out the first British bombing runs over Syria, the Ministry of Defence has confirmed. The air strikes were carried out within hours of a vote by MPs in the Commons to back extending operations against Isis from neighbouring Iraq

6/10

Personnel work on a British Tornado after it returned from a mission at RAF Akrotiri in southern Cyprus

7/10

Two RAF Tornado GR4's, both with remaining weapons ordnance, approach RAF Akrotiri in Cyprus, as they return to the base after carrying out some of the first British bombing runs over Syria

8/10

A RAF Tornado takes off from RAF Akrotiri, on the Mediterranean island nation of Cyprus

9/10

A Tornado jet leaving RAF Lossiemouth in Scotland

10/10

AKA RAF Tornado arrives at RAF Akrotiri to begin operations in Akrotiri, Cyprus. The RAF has sent two further Tornado aircraft and six Typhoons to bolster aircraft now flying sorties to both Iraq and Syria
Government helicopters usually come in low, letting troops roll out the indiscriminate barrel bombs through the doorway. But now, Mr Shihedeh said, "they are striking us from above the clouds. Now you cannot even see the jet. So we believe it is Russian. We didn't used to have that before."
Russia joined in the aerial bombardment of Syria in September, ostensibly to target Isis. But by mid-January, Russian forces are alleged to have killed at least 1,000 civilians, according to the UK-based Syrian Observatory for Human Rights. Russia claims it avoids civilian casualties.  
Seventy-six barrel bombs fell in Daraya on 28 January alone, the local council reported. Mr Shihedeh said roughly 800 to 1,000 fall every month. 
The boycott of the Geneva talks threatened by opposition group the Higher Negotiation Committee (HNC) was over issues such as the human suffering caused by the sieges. Arriving late on 30 January, the group was cagey about officially joining the talks – merely saying it was there to discuss humanitarian issues with UN officials. 
UN envoy Staffan de Mistura has already met with the delegation from the Syrian government  when talks opened on 29 January. 
And so, those in Daraya might have to wait some time for progress, with supplies at a premium. Residents are growing lettuce, parsley and spinach – plants which do not need a lot of water and which have some nutritional value. Mr Shihedeh said they were made into broths with water and a few spices. 
 As for medicine, there were once three hospitals in Daraya. Two have been destroyed and the other is occupied by the regime. One field hospital is now all that exists for residents. 
"The medical situation is very grave, really," Mr Shihedeh said. "We have almost no medicine."
He adds: "The regime is more keen on preventing medicine from entering the city, maybe more than food." Expired medicine is used, or homemade serums and saline. 
Mr Shihedeh is not optimistic about the peace talks in Geneva, and voices disgust at the opening words of Mr de Mistura, which failed to mention the sieges, or President Assad.
Despite Mr Shihedeh's "concerns about safety, living conditions, health, and the vague future ahead," he said people in Daraya were clinging on to hope. He cited a passage from the Koran, a story about the depths of the ocean. In it, a non-believer cannot see his hand stretched in front of him, through endless waves of darkness. But the believer can see through to the light.
Reuse content