Russia's first sustained air strikes against Isis have destroyed command centres and training camps, with the Kremlin stating that more attacks on the group are imminent in its new military campaign – its first in the Middle East since the Second World War.
The raids centred on Raqaa,  the capital of the Isis "Caliphate" in Syria and Iraq, with Taqba military airport and locations in the villages of Maddan Jadid and Kasrat Faraj also targeted. Around  a dozen fighters were killed, according to the British-based Syrian Observatory for Human Rights. 
Russian military officials announced it had also struck an Isis communication centre in Daret Ezza in northern Aleppo; bunkers and weapons complexes in Maarat al-Numan and Habeet in Idlib; and a command post in Hama. 
However, Syrian opposition activists maintained that the areas targeted in Aleppo, Idlib and Hama were not in Isis hands, but instead were controlled by al-Qaeda affiliated Jabhat al-Nusra. They also claimed that a missile strike at al-Qarytain, a Christian town in Homs which had been overrun by Isis, had resulted in civilian casualties.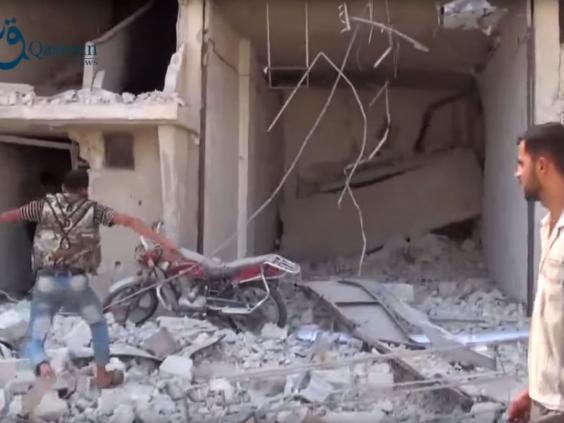 There had been mounting accusations by the West, Turkey and the Gulf States that Moscow was using the pretext of striking Isis to eliminate all rebel groups, including moderate ones, opposed to the regime of Bashar al-Assad.  Isis responded to the bombings by tweeting, "Death to Putin: we are coming soon," accompanied by a photograph of Moscow's St Basil's Cathedral in flames. 
The initial waves of Russian air strikes were aimed at the rebel groups that pose the greatest immediate threat to the regime. The main targets have been Jaysh al-Fateh, or the Army of Conquest, a coalition of Islamist groups ranging in extremism from al-Nusra to Ahrar al-Sham, which is backed by Turkey and Saudi Arabia. 
The Russians insist that they have only targeted terrorists. Foreign Minister Sergey Lavrov said that the Free Syrian Army (FSA), the military arm of the western-backed Syrian opposition, were not considered by Russia to be terrorists and "should be part of the political process". 
However, a FSA communications centre in Aleppo was destroyed late on 1 October and when Vladimir Putin's spokesman, Dmitry Peskov, was asked about the FSA, he responded: "Does it exist? Haven't most of them switched to Isis? It existed, but whether it does now nobody knows for sure."
The expeditionary force that Moscow has dispatched has between 1,500 to 2,000 personnel, but the campaign will be primarily from the air. Forward air controllers, to guide strikes, may be deployed on the ground in the future.
The aircraft, missiles and bombs used in the mission are a mixture of old, going back to the Soviet era, and relatively new. There are 34 fixed-wing aircraft based at Latakia – 12 Su-25 and four Su-30SMs  fighter-bombers; 12 Su-24M2 and six Su-34 bombers. There are also 16 Mi-24 helicopter gunships and Mi-8 multi-role helicopters, plus an unspecified number of unmanned drones.
Airstrike in Damascus
Airstrike in Damascus
1/5 7 January 2014

A young survivor receives help after what activists say was an airstrike by forces loyal to Syrian President Bashar al-Assad in the Duma neighbourhood of Damascus

2/5 7 January 2014

Men help a wounded girl who survived what activists say was an airstrike by forces loyal to Syrian President Bashar al-Assad in the Duma neighbourhood of Damascus

3/5 7 January 2014

People gather at a site hit the airstrike

4/5 7 January 2014

Children are helped from the rubble after the airstrike in Duma

5/5 7 January 2014

A man holds up a dust-covered baby who survived what activists say was an airstrike by forces loyal to the Syrian President, Bashar al-Assad, in the Duma neighbourhood of Damascus yesterday
The most advanced of these are the Su-34s, codenamed Fullbacks by Nato, which can carry out bombings and missile strikes and have never before been used in combat. The Su-25 is a veteran of the wars in Chechnya and Georgia, and vulnerable to MANPADS (shoulder fired surface to air missiles) of which there are many in Syria and Iraq.
The Kremlin has claimed that only precision strikes have been used, to minimise collateral damage. However, civilians have been killed and injured and video footage reveal intended targets being missed on several occasions. 
The reality is that, compared to its major Western counterparts, the Russian Air Force lacks sophisticated precision weapons and targeting systems. Douglas Barrie, a senior fellow at the International Institute for Strategic Studies, said: "This is not a new problem… This issue was exposed during the Georgian War in 2008. The problem originated with the collapse of the Soviet Union and decades of very little investment in developing advanced weapons systems."
Mr Barrie added that the Russian military industry had "reinvigorated efforts" in an attempt to match the West. But while the Kremlin's forces now have laser and electro-optically guided bombs and missile systems, they have not deployed the targeting pods used by advanced Western aircraft to guide weapons.
Meanwhile, there are continued reports that Assad regime and Iranian troops are massing alongside Hezbollah fighters to carry out a ground offensive against the rebels in the wake of air strikes.
Pavel Felgenhauer, an independent military analyst in Moscow, said: "Right now they are just softening up the opposition. Then will come the ground offensive. It will be us in the air and Syria, Iran and Hezbollah on the ground. It's going to be a terrible blood bath. Tens of thousands will be killed and the consequences for Europe will be even more refugees."
Reuse content