In Homs, the war destroyed the old city and left many of the modern suburbs intact. In Aleppo, to which the war came late – many of its proud merchant families believed that its educated population and trading history would spare the city – the conflict burned its way into the ancient bazaar and destroyed the 11th century Great Mosque, whose minaret collapsed with such terrifying velocity that, so one resident told me, "the vibration felt as if the world was coming to an end."
But Damascus was blessed – and cursed—by the opposite phenomenon.  While its suburbs were erased or smashed beyond recognition amid a welter of shells, sniping and barrel-bomb attacks, its ancient heart beats on, the Umayad Mosque and the Roman columns and the tunnel pathways of the soukhs preserved, its people – those who live in the middle-class homes of Melki and Mezze or who cling to the 'normality' of the apartment blocks around the inner city – weirdly cocooned against destruction.  In the ring of poverty that surrounds the capital, the men, women and children of Damascus died or fled the pestilence of civil war.
People – most people, I think – believe in the law.  Not the party edicts or dictatorial commands which have been inflicted on Damascus for centuries, but the regulations which persuade them that their civilization can be preserved amid chaos.  Thus my driver tells me quietly that he would be grateful if, like him, I wear my seat belt in the car.  And the shopkeepers near the old hotel in which Lawrence of Arabia held his fateful meeting with General Allenby in 1918 – where Lawrence expressed his ignorance of Allied plans to hand Syria to France – refuse to accept my dollars for a pair of new shoes.  The steadily falling Syrian pound, which lost 40 pounds to the dollar on the black market when I was there, must be preserved, albeit that a squad of government intelligence officers is on hand if venality wins over patriotism.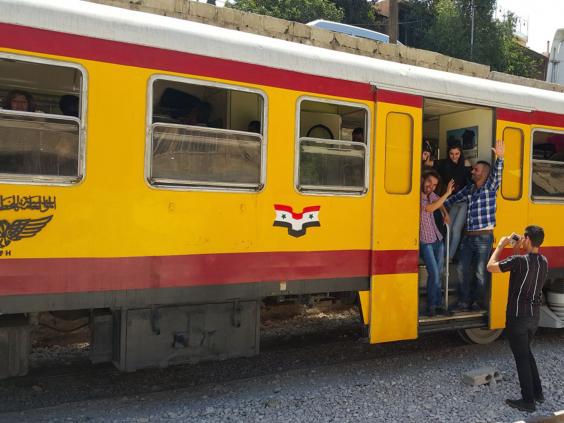 The Sheraton Hotel, whose gloomy interior boasts elderly smokers in the bar, sleepy UN officers in the downstairs restaurant, and groups of sinister men in camouflage trousers in the corridors, is regularly engulfed by music and flowers and ladies in outrageous dresses as vast weddings of grinning new husbands and officially smiling brides defy the war.  Defiance is a word that often comes to mind.  These people are not showing their love of the Assad regime nor their truculence towards its enemies.  They are proving to themselves that they are still alive, that family life remains, that law – in the basic sense of civilization – must survive.
I discovered this one day up in the Alawite mountains east of Lattakia, in a funeral tent in which a young man mourned his equally young wife – she died of complications after a local hospital infection, leaving a 18-month old baby – and who blamed the war for his loss.  Jabhat al-Nusra forces were perhaps four miles down the road, yet the villagers who turned up wore spotless clothes and well-shined shoes and walked past the gardens of roses and vines as they had done for generations.  The bereaved husband asked me if I thought the war would continue for long – I told him that, alas, it would – and he shook his head and said that he loved his home and I knew that he was planning to stay there.  There were men in the tent – women paid their condolences at the back -- who were already talking of finding the young man a new wife.
In Damascus, I walked into an Ottoman house with wooden ceilings and tiled walls and shelves of books, to meet a Syrian friend whom I had last seen in Beirut.  Wouldn't he be happier, safer, more relaxed in Lebanon, I asked him?  "You know, when I go to Lebanon and I tell them that I am coming back here, they get very upset," he replied.  And they say to me:  'You mean you're going back to live under the regime!'  And I say to them:  'Yes, I am going back.  But this is MY CITY!'"
In pictures: Syria's escalating refugee crisis
In pictures: Syria's escalating refugee crisis
1/20 Syria refugee crisis

A young Syrian refugee stands near jerry cans used to collect water at Al-Zaatri refugee camp in the Jordanian city of Mafraq, near the border with Syria. The United Nations hopes that political talks between the warring sides in Syria will clinch local ceasefires to allow vital food and medicines to reach millions of civilians

2/20 Syria refugee crisis

Syrian refugees transport small stones for their tents at Al Zaatari refugee camp in the Jordanian city of Mafraq, near the border with Syria

3/20 Syria refugee crisis

Representatives of Syrian President Bashar al-Assad, a deeply divided opposition, world powers and regional bodies started a long-delayed peace conference aimed at bringing an end to a nearly three-year civil war

4/20 Syria refugee crisis

A Syrian refugee family rests inside their shelter in Hatay, Turkey

5/20 Syria refugee crisis

A Syrian refugee family from Aleppo crosses the Bosphorus from Uskudar to the European side of Istanbul

6/20 Syria refugee crisis

Syria's air force struck rebel-held areas around Damascus and Aleppo as face-to-face peace talks tentatively began in Switzerland

7/20 Syria refugee crisis

Syrian refugees look out from an evacuated house in the Kucukpazar district of Istanbul. Syrians fill houses which have been evacuated for urban development projects. Destitute Syrian refugees who have fled the war in Syria and camps in Turkey are fighting for their lives in different parts of Istanbul

8/20 Syria refugee crisis

Refugees who moved into the houses in Kucukpazar neighbourhood near the historic Suleymaniye mosque, are struggling to live without water and heating

9/20 Syria refugee crisis

A Syrian woman and her child stand inside a building in the Kucukpazar district of Istanbul

10/20 Syria refugee crisis

A Syrian boy sits in debris in the Kucukpazar district of Istanbul

11/20 Syria refugee crisis

Damaged buildings line a street in the besieged area of Homs

12/20 Syria refugee crisis

People sit around a fire along a street lined with debris in the besieged area of Homs

13/20 Syria refugee crisis

Children cut wood pieces in the besieged area of Homs. Efforts to get food and medical aid into Homs have become a test case on whether peace talks in Switzerland can produce any practical results almost three years into the Syrian conflict

14/20 Syria refugee crisis

Boys walk along a street past damaged buildings and vehicles in the besieged area of Homs

15/20 Syria refugee crisis

Syrians stand in a destroyed street following a reported airstrike by government forces on the northern Syrian city of Aleppo

16/20 Syria refugee crisis

Rescue teams search for survivors on the rubble of a building following Syrian government air raids in the northern Syrian city of Aleppo

17/20 Syria refugee crisis

A graveyard in the northern Syrian city of Aleppo

18/20 Syria refugee crisis

A view of destruction in Aleppo's ancient Umayyad mosque, in the UNESCO-listed northern Syrian city. The mosque's minaret was blown up during clashes between opposition and government forces

19/20 Syria refugee crisis

Syrians attend the funeral of victims who reportedly died of hunger in the besieged Yarmuk Palestinian refugee camp in southern Damascus

20/20 Syria refugee crisis

A man holds the corpse of one-year old baby Adbul Jalil Mohamed Hamis wrapped in shrouds, who reportedly died of hunger in the besieged Yarmuk Palestinian refugee camp in southern Damascus during a funeral ceremony
Would he say the same if the centre of Damascus – including his own home – had been destroyed, and its suburbs left intact?  The Assad regime understands the inhabitants of the government-controlled districts of the city.  Its public parks blossom with bougainvillea and jacaranda trees, its roads are swept, its music is kept alive.  A women's volunteer orchestra performs in town once a week to show that culture has not died -- it is no creature of the Baath party – and schoolchildren are still required to wear formal uniform at all classes.  Not so much law perhaps.  But very definitely order.  Like the power cuts.  With Isis controlling new oil fields, the power stations ration elecrticity and the lights go out 12 hours a day.  Occasionally, a shell – fired by the army at rebel areas – whiffles over Damascus.  A Mig jet howls into a bombing run.  Who will it kill?  No-one interrupts their conversation.  They can watch the results on  YouTube later.  Nusrah's mortars sometimes meakly respond.
Assad's enemies would have it that the minority Alawite Shiites rule Syria with the proverbial iron fist, cynically protecting the Christians and other minorities from the fury of the majority Sunnis.  It would help the regime if there was less truth in this claim.  But most of Damascus' population is Sunni and most of Syria's army – and many of its generals -- are Sunni, and they know, courtesy of Nusrah and Isis, what kind of country awaits them if the government falls.  The young – those who have money – club at night in downtown cafes scarcely 400 metres from the front lines, beyond which a different, equally innocent population cowers and survives amid the government's gunfire or – more often – flees to Lebanon or Jordan.  The millions of refugees that now surround the frontiers of Syria, destitute, hopeless, their children working the fields for piastres rather than attending schools in those neat blue uniforms, are mostly from  rebel-held lands.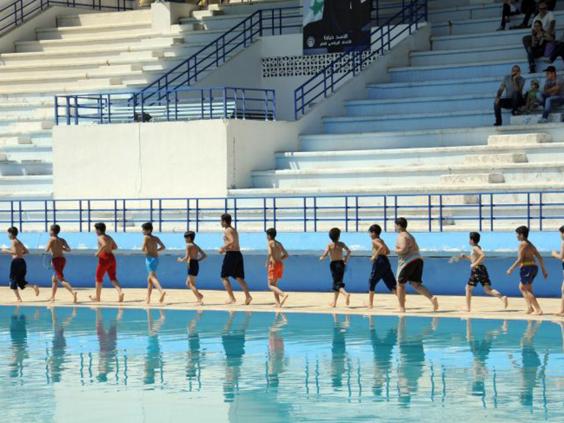 In Qalamoun, in the thorny mountain valleys now contested between Assad's army, the Hezbollah and Nusra fighters, you can still drive into dirt-poor villages bearing the delicate ruins of ancient Christian churches – unlike Maalula and Sednaya, these hamlets lost their Christian populations hundreds of years ago – and there are old men leading goats and children playing amid the stone facades of long-deserted stone houses, watching listlessly as government militiamen smoke cheap cigarettes beside old Russian self-propelled guns.
In one sense, you cannot separate the army from the people.  Almost everyone I know in Damascus has a son or a brother or a husband in the military – occasionally, amid a bleak conversation on the future, you gather that the son is a soldier in a different army, beyond the government front lines.  I often meet conscripts – students, street-workers, IT experts, even shepherds in ordinary life – on a two-day leave home to Damascus.
They talk – as they would do to foreigners – of comradeship, but also of pain and suffering, avoiding the obvious questions of war crimes ("I wasn't on that front") and some of them – not all, but some of them – appear to have accepted death already.  Perhaps that makes their life easier.  A few days ago, I was talking to an army officer and I asked him if, when the war was over, he would bring his children to see the battlefields of Syria.  "I don't think that will ever happen," he said.  And I thought at first he meant that children should not be told of war.  And then I realised that he believed he would probably die before the war was over.  Several conscripts told me that most of their friends were already dead.
Front lines are not as hermetic as strangers might believe.  Mobile phones work across much of the country.  Local ceasefires are arranged between Syrian fighters and soldiers who know each other by name, who in some cases are even related.  Each morning, a bus arrives in Damascus from Raqqa, the ferocious Isis 'capital' of Islamist law and executions, and its passengers, mostly women, emerge fearful into another world, watched by government agents, to rejoin families or take the road to Lebanon.  There are Syrian businessmen who travel regularly from Beirut, through government lines to rebel-territory and back with only their official passports (and, no doubt, a large enough bribe).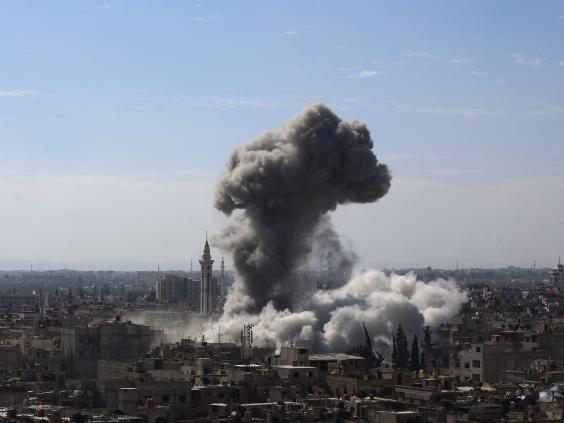 On Friday morning, however, there is a unique form of people's defiance, a one-carriage railway train which chugs three and a half  miles up the gorge of the river Barada carrying dozens of shrieking Syrian children and young men and women who dance the dabka and smoke hubble-bubble pipes as they rumble at 15 miles an hour to what is now the end of the line:  go any further and you'd be in Nusra country.  The engine is a German diesel shunter, the lone bright yellow carriage from Hungary, a tiny remnant of Syria's state railways, the crew and ticket-inspector and station masters still salaried -- $150 (£96) a month – and the final destination an ancient French railway station a few hundred yards from the front lines.  The train runs for commuters during the week, and each morning the oldest employee, 62-year old Abu Mohamed Yahya Habawani sporting a glorious white moustache – a steam train driver in the old days – turns up "in case I'm needed".
The driver, a man whose family name translates as 'camel-butcher', dances in the carriage with the passengers – mostly Christian and Druze – before the return journey, a loudspeaker playing a popular song, 'The Russian Bullet' -- it refers to the ammunition of the AK-47 rifle -- in which a young man says that his girlfriend is as stunning as a bullet.  The carriage is decorated with photos of steam locos that pulled the old Hejaz trains – yes, the ones Lawrence partially destroyed – and even the company that runs this little track records its website as www.hijazrailway.gov.sy.
Note the 'gov' bit.  The regime knows how to keep its people occupied.  I took the train along this same track 30 years ago, pulled by a steam loco, all the way to the hill town of Zabadani, now deep in Islamist territory.  "If we took the train there now," one of the crew remarked to me, "we'd have to have segregated carriages for the men and women."  And the children, I wondered?  And I realised then that the youngest aboard was born into this Syrian war.  Their parents simply refused to leave.  Why?  Bloody-mindedness?  Surely not politics.  Or were they, perhaps, the real 'resistance', the real 'army' of Damascus?
Reuse content