Horrifying images of Syrian children wounded by suspected Russian air strikes have emerged, fuelling growing international anger at Moscow's pounding of civilians in apparent defiance of international law.
In a district of Aleppo called Paradise, a video showed doctors in a field hospital working frantically to save the life of a boy, no more than 11 years old, with a gaping shrapnel wound. They pumped his chest to restart his heart, but his fixed eyes suggested it was a hopeless cause. On the other side of the room, a boy covered in dust from the rubble of collapsed buildings writhed in pain and called out to God.
The footage, released by the Aleppo Media Centre activist network, could not be independently verified. But Dr Osama Abo el-Ezz, a general surgeon and co-ordinator for the Syrian American Medical Association in the city, said that two Russian attacks on the districts of Paradise (al-Fardous in Arabic) and al-Sukkari had killed 11 people and wounded at least 13. 
The attacks came as the charity Médecins Sans Frontières said that one of its partner hospitals in the southern province of Deraa was hit by air strikes on 5 February, killing three people and wounding six others, in a "flagrant violation of international laws".
The United Nations has warned that hundreds of thousands of civilians could starve if, as feared, forces loyal to the Syrian government encircle Aleppo and submit the rebel-held east to a siege. It said that a huge new wave of refugees would be forced to flee from a Russian-backed assault.
Donald Tusk, President of the European Council, added his voice to the chorus of condemnation of Russia, which was accused this week by Human Rights Watch of using banned cluster bombs. He warned that Moscow's actions were "making an already very bad situation even worse" by forcing thousands of people towards Turkey and Europe.
Russia maintains that its air strikes do not kill civilians. Responding to Angela Merkel, the German Chancellor, who said that she was "not just appalled but horrified" by Russian attacks on civilians, Kremlin spokesman Dmitry Peskov said: "Despite a huge number of such statements, no one up to now has presented a single [piece of] credible evidence as proof of these words."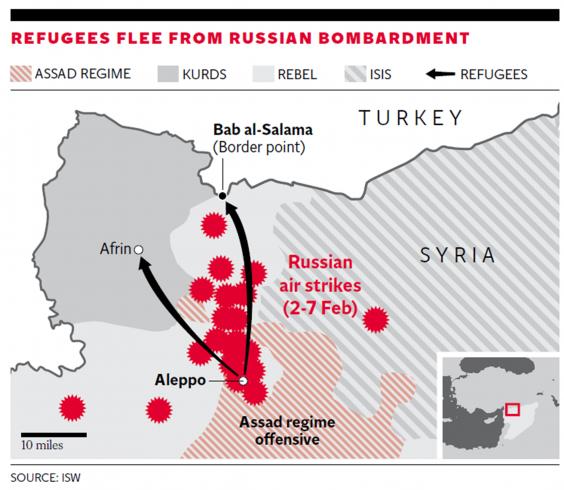 In the past week, Syrian government forces, supported by Russian air strikes, Iranian troops and Hezbollah, have launched a major offensive in the rebel-held area to the north of Aleppo, where al-Qaeda-linked Jabhat al-Nusra has fought alongside more moderate, Western-backed rebel groups. They have severed the main rebel supply route to the city, which was also the primary aid route. The gains have shifted the momentum in a five-year civil war that has claimed at least 250,000 lives and forced 11 million people from their homes. They also triggered the collapse of the first UN-backed peace talks in two years after the opposition refused to negotiate while under heavy attack.
In an interview with Reuters, an aide to President Bashar al-Assad said that there would be no let-up in the campaign. Bouthaina Shaaban said Damascus aims to secure the border with Turkey and recapture the whole of Aleppo and the surrounding villages to "liberate" them from "the crimes of terrorism".
As well as causing spiralling civilian casualties, the encroachment towards the Turkish border has unnerved Ankara, which is staunchly opposed to the Assad government. It has prompted fears of a new influx of arrivals to the EU on top of more than one million migrants and refugees who came to its shores last year. The UN called on Turkey, already home to 2.5 million Syrians, to open its gates to tens of thousands who have amassed near the border after fleeing the attacks. Ankara's position last night appeared confused. 
While some ministers insisted it was better to keep Syrians on their side of the border, Foreign Minister Mevlut Cavusoglu said Turkey was in fact admitting refugees in a "controlled fashion" and had let in 10,000 of the 50,000 people to have reached the border in the latest wave.
Turkey has insisted that the needs of those who have fled are being met. The Turkish charity IHH, which is close to the government, is constructing tents and has set up a mobile kitchen serving hot food to 30,000 people per day.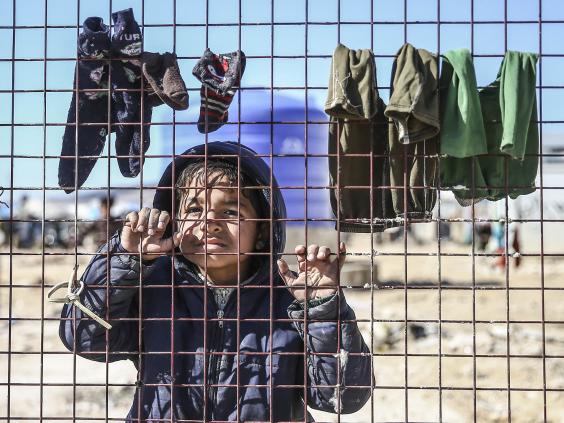 But an aid worker from Islamic Relief, a UK-based NGO that is providing aid in northern Aleppo, told The Independent that conditions for refugees were dire.
The staffer, who asked not to be named to protect his safety inside Syria, said: "You can't say that these are camps. They are really very primitive, very disorganised. People are living under trees, putting up plastic sheets. The situation is very critical."
Nato said that it would treat requests for help with the refugee crisis "very seriously" after Turkey called for assistance.
World news in pictures
World news in pictures
1/30 28 September 2016

Rescuers evacuate residents through floodwaters brought by typhoon Megi in Ningde, eastern China's Fujian province. Typhoon Megi smashed into the Chinese mainland, killing one person, after leaving a trail of destruction and four people dead in Taiwan

AFP/Getty Images

2/30 28 September 2016

A CalFire firefighter surveys a hot spot in the Santa Cruz Mountains near Loma Prieta, California. The Loma Fire has charred more than 2000 acres and burned multiple structures in the area

AFP/Getty Images

3/30 28 September 2016

A civil police officer carries a girl to a safe place during the demolition of over 300 settlements of the Bukit Duri neighbourhood located on the Ciliwung river banks, in order to improve the riverside infrastructure planned by the government in Jakarta. Authorities ordered the slum residents to vacate their settlements built on riverbanks and for the residents to relocate to new flats, as the government is trying to clear the flood-prone area, where more than 900 homes were demolished a year earlier

AFP/Getty Images

4/30 27 September 2016

A woman eats and struggles with her umbrella against powerful gusts of wind generated by typhoon Megi across the the island in Taipei, Taiwan. Schools and offices have been closed on Taiwan and people in dangerous areas have been evacuated as a large typhoon with 162 kilometers- (100 miles-) per-hour winds approaches the island

AP

5/30 27 September 2016

Alstom employees stage a protest in front of its headquarters in St Ouen, north of Paris, asking not to close a plant in Belfort, eastern France, which employs 400 people. Alstom's situation is considered by many French politicians as symbolic of France's difficulty of keeping a strong industry at home

AP

6/30 26 September 2016

A man poses as he gathers with others at Bogota's Bolivar main square, to celebrate the historic peace agreement between the Colombian government and the Revolutionary Armed Forces of Colombia (FARC). Colombia will turn the page on a half-century conflict that has stained its modern history with blood when the FARC rebels and the government sign a peace deal. President Juan Manuel Santos and the leader of the FARC, Rodrigo Londono, better known by his nom de guerre, Timoleon "Timochenko" Jimenez, are set to sign the accord at 2200 GMT in a ceremony in the colorful colonial city of Cartagena on the Caribbean coast

AFP/Getty Images

7/30 26 September 2016

Tourists pose in front of the illuminated Eiffel Tower during an event to mark the Breast Cancer Awareness month in October in Paris

AFP/Getty Images

8/30 26 September 2016

A nail house is seen in the middle of an area covered by a dust screen in Hangzhou, Zhejiang province, China

REUTERS

9/30 26 September 2016

Students at the Durban University of Technology march as countrywide protests demanding free tertiary education continue, in Durban, South Africa

REUTERS

10/30 26 September 2016

Palestinian women throw sweets at the militants from the al-Nasser Brigades, an armed wing of the Popular Resistance Committees (PRC), while marching on their vehicles during a rally to commemorate the 16th anniversary of their group in Gaza

AP

11/30 26 September 2016

A supporter of Awami Ittihad Party (AIP), a pro-India party, is detained by Indian police during a protest demanding to hold a plebiscite, in Srinagar

REUTERS

12/30 25 September 2016

A dog wipes out during the Surf City Surf Dog competition in Huntington Beach, California

REUTERS

13/30 25 September 2016

Indian folk dancers from the Panghat Group of Performing Arts perform during a dress rehearsal for an event to mark the forthcoming Hindu festival 'Navaratri', or the Festival of Nine Nights, in Ahmedabad

AFP/Getty Images

14/30 25 September 2016

An artisan hangs decorative pieces at a pandal, or a temporary platform, for the upcoming Hindu festival of Durga Puja, in Kolkata, India

REUTERS

15/30 25 September 2016

Runners take the start of the 43rd Berlin Marathon in Berlin

AFP/Getty Images

16/30 25 September 2016

The Five-hundred-metre Aperture Spherical Radio Telescope (FAST) is seen on its first day of operation in Pingtang, in southwestern China's Guizhou province. The world's largest radio telescope began operating in southwestern China, a project which Beijing says will help humanity search for alien life

AFP/Getty Images

17/30 25 September 2016

Australian knight Philip Leitch (R) has a floral basket on his helmet smashed by an opponent at the St Ives Medieval Fair in Sydney, one of the largest of its kind in Australia

REUTERS

18/30 25 September 2016

A security guard working at the Cascade Mall places flowers at a makeshift memorial in Burlington, to the five victims killed in a shooting at the mall. The 20-year-old man suspected of killing the five people with a rifle at a Macy's makeup counter had a string of run-ins with the law in recent years, including charges he assaulted his stepfather

AP

19/30 25 September 2016

A man works in a rice field where rice crop is planted in a shape which looks like a map of China, ahead of China's National Day, in Shanghai, China

REUTERS

20/30 25 September 2016

Law enforcement officials inspect a boat overturned on a jetty, off Miami Beach. Authorities said that Miami Marlins starting pitcher Jose Fernandez was one of three people killed in the boat crash the day before. Fernandez was 24

AP

21/30 24 September 2016

Syrians await to receive treatment at a make-shift hospital following air strikes on rebel-held eastern areas of Aleppo. Heavy Syrian and Russian air strikes on rebel-held eastern areas of Aleppo city killed at least 25 civilians, the Britain-based Syrian Observatory for Human Rights said, overwhelming doctors and rescue workers

AFP/Getty Images

22/30 24 September 2016

A fire broke out on a tanker belonging to the Mexican state oil company PEMEX, causing no injuries, according to a company official, in the Gulf of Mexico off the coast of Boca del Rio in Veracruz state, Mexico

AFP/Getty Images

23/30 24 September 2016

Participants attend a competition of the 2016 XTRAIL Expedition at Kanas National Geological Park in Altay, China's Xinjiang Uygur Autonomous Region

REUTERS

24/30 23 September 2016

Protesters march in the streets during another night of protests over the police shooting of Keith Scott in Charlotte, North Carolina

REUTERS

25/30 23 September 2016

Campaigners pose on a 'United To Stop Trump' cardboard wall in front of the Brandenburg Gate to urge Americans living abroad to register and vote in Berlin, Germany

REUTERS

26/30 23 September 2016

A man rests on his cart after unloading plastic jugs near a shop at a main market in Colombo, Sri Lanka

REUTERS

27/30 23 September 2016

Staff inspect the presentation before the Swiss Cheese Awards competition in Le Sentier, Switzerland. One hundred and fourty-two experts have to choose the best out of 777 cheeses from 353 producers competing in 28 categories

REUTERS

28/30 23 September 2016

Israeli settler bride Yael Levi (C) is surrounded by friends and relatives during her wedding ceremony at the plaza outside the Cave of the Patriarchs also known as the Ibrahimi Mosque, which is a holy shrine for Jews and Muslims, in the heart of the divided city of Hebron in the southern West Bank

AFP/Getty Images

29/30 22 September 2016

A South Korean army special forces soldier breaks bottles with his hand during the Naktong River Battle re-enactment in Waegwan, South Korea. South Korean Defense Ministry reenacted one of the important battles as part of commemoration events for the 66th anniversary of the Korean War

AP

30/30 22 September 2016

Women wait on a street in Pyongyang, North Korea

AFP/Getty Images
Germany and Turkey made the controversial proposal that the alliance should become involved in stemming Europe's refugee influx after crisis talks in Ankara between Ms Merkel and Turkish leaders on 8 February.
New figures released by the International Organisation for Migration showed that 10 times as many refugees and migrants (over 76,000) arrived in Europe by sea in the first six weeks of 2016, compared to the same period the previous year. Ms Merkel said that this week's meeting of Nato defence ministers should explore the extent to which the alliance could "be helpful in surveillance at sea" – a proposal that was criticised in Germany, with questions over the legal basis for such a move.
But Jens Stoltenberg, Nato's Secretary General, responded positively to the suggestion: "I think we will take very seriously the request from Turkey and other allies to look into what Nato can do to help them cope and deal with the crisis," he said.
Nato defence ministers, who meet in Brussels on 10 February, will tomorrow also discuss a Saudi offer to send troops to Syria as part of the fight against Isis.
The US Defence Secretary, Ashton Carter, will head a team of Nato defence ministers who will be meeting their Saudi counterpart as well as ministers from the UAE and Turkey.
Reuse content