"I know what it's like to make a new life in another country. To have no one. I am the best placed person to help," Omar Alshakal says, speaking carefully in English, a language he is almost fluent in despite only beginning to learn last year. 
Alshakal is 23, but says he feels like he's 100. It's not surprising: like every Syrian forced to flee their home during the last six years of civil war, he has witnessed horrors both in Syria and on the refugee trail that eventually took him to Greece.
Speaking via a Skype video call, Alshakal is illuminated by bars of bright spring Mediterranean sunlight which pierce through the smoke of his cigarettes. In the background, birds are singing.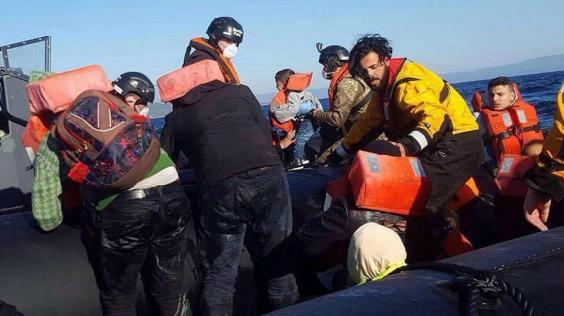 Like everyone who works on the front lines of the refugee crisis on the island of Lesbos, he says the natural beauty is at odds with the suffering and misery of the hundreds of thousands of people who have braved the perilous journey across the Aegean Sea from Turkey since 2014. 
While every illegal crossing is dangerous, Alshakal faced even more hazards than most: he swam to Greece, despite a crippling leg injury.
Born and raised in DeirEzzour, now subject to a siege by Isis, Alshakal left Syria for Lebanon in 2010, where he worked as a lifeguard.
When the civil war broke out he returned home to his family, and was arrested for his activism against President Bashar al-Assad's regime in the early days of the uprising. 
"I saw horrible things in prison. They beat prisoners until they died," he said. "When I got out after six weeks I did not care if I lived or died anymore."
Alshakal began volunteering as an ambulance driver on his release. In May 2013, an air strike hit the road just behind his vehicle, which was already crammed with six injured people. 
The blast killed everyone else on board. While Alshakal's life was spared, the incident left him in a wheelchair with a serious shrapnel wound to his right leg. 
He went to Turkey in search of adequate medical treatment, but couldn't find what he needed. "The doctor told me, go to Europe, go to Germany," he said. 
Eventually, Alshakal began to think: why not? Many others were starting to make the same journey at the mercy of smugglers in unseaworthy boats.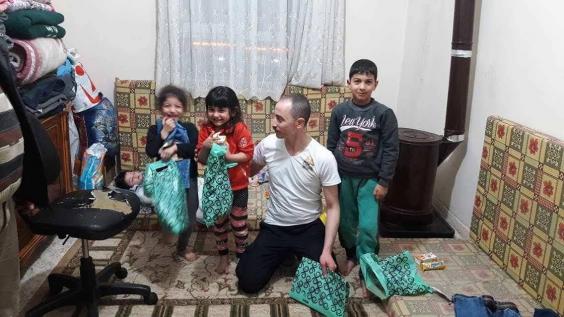 From Bodrum, on Turkey's coast, at just 10 kilometres (six miles) across the water, the Greek islands looked close enough to touch. So he decided to see if he could.
'I'm a good swimmer, even with my bad leg. Maybe it was because I was young and stupid, but even with my leg, I thought I didn't have anything to lose to try to do it." Except his life? 
Alshakal shrugs. "I didn't think about it like that," he says. 
The plan, once hatched, certainly didn't take long to execute. He and two friends went to buy snorkels, flippers, and a life jacket for the older member of their group. That night, they began the 14 hour swim from Turkey to Kalymnos. 
They were picked up by the Greek authorities just before they reached the shore: and as so many refugees find out when they finally make it to Europe, Alshakal's ordeal was far from over.
Over the next 18 months, he found himself sleeping rough on the streets of Athens, turned back from the Macedonian border multiple times, and when he eventually made it to Germany, his asylum application was temporarily suspended when he was picked up by police and accused of being a member of Isis. 
By early 2016, disillusioned with the hardship of life on a continent he thought held solutions, Alshakal decided to try and go home to Syria. He headed back to Greece.
Lesbos at that time was the epicentre of the refugee crisis; thousands of people a day were arriving on its shores before the EU's deal with Turkey to return refugees was implemented in March.
"I spoke their language, I knew their pain, I knew what they were trying to find," Alshakal said. "I had been volunteering in Germany. I had to help here too."
Alshakal began using his lifeguarding skills again as a front line responder for smugglers' boats in distress, and the more he helped, the stronger his belief that refugees should be leading the response became. 
"Some NGOs, you don't know how the money gets used, you disagree with how they do things. I wanted us to be able to help ourselves," he said.
He filed the papers to start his own charity at the beginning of this year. Two months later, "Refugee 4 Refugees" is getting off the ground, galvanising fellow refugees to collect clothes and toys for Syrians in Greece as well as those in Middle East refugee camps, run kitchen projects on the island, and fundraise for a rough-terrain vehicle to assist boat landings on Lesvos. 
"Omar is a pretty exceptional young man," Jude Bennett, the managing director of search and rescue team Refugee Rescue said. The two are friends after meeting in Skala last year.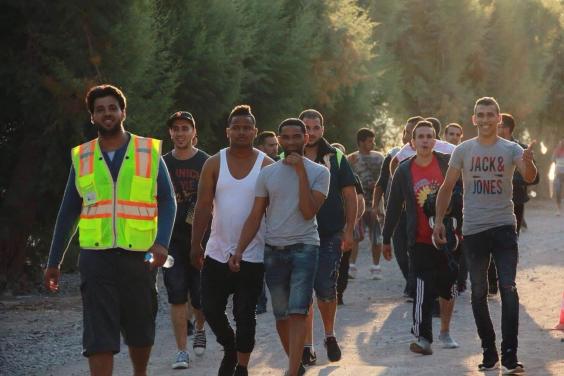 "All the locals and volunteers know who he is. With few resources he has already done projects such as providing food for refugees on the Syrian border. In Lesbos he has rescued many people as they land on the shore. 
"Now he has set up Refugee 4 Refugees to help [give refugees] work that gives a meaning to life now that they are stuck in camps on the island… It makes a simple but real difference to refugees' everyday lives."
"More and more refugees, and especially Syrians, come to help me all the time… they want to take an active role, not just be victims," Alshakal said. 
The 23-year-old doesn't know what the future holds: he has finally had proper medical care for his leg, but his Greek visa expires in 2018, and most of his family are now in Damascus. "I will keep doing what I'm doing here until someone stops me," he said.
"But really, still, I just want to be able to go home. That is what all of us want and what I think many people in Europe still don't understand."
Reuse content