Tony Blair has "no credibility" left in the Middle East as rumours continue to circulate that the former British leader will step down after eight years as the region's envoy.
Reports of the former British prime minister's resignation amid a lack of success come as a former UK ambassador to Libya claims his appointment was a "mistake" and a US official described him as a "standing joke" in the region.
It is thought that Mr Blair is preparing to step back from his diplomatic role as the official envoy for the Quartet Middle East Peace Negotiators, a foursome - including the United States, the European Union, United Nations and Russia - involved in mediating the peace process in the Israeli-Palestinian conflict.
Mr Blair has allegedly recognised that a frontline role is no longer possible as criticism mounts of his sprawling business interests and poor relations with the Palestinian Authority, according to insiders.
Reports indicate that Mr Blair has met US Secretary of State John Kerry and the EU's foreign policy chief Federica Mogherini to discuss a possible job change.
 "It is long overdue," one diplomat, briefed on the on-going talks, told the Financial Times. "He has been ineffective in this job. He has no credibility in this part of the world."
"Tony Blair is neither an asset nor a liability but his current role is no longer viable," another individual close to the Obama administration scathingly claimed.
It comes amid mounting concerns over the multi-millionaire's business interests in the region. Mr Blair's corporate roster has included PetroSaudi, an oil firm linked to the Saudi royal family, finance giant JPMorgan and Mubadala, an Abu Dhabi wealth fund. Additionally, Mr Blair's relationship with officials from the Palestinian Authority was strained from the outset thanks to his pronounced support for the Iraq war and last year allegations surfaced indicating he had agreed to advise Egyptian president Abdel Fattah el-Sisi.
The Iraq War: A timeline
The Iraq War: A timeline
1/16 11 September 2001

Terrorists belonging to al-Qaeda use hijacked aeroplanes to kill 2,996 people in attacks on the east coast of the US.

AP

2/16 12 September 2001

Tony Blair promises George W Bush that the UK will support the US, whatever the President decides to do.

AFP/Getty Images

3/16 25 March 2002

Jack Straw, Foreign Secretary, warns Blair that invading Iraq would be legally dubious.

Getty Images

4/16 June 2002

Tony Blair asks defence officials to outline options for UK participation in military action against Iraq.

afp/getty images

5/16 24 September 2002

The government publishes a dossier about the threat from Iraq's weapons of mass destruction. A foreword  by Tony Blair states that Saddam Hussein's "military planning allows for some of the WMD to be ready within 45 minutes of an order to use them". It is subsequently alleged that  this dossier was "sexed up" for  political reasons.

Getty

6/16 2 October 2002

Congress authorises President Bush to use military force against Iraq.

Getty

7/16 8 November 2002

UN Security Council passes resolution 1441, insisting that weapons inspectors be allowed back into Iraq and calling on the regime to give up its WMD or face the consequences.

Simon Walker/AP

8/16 18 July 2003

David Kelly, an expert in biological warfare, is found dead after being named as the source of quotations used by the BBC's Andrew Gilligan to suggest that the dossier of September 2002 had been "sexed up". Lord Hutton is appointed to chair a judicial inquiry into his death.

GETTY IMAGES

9/16 13 December 2003

Saddam Hussein is captured near Tikrit, after nine months in hiding.

REUTERS

10/16 2 March 2004

Bombings in Baghdad and Karbala kill nearly 200 people: the worst attacks since the fall of Saddam.

Getty Images

11/16 14 September 2005

Bombs in Baghdad kill 160 people and injure more than 500.

EPA

12/16 30 December 2005

Saddam Hussein is executed.

Getty Images

13/16 28 May 2009

The last British combat troops  leave Iraq.

Getty Images

14/16 24 November 2009

The Chilcot inquiry holds its first public hearing.

Getty

15/16 2 February 2011

The Chilcot inquiry holds its final public hearing.

AFP/Getty Images

16/16 21 January 2015

Sir John Chilcot confirms that his report will not be published before the general election in May 2015.

Getty Images
Speaking last week, an official claimed as the last round of 2013 failed negotiations began – shortly after Mr Kerry's appointment – the former leader had become a "standing joke".
"He showed up, but was not effective," the senior former official told the Daily Telegraph.
"Honestly, when the Kerry negotiations were going on, it was like he'd wait until Kerry was going to be in the region and show up at the same time and then do press releases. It was sort of unseemly."
After a decade as British prime minister his appointment in 2007, at the behest of George W Bush's administration, was met with disbelief in some quarters.
Oliver Miles, previously head of the Foreign Office's Near East and north Africa department, expressed surprise that Mr Blair had ever been appointed on the BBC's Today programme earlier this morning, calling it a "very strange appointment in many ways."
"I think it's a mistake. He's the wrong man. I find it hard to believe, frankly, that the British Government would support him having a wider role," he said in a wide-ranging attack on the former leader.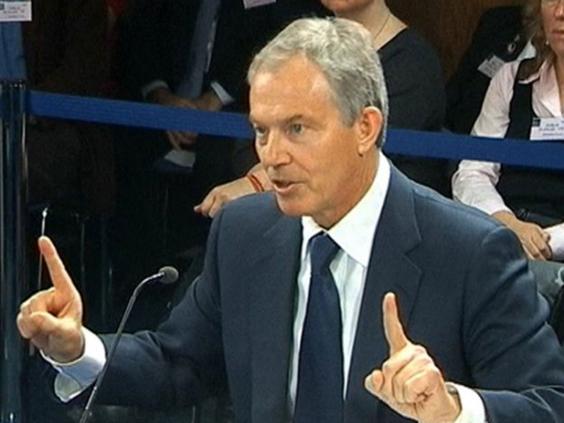 "I think he's not been able to do the job. I think he's the wrong man and I also think it's the wrong job," Mr Miles added.
The former ambassador was one of 52 retired ambassadors who in April 2004 called for Mr Blair's resignation in a signed letter.