Mehmet Mutlu was not the brightest of boys – likeable enough, but with little interest in learning. There was a sense of inevitability for his teacher when he learnt, last month, that his 16-year-old pupil had been killed in clashes between Kurdish youths and Turkish security forces.
But it was still a shock. "He was lying on the ground, his face in a pool of blood," he recalled with sadness. "He was my student."
For 30 years the Kurdistan Workers' Party (PKK) has engaged in armed struggle against the Turkish state. Now the collapse of a ceasefire last summer has plunged the mainly Kurdish south-east of the country into the bloodiest bout of violence since the 1990s.
With a struggling economy, a population of more than two million Syrian refugees and a volatile border with Syria and Iraq, Turkey can ill afford a long-running internal conflict. Yet its litany of death shows no sign of ending; on Tuesday, three policemen were killed and four more were wounded in a suspected PKK attack in the province of Sirnak.
While previous flare-ups were characterised by tit-for-tat strikes on Turkish army posts and PKK training camps, much of the fighting is now taking place in cities. These urban clashes are being fought by teenagers and 20-somethings under the banner of the recently formed Patriotic Revolutionary Youth Movement.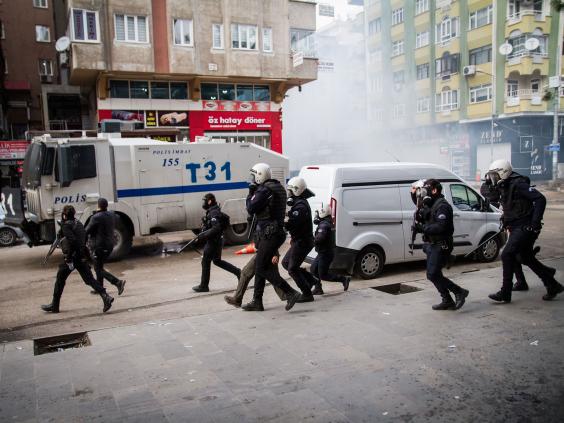 Announced in February 2013, shortly before the PKK declared a ceasefire, its stated aims included tackling drugs and prostitution as well as protecting communities from what it termed "the tyranny and persecution" of the police.
Known by the initials YDG-H, the youth movement has formed armed branches across the south-east. When the conflict reignited last July, its members dug trenches among homes and shops and threw up barricades. It declared "autonomous zones", daring the state to force it out.
Mehmet Mutlu's story is typical of the tales told by friends, relatives and neighbours of the children of the 1990s who are fighting street to street in the Sur district of Diyarbakir.
Mehmet's teacher, who asked for his name and subject to be withheld for fear of losing his job, said that his pupil's father was imprisoned for about 14 years "for political reasons". His older brother, he said, had gone to fight in Rojava, the Kurds' name for the territory they hold in northern Syria. "This kind of child, whose dad was in prison for 13, 14 years, they have a feeling of hate towards those who did this," he said.
Chain smoking as he spoke, the teacher, whose school is in the middle of the embattled Sur area, painted a picture of classrooms filled with poor but politicised students. The south-east has unemployment rates of up to 24 per cent and after-school jobs left little time to study, he said. Having grown up using Kurdish at home, many spoke poor, accented Turkish.
World news in pictures
World news in pictures
1/30 27 September 2016

A woman eats and struggles with her umbrella against powerful gusts of wind generated by typhoon Megi across the the island in Taipei, Taiwan. Schools and offices have been closed on Taiwan and people in dangerous areas have been evacuated as a large typhoon with 162 kilometers- (100 miles-) per-hour winds approaches the island

AP

2/30 27 September 2016

Alstom employees stage a protest in front of its headquarters in St Ouen, north of Paris, asking not to close a plant in Belfort, eastern France, which employs 400 people. Alstom's situation is considered by many French politicians as symbolic of France's difficulty of keeping a strong industry at home

AP

3/30 26 September 2016

A man poses as he gathers with others at Bogota's Bolivar main square, to celebrate the historic peace agreement between the Colombian government and the Revolutionary Armed Forces of Colombia (FARC). Colombia will turn the page on a half-century conflict that has stained its modern history with blood when the FARC rebels and the government sign a peace deal. President Juan Manuel Santos and the leader of the FARC, Rodrigo Londono, better known by his nom de guerre, Timoleon "Timochenko" Jimenez, are set to sign the accord at 2200 GMT in a ceremony in the colorful colonial city of Cartagena on the Caribbean coast

AFP/Getty Images

4/30 26 September 2016

Tourists pose in front of the illuminated Eiffel Tower during an event to mark the Breast Cancer Awareness month in October in Paris

AFP/Getty Images

5/30 26 September 2016

A nail house is seen in the middle of an area covered by a dust screen in Hangzhou, Zhejiang province, China

REUTERS

6/30 26 September 2016

Students at the Durban University of Technology march as countrywide protests demanding free tertiary education continue, in Durban, South Africa

REUTERS

7/30 26 September 2016

Palestinian women throw sweets at the militants from the al-Nasser Brigades, an armed wing of the Popular Resistance Committees (PRC), while marching on their vehicles during a rally to commemorate the 16th anniversary of their group in Gaza

AP

8/30 26 September 2016

A supporter of Awami Ittihad Party (AIP), a pro-India party, is detained by Indian police during a protest demanding to hold a plebiscite, in Srinagar

REUTERS

9/30 25 September 2016

A dog wipes out during the Surf City Surf Dog competition in Huntington Beach, California

REUTERS

10/30 25 September 2016

Indian folk dancers from the Panghat Group of Performing Arts perform during a dress rehearsal for an event to mark the forthcoming Hindu festival 'Navaratri', or the Festival of Nine Nights, in Ahmedabad

AFP/Getty Images

11/30 25 September 2016

An artisan hangs decorative pieces at a pandal, or a temporary platform, for the upcoming Hindu festival of Durga Puja, in Kolkata, India

REUTERS

12/30 25 September 2016

Runners take the start of the 43rd Berlin Marathon in Berlin

AFP/Getty Images

13/30 25 September 2016

The Five-hundred-metre Aperture Spherical Radio Telescope (FAST) is seen on its first day of operation in Pingtang, in southwestern China's Guizhou province. The world's largest radio telescope began operating in southwestern China, a project which Beijing says will help humanity search for alien life

AFP/Getty Images

14/30 25 September 2016

Australian knight Philip Leitch (R) has a floral basket on his helmet smashed by an opponent at the St Ives Medieval Fair in Sydney, one of the largest of its kind in Australia

REUTERS

15/30 25 September 2016

A security guard working at the Cascade Mall places flowers at a makeshift memorial in Burlington, to the five victims killed in a shooting at the mall. The 20-year-old man suspected of killing the five people with a rifle at a Macy's makeup counter had a string of run-ins with the law in recent years, including charges he assaulted his stepfather

AP

16/30 25 September 2016

A man works in a rice field where rice crop is planted in a shape which looks like a map of China, ahead of China's National Day, in Shanghai, China

REUTERS

17/30 25 September 2016

Law enforcement officials inspect a boat overturned on a jetty, off Miami Beach. Authorities said that Miami Marlins starting pitcher Jose Fernandez was one of three people killed in the boat crash the day before. Fernandez was 24

AP

18/30 24 September 2016

Syrians await to receive treatment at a make-shift hospital following air strikes on rebel-held eastern areas of Aleppo. Heavy Syrian and Russian air strikes on rebel-held eastern areas of Aleppo city killed at least 25 civilians, the Britain-based Syrian Observatory for Human Rights said, overwhelming doctors and rescue workers

AFP/Getty Images

19/30 24 September 2016

A fire broke out on a tanker belonging to the Mexican state oil company PEMEX, causing no injuries, according to a company official, in the Gulf of Mexico off the coast of Boca del Rio in Veracruz state, Mexico

AFP/Getty Images

20/30 24 September 2016

Participants attend a competition of the 2016 XTRAIL Expedition at Kanas National Geological Park in Altay, China's Xinjiang Uygur Autonomous Region

REUTERS

21/30 23 September 2016

Protesters march in the streets during another night of protests over the police shooting of Keith Scott in Charlotte, North Carolina

REUTERS

22/30 23 September 2016

Campaigners pose on a 'United To Stop Trump' cardboard wall in front of the Brandenburg Gate to urge Americans living abroad to register and vote in Berlin, Germany

REUTERS

23/30 23 September 2016

A man rests on his cart after unloading plastic jugs near a shop at a main market in Colombo, Sri Lanka

REUTERS

24/30 23 September 2016

Staff inspect the presentation before the Swiss Cheese Awards competition in Le Sentier, Switzerland. One hundred and fourty-two experts have to choose the best out of 777 cheeses from 353 producers competing in 28 categories

REUTERS

25/30 23 September 2016

Israeli settler bride Yael Levi (C) is surrounded by friends and relatives during her wedding ceremony at the plaza outside the Cave of the Patriarchs also known as the Ibrahimi Mosque, which is a holy shrine for Jews and Muslims, in the heart of the divided city of Hebron in the southern West Bank

AFP/Getty Images

26/30 22 September 2016

A South Korean army special forces soldier breaks bottles with his hand during the Naktong River Battle re-enactment in Waegwan, South Korea. South Korean Defense Ministry reenacted one of the important battles as part of commemoration events for the 66th anniversary of the Korean War

AP

27/30 22 September 2016

Women wait on a street in Pyongyang, North Korea

AFP/Getty Images

28/30 22 September 2016

A general view shows buildings destroyed during Saudi-led air strikes in the rebel-held Yemeni port city of Hodeida the previous day. Saudi-led coalition air strikes have killed 20 civilians in a rebel-held port city in Yemen, a government official said in a rare admission of a possible "error" by the alliance. The strikes came as Riyadh faces mounting international scrutiny over civilian casualties in its 18-month campaign against rebels in Yemen

AFP/Getty Images

29/30 22 September 2016

An Indian woman carries her belongings as she wades through flood waters following heavy rain in the low-lying area of Quthbullapur on the outskirts of Hyderabad. Rains that have caused heavy flooding around Hyderabad are expected to continue in the coming days, Indian meteorological officials said

AFP/Getty Images

30/30 21 September 2016

A protester, center, is taken into custody by Charlotte-Mecklenburg police officers in Charlotte. Authorities in Charlotte tried to quell public anger after a police officer shot a black man, but a dusk prayer vigil turned into a second night of violence, with police firing tear gas at angry protesters and a man being critically wounded by gunfire. North Carolina's governor declared a state of emergency in the city

AP
Despite some reforms by the ruling Justice and Development Party (AKP), many students felt alienated, the teacher claimed, by an educational system that denied them their distinct ethnic and cultural identity. "On Monday and Friday we have to sing the national anthem and... most of them don't sing it," he said. "We play it, but they don't sing. When it's not loud enough, they have to do it again.
Many young people have spent spells in prison for hurling stones or Molotov cocktails. Mesut Simeksek, 25, who was killed in December, served three years in jail before joining the fighting in Diyarbakir, according to his older sister, Guler Sevikek.
Their family took refuge in Sur after fleeing the small town of Lice in the 1990s. Like Mehmet, Mesut had a brother fighting in Syria and was traumatised by the state's treatment of his father and brother. His sister recalled: "They were forced to lie on the street and were surrounded by dogs. Mesut used to say: 'How can I ever forget that image?'"
Those fighting in Diyarbakir are no angels. Mesut's sister admits that he was armed, though she disputes claims by pro-government media that he was among the most dangerous terrorists in Diyarbakir. Mehmet's teacher, too, believes he carried a weapon, though he is alarmed by claims on pro-Kurdish news sites that Mehmet was shot while his hands were cuffed behind his back.
The decision by these young men to fight in urban areas has forced thousands of families to flee their homes and left others trapped. Ahmad Yasar, a father of seven who runs a restaurant just inside the old city walls, was part of a delegation that pleaded with them not to entrench themselves in the middle of their city. "A group of us, shopkeepers and tradesmen, went to those streets and said: this is wrong," he said. "Of course they didn't listen to us. They didn't care what we said."
But there is also sympathy for their circumstances. Umit, an artist whose old basalt house has been damaged by the clashes, said that the youths had no other prospects. "Those streets are the only thing in their hands," he said. "It's about their very existence."
Though it supports the PKK's stated aim of greater Kurdish autonomy, it is unclear to what extent the YDG-H youth movement is controlled by older, more established insurgents.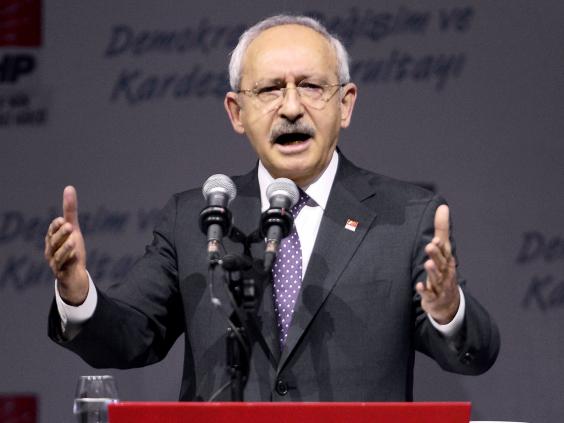 In November, the PKK leader Cemil Bayik denied that the two organisations were linked. But, just months before the group was formed, Murat Karayilan, head of a PKK umbrella group, called for a "youth revolution" against state policies in the south-east.
Bill Park, a visiting scholar at Tobb Etu University in Ankara, said that, while "nothing happens in the south-east without the PKK", the youth campaign appeared to be at least partly "improvised". He added: "I'm sure that the PKK is not in full control."
The agenda for a meeting between David Cameron and his Turkish counterpart Ahmet Davutoglu was due to include Turkey's role in the battle against Isis and efforts to stem the refugee crisis. Given the scale of those two tasks alone, Britain and Turkey's other Western allies are anxious for the Kurdish conflict to be halted as soon as possible.
The stories told on the streets of Diyarbakir offer worrying signs about the prospects for long-lasting peace. "Our generation is the one that you can talk with, hold negotiations with," said Mr Yasar, the weary restaurant owner. "This new generation is more radical. They feel that they have no link with this country."
Party leader faces jail for 'dictator' comment
Lawyers for President Recep Tayyip Erdogan have filed a lawsuit against Turkey's main opposition leader, Kemal Kilicdaroglu, for calling Mr Erdogan a dictator. 
Mr Kilicdaroglu is accused of "openly insulting the President", an offence punishable by four years in prison, after defending a group of academics who face investigation after criticising Mr Erdogan's military action in mainly Kurdish areas. 
"Academics who express their opinions have been detained one by one on instructions given by a so-called dictator," said the Republican People's Party leader.
Reuters
Reuse content