Turkey temporarily blocked Twitter and placed a ban on sharing images of the deadly suicide bombing in the border town of Suruc in which 32 people died.
President Tayyip Erdogan's government prohibited access to the social media site for two hours on Wednesday in an attempt to stop people broadcasting images of the attack, which has been linked to Isis, the state-run Anadolu Agency said.
The news agency also claimed that officials were trying to stop Twitter users from calling for protests against the government for not doing more to prevent the bombing, CTV News reported.
A backlash - with the hashtag #TwitterBlockInTurkey - began immediately, amid claims that placing the ban only made those inside Turkey more determined to spread news of what was going on.
And the memes start to come. #TwitterBlockedinTurkey #TwitterbannedinTurkey "@yavuzbaydar: #TwitterBlockinTurkey pic.twitter.com/FNup2jquXU"

; Zeynep Erdim (@zeynep_erdim) July 22, 2015
They forget the fact that blocking anything to stop ur people from talking abut it makes the whole world talk about it #TwitterBlockinTurkey

; Sarah Mohsen (@sarah_m94) July 22, 2015
Ironically, everytime Turkish government blocks Twitter, it only gets more visits from Turkey. #TwitterBlockinTurkey pic.twitter.com/S6542yBRFU

; Anis (@hertzmau5) July 22, 2015
Hurriyet news reported that a court in Suruc banned the publication of "visual material related to the terror attack" and also ordered the removal of 107 pictures and videos of Monday's massacre.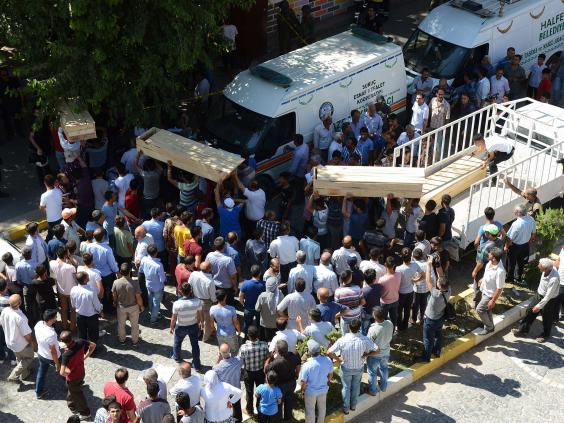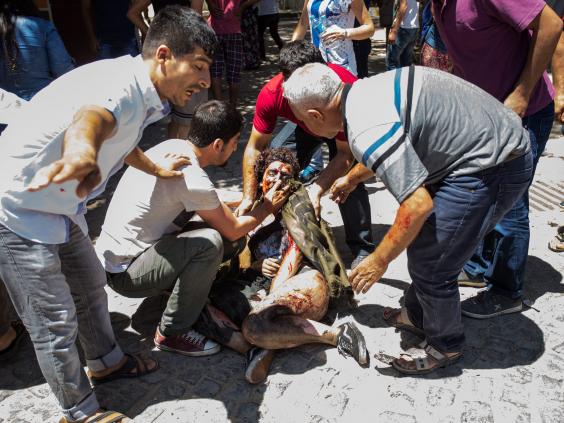 A ban on accessing Twitter "for more than two hours" was put in place to prevent the sharing of related images and video, but is expected to be lifted soon.
At least 32 political activists and aid volunteers were killed in the attack on a municipal culture center in Suruc on July 20.
They were due to cross the border to help rebuild the Syrian town of Kobani.
In pictures: Suruc explosion
In pictures: Suruc explosion
1/9 Suruc explosion

A woman cries next to the coffin of a victim after an explosion in the town of Suruc

2/9 Suruc explosion

A Turkish soldier helps people as they carry a coffin, after an explosion rocked the Turkish city of Suruc near the Syrian border

3/9 Suruc explosion

Officials carry the bodies of victims after an explosion in the town of Suruc

Getty

4/9 Suruc explosion

People try to help wounded people after an explosion at a cultural center in Suruc

5/9 Suruc explosion

People search for survivors of the bomb blast in Suruc, Turkey

Reuters

6/9 Suruc explosion

People carry coffins of victims after an explosion in the town of Suruc

7/9 Suruc explosion

An explosion has killed at least 27 people and wounded nearly 100 in the Turkish town of Suruc near the Syrian border

8/9 Suruc explosion

People try to help wounded man, in Suruc

9/9 Suruc explosion

20 people were killed and some 100 wounded in a suicide

EPA
Reuse content