Seeking divine intervention against what they perceive as a grave threat from Prime Minister Benjamin Netanyahu's government to their distinct identity and lifestyle, hundreds of thousands of ultra-orthodox Jews flooded the streets of Jerusalem today and used prayers to protest against a parliamentary Bill that is set for the first time to draft some of them into the Israeli military – and send them to jail if they refuse.
Secular proponents of the Bill, put forward under the slogan of "equal sharing of the burden", see it as a long overdue redressing of the perceived parasitism by the ultra-orthodox, who receive state subsidies but do not share in the burden of the country's defence and for the most part are not gainfully employed, instead pursuing studies of sacred texts in yeshivot, or religious seminaries.
Ultra-orthodox Jews, who argue that their prayers and study defend the country as much as the army, see the Bill as a direct threat to a sacred way of life in which they look for guidance to rabbinic leaders and Jewish law, not the authorities of the state, whose largely secular Zionist, or Jewish nationalist, ideology they do not subscribe to and in some cases view with enmity.
"We did not come here to demonstrate, we came to pray and to convey protest that in a country that purports to call itself Jewish, they want to legislate a law that makes studying Torah (the old Testament and subsequent texts) a criminal offence," said Yitzhak Azuelas,20, a student at the Maor HaTalmud Yeshiva near Tel Aviv.
The show of ultra-orthodox strength brought life in a large part of Jerusalem to a standstill yesterday. Speeches were lacking – with psalms being recited instead – and stones were also missing, with the crowd obeying rabbinical directives to avoid disorder. Women prayed separately from men, in keeping with religious modesty strictures. The huge turnout came despite the assessment of Israeli political analysts that the Bill was lax in some respects and might not change the status quo all that much.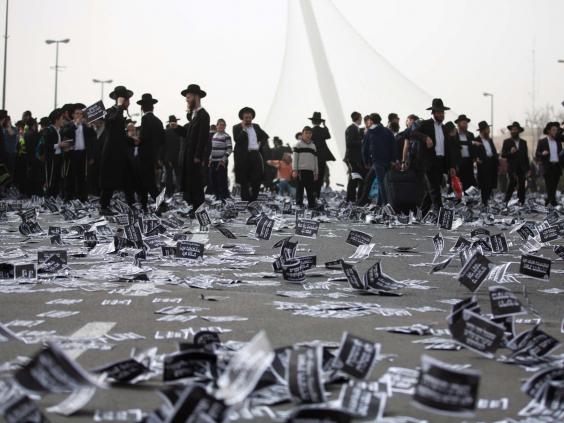 Mr Azuelus, like most of the crowd dressed in a black suit and white shirt, predicted that those among the 350 students at his seminary who were drafted would choose jail rather than serve. "They will go to prison because being drafted means there is no Judaism in the state of Israel," he said.
Signs held up by protesters voiced similar sentiments. "Military service will not be imposed on us" read one.
Mr Azuelus said he spent his days learning the Babylonian Talmud, an ancient legal text, and also studied The Path of the Just, a favourite ethics text for yeshiva students about, he says, "the reason we are here in this world, the goal of life".
But for those at the protest, that reason does not include serving in the army despite living in one of the most militarised societies in the world. Another protester, 23, who asked not to be identified, said: "We study from morning to night and get a stipend that doesn't even cover our travel expenses. The people who are here are people who minimise taking from the pleasures of this world. Whoever says we are parasites should see how we live on our stipends."
A police spokesman, Micky Rosenfeld, said there were "hundreds of thousands" at the protest. "Until now it's been quiet," he said. "We're hoping things will be calm and quiet and that there won't be any incidents in the religious neighbourhoods this evening."
Yair Lapid, the Finance Minister and leader of the secularist Yesh Atid party, has led the praise for the Bill, in particular its provisions that enable jail terms for ultra-orthodox draft dodging. Speaking at a recent press conference in Tel Aviv, he said the Bill meant "Zionism has come back. A historical, legal mistake that went on for 65 years was corrected because we remained steadfast and stuck to our guns."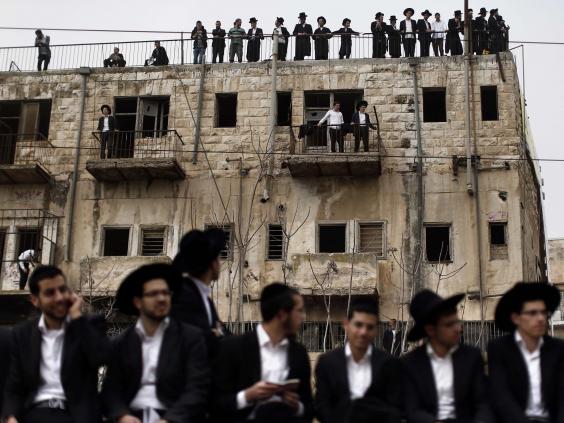 The exemptions from the draft for ultra-orthodox Jews started out small, after Israel's establishment in 1948, as Prime Minister David Ben-Gurion approved several hundred waivers for ultra-orthodox to study in yeshivas so as to foster religious scholars to replace those who perished in Europe during the Nazi Holocaust. But over the years the exemptions swelled and eventually came to encompass all ultra-orthodox youth studying in yeshivas, an arrangement that was underpinned by the political power of ultra-orthodox parties, which served as coalition partners to both Mr Netanyahu's Likud and the more left-leaning Labour party.
But the current government does not include any ultra-orthodox parties, and Mr Lapid viewed passage of the law as a fulfilment of his promise to secular voters. He pressured a reluctant Mr Netanyahu to go along with the criminal sanctions provision of the Bill despite the premier having promised the ultra-orthodox – who he may need in the future as coalition partners – that there would be no such provision.
Although Mr Lapid has proclaimed the Bill to be the beginning of a "social revolution" there is considerable scepticism that it will actually lead to large numbers of ultra-orthodox being drafted. This is because many of its provisions will not go into effect until 2017 and also because it sets the draft age for ultra-orthodox at 24, compared with 18 for other Israelis.
Leslie Susser, diplomatic editor at Jerusalem Report magazine, said: "It won't have any real effect in terms of large numbers of ultra-orthodox being drafted."
However, Mr Susser believes the Bill could lead to a larger number of ultra-orthodox leaving the yeshivot to join the Israeli labour force. The army did not suffer from a shortage of manpower, he said, so many ultra-orthodox were expected to gain exemptions. Because young men would not have to study at a yeshiva to be exempt, they would be able to legally work after they got a waiver.
Religious leaders fear that by leaving the yeshivas to work, people may choose to leave the ultra-orthodox fold entirely. In that sense, Mr Susser said, today's rally was aimed more at the yeshiva students – to instil in them a sense of solidarity that would keep them in the community – than it was at the government.
Reuse content