A United Nations report has collected the horrifying testimonies of Palestinians who lost multiple family members in attacks on their homes during the Gaza conflict last year.
The report, which claims both Israel and Palestinian armed groups may have committed war crimes during the 2014 50 day war, notes that 142 families in Gaza lost three or members of their family in attacks on their homes.
"I found the decapitated bodies of my uncle and daughter," said a man from the Abu Jabr family who lost his wife, daughter and 17 other family members in a bomb attack on 29 July in Al Buraiji refugee camp.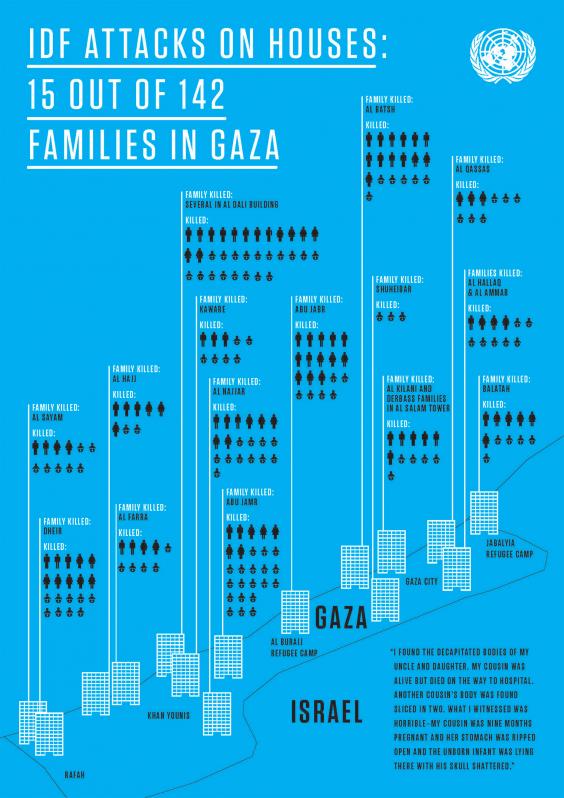 Click here to see an enlarged version
The witness, who has remained nameless in the report, describes finding one cousin "sliced in two," before finding his female cousin Dina, nine months pregnant at the time of the attack. "Her stomach was ripped open and the unborn baby was lying there with the skull shattered."
Another attack, also on 29 July, on the Balatah family, left 11 dead, five of whom were children – including a year-old baby – and five women.
One survivor recalled the sound of an explosion waking him. Investigating, he found the body of his eight-year-old nephew lying on the ground with his head and stomach open to the skies – and the body of his one-year-old grandson upstairs.
He collapsed and when he came to in a hospital told the inquiry: "I am 52 years old and I have lost everything I cared for. In only a few minutes, they killed everyone and everything that was dear to me. They killed my dream, and my daughter's dream who wanted to be a doctor."
On 21 July, three missiles were fired at the home of the Al Sayam and Abu Sanumahh families' houses. The second and third caught family members as they streamed from their homes – terrified – onto the street.
"I saw my family all ripped to pieces," says one witness. Another, who lost his left arm in the attack, recalled the scene: "Only the upper part of my nine-year old daughter's body was left. My son Mohamed had his intestines coming out.
"My 16-year old cousin had lost his two legs. My son Mustapha, who was five meters away from me, had received shrapnel that almost completely severed his neck. My 16-year old nephew lost both his legs and arms. He asked for my help. I just really wanted him to die quickly. I didn't want him to go through so much suffering."
In total, 12 people – including two women and eight children – died in the attack.
"I was sitting with my family at the table, ready to break the fast. Suddenly we were sucked into the ground. Later that evening, I woke up in the hospital and was told my wife and children had died," Tawfik Abu Jama told the inquiry.
On 20 July the father of eight lost 26 family members, including all of his children and his wife, in a single bomb attack.
There were 19 children and five women – three of whom were pregnant – who died. The youngest child was two-years-old and the oldest just 14. Only two men and a three-year-old relative in the home at the time survived.
The Al Najjar family lost 19 members, including 11 children and five women, in an attack on 26 July in southern Gaza. The youngest child was just eight-months-old.
The only survivor from the attack, who woke up in hospital, recalls: "I later learnt that my sister, my mother and my children had all died. Even many of my relatives on the second floor had died. We all died that day, even those who survived."
Reuse content