Iran has announced its decision to release four US prisoners, including the Washington Post journalist Jason Rezaian, as US Secretary of State John Kerry arrives in Vienna to finalise the nuclear agreement between the two countries.
Mr Rezaian, a dual Iranian-American national, was serving as the newspaper's Tehran bureau chief when he and his wife, Yeganeh Salehi, were arrested in a raid at their home in June 2014.
She was released four months later but he remained in Evin Prison for months on charges including espionage and "propaganda against the establishment".
Mr Rezaian's eventual conviction after a closed trial provoked a global outcry from American diplomats and human rights groups, seeing him sentenced to an undisclosed period in prison in November last year.
His imprisonment and that of other American-Iranians was understood to be one of the many issues to be addressed as relations between the two countries thawed following the successful nuclear talks. 
On Saturday, Iran's justice department announced that it had reached a settlement on the exchange of a "number of prisoners".
Abbas Jaafari, a prosecutor, told state media that four dual nationality Iranian-American prisoners will be freed in return for seven Iranian nationals in US jails.
"The settlement included a clause according to which the US will no longer pursue extradition of 14 Iranians for alleged involvement in purchasing arms from the US to Iran," the report said.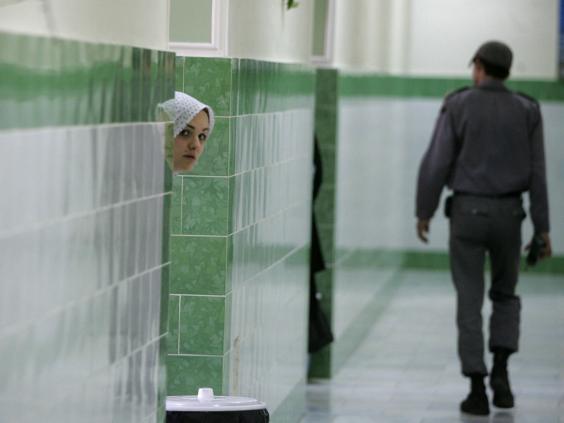 Fars News identified Mr Rezaian among those freed alongside Amir Hekmati, Saeed Abedini and an unnamed prisoner jailed in recent years. The fourth man was named on Iran's IRIB TV as Nosratollah Khosravi.
Mr Hekmati is a former US marine originally sentenced to death for allegedly spying for the CIA and Iran, whose case was taken up by diplomats and the US Senate.
That sentence was overturned by the Iranian Supreme Court in 2012 and after a re-trial two years later he was handed a 10-year prison term.
Mr Abedini, an Iranian-American Christian preacher, was detained in 2012 and later sentenced to eight years in prison on charges of "undermining national security" with alleged religious meetings.
The US State Department was among those condemning the sentence and his removal to the notorious Gohardasht Prison also provoked outrage.
US officials say a fifth American detained in Iran, a student, has been released in a move unrelated to a prisoner swap earlier between the two countries. 
They say the student, identified as Matthew Trevithnick, was released independently of the exchange on Saturday and already was on his way home. They spoke about the prisoner exchange on condition of anonymity because they were not authorized to discuss it publicly.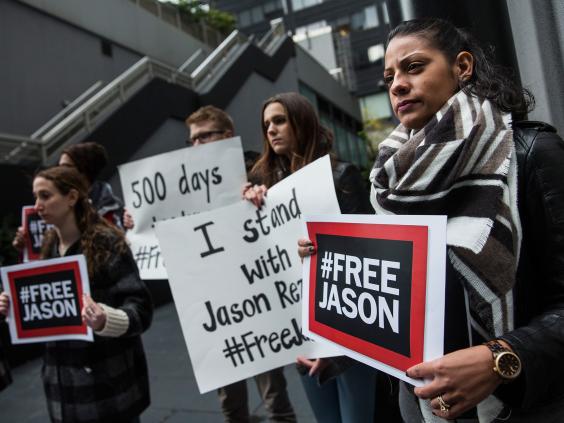 Mr Kerry is expected to go over final details over the nuclear deal with Iran's foreign minister Mohammad Javad Zarif.
Mr Zarif, who arrived in Vienna earlier, said international sanctions on Iran will be lifted when the UN declares Tehran's compliance with an agreement to scale back its nuclear programme.
The lifting of the sanctions will allow the country to access the global financial system and export Iranian oil internationally, as well as ease the burden of severe economic hardship on millions of Iranians.
The removal of banking and trade sanctions would enable foreign investors to enter the market of 80 million people.
"Today is a good day for the Iranian people as the sanctions will be lifted today," Mr Zarif was quoted as saying by Iran's ISNA agency.
New York protests against Iran nuclear deal
New York protests against Iran nuclear deal
1/10 New York

A woman holds a poster as she takes part in a rally on Times Square in New York opposing the nuclear deal with Iran

2/10 New York

An inflatable mushroom cloud stands among demonstrators during a rally apposing the nuclear deal with Iran

3/10 New York

Protesters rally against the nuclear deal with Iran in Times Square

4/10 New York

A member of the Neturei Karta Orthodox Jews sect is escorted away by New York City Police during a rally near Times Square to demand that Congress vote down the proposed US deal with Iran in New York

5/10 New York

A woman shouts slogans during a rally against the nuclear deal with Iran in Times Square in New York

6/10 New York

A protestor holds a placard during a demonstration and rally apposing the nuclear deal with Iran in Times Square

7/10 New York

Some of several thousand protestors crowd into 7th Avenue at 42nd street as they demonstrate during a rally apposing the nuclear deal with Iran

8/10 New York

A woman holds a placard as she joins several thousand other protestors to demonstrate during a rally apposing the nuclear deal with Iran

9/10 New York

Protesters rallied against the Iran nuclear deal in New York's Times Square

KENA BETANCUR/AFP/Getty Images

10/10 New York

Protestors shout slogans as they demonstrate during a rally apposing the nuclear deal with Iran
 The International Atomic Energy Agency (IAEA) is expected to release a report on Saturday assessing the country's compliance with an agreement made with foreign powers including the US and the EU.
The deal, which was agreed on in July 2015, has seen Iran get rid of a number of centrifuges and a heavy-water reactor which could be used in the production of nuclear weapons.
It also meant Iran agreed to forego the enrichment of uranium, which world powers fear can be used to make a nuclear weapon.
Iranian president Hassan Rouhani called the deal "historic", but some US Republicans have voiced concern that the agreement does not do enough to ensure Iran cannot develop a bomb, according to BBC.
Mr Zarif hailed the deal as a "triumph of diplomacy" on Twitter, and said it is "not a ceiling but a solid foundation".
#ImplementationDay, it's now time for all—especially Muslim nations—to join hands and rid the world of violent extremism. Iran is ready.

— Javad Zarif (@JZarif) January 16, 2016
Once the deal is finalised, Iran will be carrying out what has been dubbed as 'Implementation Day', which marks the biggest re-entry of a former pariah state into the global economic stage since the end of the Cold War.
As soon as the sanctions are lifted, Iran plans to swiftly increase oil exports by 500,000 barrels a day, with an additional 500,000 a day in the following six months.
Additional reporting by Reuters