Iraq's Prime Minister, Haider al-Abadi, joined in a triumphal parade through the centre of Tikrit today as he his government claimed victory over Isis after a month-long battle for the city.
Joined by the provincial Governor and leaders of the army, police and Shia militias, he waved an Iraqi flag and announced that his forces had captured the centre of Tikrit, in what would be the first real success for the Iraqi army since it lost northern and western Iraq to the so-called Islamic State last year.
His Defence Minister, Khalid al-Obeidi, said: "We have the pleasure, with all our pride, to announce the good news of a magnificent victory."
Naming two Iraqi provinces still under Isis control, he added: "Here we come to you, Anbar! Here we come to you, Nineveh."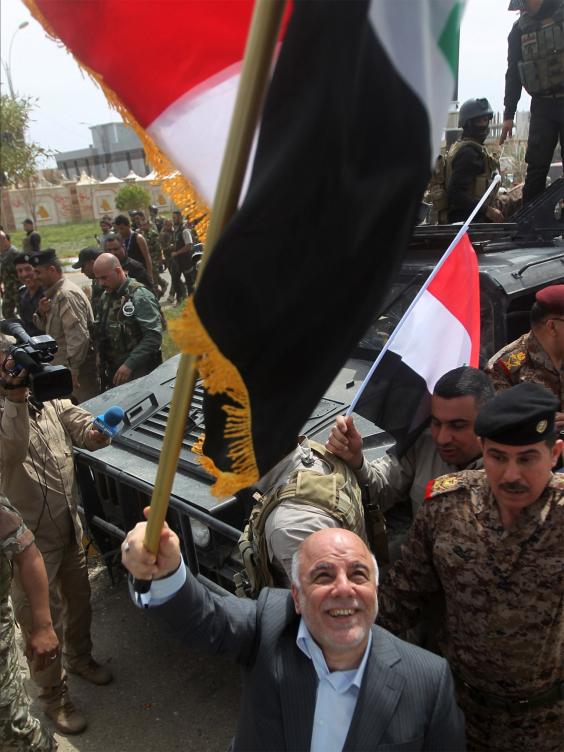 But at the very moment that there was jubilation in Baghdad over the long-awaited seizure of Tikrit, famous as Saddam Hussein's home town, Isis made a significant advance close to the centre of the capital of neighbouring Syria.
The British-based Syrian Observatory for Human Rights said that Isis fighters had taken over a large part of Yarmouk Palestinian refugee camp, not far from the heart of Damascus.
The Iraqi government is seeking to play up the fall of Tikrit as the beginning of the end of Isis and suggesting that the recapture of the rest of Iraq will soon follow. Mr Abadi was himself restrained in his claim, saying that "our security forces have reached the centre of Tikrit and they have liberated the southern and western sides and they are now moving towards the control of the whole city".
In pictures: Fight for Tikrit
In pictures: Fight for Tikrit
1/16 Fight for Tikrit

Shiite fighters pose in front of a mural depicting the emblem of the Islamic State group outside one of the presidential palaces in Tikrit, on April 1, 2015

Getty Images

2/16 Fight for Tikrit

Iraqi Prime Minister Haider al-Abadi tours the city of Tikrit after it was retaken by the security forces in Baghdad, Iraq, on April 1 2015

AP

3/16 Fight for Tikrit

An Iraqi flag waves over the Tigris River om April 1 2015

AP

4/16 Fight for Tikrit

Iraqi security forces playing football in Tikrit after their country declared a 'magnificent victory' over the Islamic State group in the city on April 1 2015

Reuters

5/16 Fight for Tikrit

A member of the security forces holds Iraq's national flag in front of a painted Isis emblem

Getty Images

6/16 Fight for Tikrit

Iraqi security forces arrest a member of the Islamic State in Tikrit on April 1, 2015

Reuters

7/16 Fight for Tikrit

A member from the Iraqi security forces beats an Isis insurgent, who was captured in Tikrit

Reuters

8/16 Fight for Tikrit

Shiite fighters from the Popular Mobilisation units celebrate in front of the the provincial council building inside the northern Iraqi city of Tikrit on March 31, 2015

Getty Images

9/16 Fight for Tikrit

Iraqi soldiers stand on a damaged tank during fighting against IS militants near Tikrit

Corbis

10/16 Fight for Tikrit

Fighters of Iraqi Shiite militias who volunteered to support the Iraqi forces make their way towards Daquq town near Tikrit

Corbis

11/16 Fight for Tikrit

Iraqi security forces and Shia fighters chant slogans as they gather at Udhaim dam, north of Baghdad, where they have been massing in preparation for an attack on Isis along the Tigris River

Reuters

12/16 Fight for Tikrit

Pro-government volunteer Shia fighters in Awaynat near Tikrit

AFP/Getty

13/16 Fight for Tikrit

Iraqi government forces and allied militias firing weaponry from a position in the northern part of Diyala

AFP

14/16 Fight for Tikrit

A volunteer in the Iraqi Shiite Badr Army militia taking up position outside Tikrit

Corbis

15/16 Fight for Tikrit

Volunteers of the Iraqi Shiite Badr Army militia patrol an area at eastern Tikrit city

Corbis

16/16 Fight for Tikrit

Members of the Iraqi security forces coming from the city of Samarra drive towards al-Dawr south of Tikrit to launch an assault against the Islamic State

AFP/Getty
Other sources say that several hundred fighters were still resisting, using snipers and booby traps in three neighbourhoods and in an old palace complex in the north of the city. The government's forces have taken the Governor's headquarters and the main hospital.
For all the official euphoria, the slow pace of the assault on Tikrit, a small Sunni Arab city that once had a population of 200,000, is not a good omen for further advances. The attack began on 2 March with some 20,000 Shia militiamen encircling the city with only 3,000 government soldiers, some special forces and 1,000 Sunni tribal fighters. The operation appears to have been under the control of Iranian officers and the Iraqi government was only told about it at the last moment.
The US, suspicious of an Iranian-led militia assault, was not at first asked for air support and did not give it until the last week, following a request by Mr Abadi.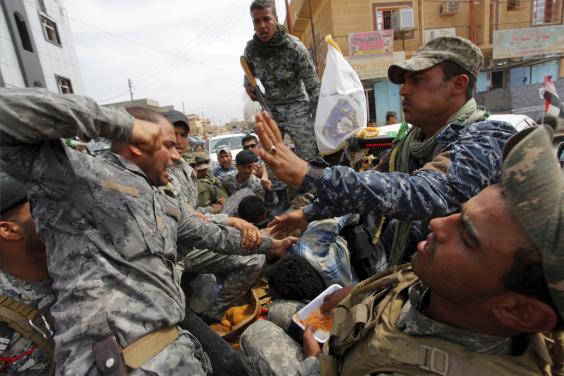 Isis appears to have decided that it would not fight to the end in Tikrit, where its forces would have to engage in a slogging match against greatly superior numbers backed by artillery. The jihadist group is at its most effective when its forces act as guerrillas rather than as a regular army defending or attacking fixed positions.
Over the winter it suffered its first serious defeat when it failed to take the Syrian-Kurdish town of Kobani in a siege of 134 days during which it suffered heavy losses from some 700 US air strikes. Over the last week, the US has started to use its air power in Tikrit, though Shia militias said they would not fight in the city if there were American air attacks.
Whether the US suspended its air strikes is not clear, but the very fact that this was demanded by the militiamen shows the great animosities between different members of the anti-Isis coalition. Even if Baghdad claims to have won the battle for Tikrit it has still to rebuild an army that can take on Isis by itself. It is important to do so – and show that the army is more than just another Shia militia – if the government is to reassure the Sunni Arab community that its future is not bound up with that of Isis.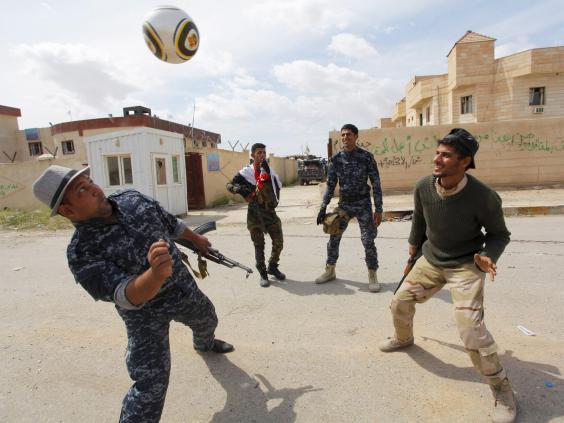 Isis has been busily conscripting soldiers throughout its self-declared caliphate and may well think it has greater military opportunities in Syria than Iraq. The Syrian army has suffered a series of setbacks in recent weeks north of Aleppo and has lost the provincial capital of Idlib to Jabhat al-Nusra, the al-Qaeda affiliate that was founded by Isis in 2012 but later split from it. The Syrian army is short of recruits after four years of war and shows signs of being fought out.
The takeover by Isis of part of Yarmouk Camp in southern Damascus, a city that has been under siege by the group for two years, may mean that its commanders believe it is better to attack here than engage in a battle of attrition at Tikrit, which they are bound to lose. Isis is said to control some main streets in the camp after clashing with a Palestinian group, Aknaf Beit al-Maqdis.
The United Nations has been trying to feed tens of thousands of Palestinians trapped in the camp with nowhere else to go.
The almost comical divisions between the different forces attacking Tikrit – with the Iranian-backed militiamen apparently refusing to fight if there are US air strikes in their support – makes it doubtful that there will be an offensive any time soon to recapture the northern capital of Mosul, which is 10 times larger than Tikrit. Nevertheless, grindingly slow though the recapture of Tikrit may have been, it is the first real success of the Iraqi government in its war with Isis and it will make the most of it.