The United States and Syria are at odds over the effectiveness of a bombing campaign to wipe out militants of Isis, with the US Secretary of State insisting that strikes had damaged the group, despite scepticism from Syria's leadership.
The Secretary of State John Kerry warned US allies that the fight against Isis could take years, but said that air strikes had already killed key leaders and damaged the group's capabilities. "Our commitment will be measured most likely in years but our efforts are already having a significant impact," Mr Kerry said. "The roughly 1,000 coalition air missions we have flown have reduced [Isis's] leadership and inflicted damage on its logistical and operational capabilities."
Foreign ministers and diplomats from 60 nations gathered in Brussels today to assess progress so far in halting the march of the Sunni militants across swathes of Syria and Iraq. The US-led coalition began air strikes against Isis – also known by its Arabic name Daesh – in both countries in August.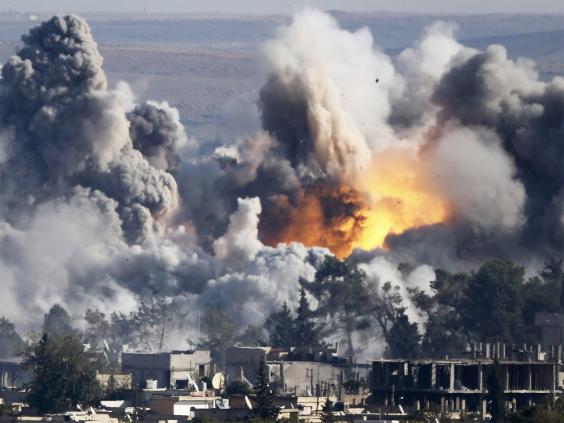 But while the Iraqi Prime Minister, Haider al-Abadi, was at the talks and is committed to providing resources to the fight against Isis, Syria's President Bashar al-Assad is not part of the coalition, and he told Paris Match magazine that strikes were ineffective. "You can't end terrorism with aerial strikes," he told the magazine in comments published today. "Troops on the ground that know the land and can react are essential. That is why there haven't been any tangible results in the two months of strikes led by the coalition." The US-led coalition is trying to work with more moderate rebel groups, and a statement from Brussels said that some of the allies had "called for increased support to these moderate opposition forces". Many diplomats who gathered in the Belgian capital were also concerned about the impact the conflict might have at home, with recent estimates suggesting that around 3,000 Europeans have travelled to Syria to fight alongside Isis militants.
In its statement, the coalition said it would be investigating more ways to stop the flow of foreign fighters heading to the region, and to stop the financing of Isis. Right now the group is funded by illicit donations and profits from the black-market trade in oil. Countering the propaganda of the militant group – which has proved adept at using social media to recruit fighters – was also listed as a priority. While Nato has so far had no role in the military campaign, Mr Abadi said that he had formally requested Nato provide training to bolster Iraq's armed forces.
Reuse content