"I have three sons martyred and two wounded," old Ali Majid Mohamed says. But of course he is not old. He looks as if he might be in his 80s, but he is only 62 and his wife, Ebtisam, is 56.
Perhaps it is the way they speak that gives them nobility, although Ali's beard gives him an almost Old Testament authority.
And when I ask him if he is angry – the family is Alawite and has paid most terribly for their loyalty to an Alawite President – he replies like a prophet: "Our faith is that everyone has an age of death decided by the Lord before we are born. We don't feel anger. We feel only sadness because of what our country is suffering."
All along the line of the Latakia mountains, you can find these parents, destroyed by the war, largely ignored by a world which long ago decided that Syria's soldiers were brigands and criminals; they sit in their stone houses, cold and dark with eight-hour power cuts, the only pictures those of their dead sons. They stare down at us as we speak. Engineer Major Hossam Mohamed earned a PhD in Greece where he studied navigation. He was killed near the Turkish border in Aleppo province, leaving behind a wife and daughter. First Lieutenant Pilot Majid Mohamed died defending his airbase in Damascus province. He was 25. Captain Hassan Ali Mohamed was killed at Hanasseer in Aleppo province. These are the anodyne details of all dead soldiers.
But tragedy moves through families in dark ways. No sooner had Ali and Ebtisam Mohamed heard of their second son's death than they dug his grave. But Majid's body was not returned and so soon afterwards did Hassan die, that his parents placed him in his brother's grave.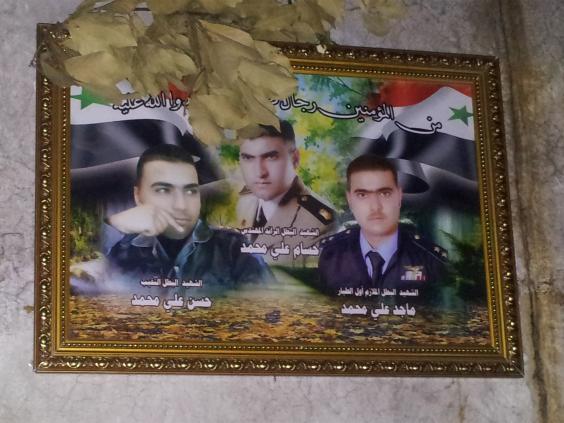 The couple have never talked to a Western journalist before and this, perhaps, is why they speak with such courtesy and reflection. When Hossam died, they were living  in the Damascus suburb of al-Qaddem. "We returned to our village here in the mountains when we heard about our eldest son," Ali Mohamed says. "And two days later, rebels took control of our area in the city and they looted and burned our home… so maybe this loss of our son spared us." The father does not say why their home was burned, but he knows. They were Alawites.
Captain Alaa Mohamed was wounded in the joint of his left elbow just a day before his eldest brother Hossam was killed. "Hossam called Alaa a few hours before he died," Ali recalls. "He asked: 'What's your injury? Is it a flesh wound or  were bones damaged?' Alaa said: 'Both.' And Hossam replied: 'God is the only one to be able to restore life to bones as dry as dust'. He said: 'You have nothing to worry about.'"
The mobile phone has changed the personal dimensions of war. Instead of the last letter home, it's the last cellular connection that matters.
Lieutenant Basil Ali Mohamed is lucky to have survived after being hit in the chest by a bullet at the Aleppo air force academy in a battle with Isis fighters. He was wounded three months after Majid – the second son to die – was killed. And Majid's last mobile call was to Basil. "He spoke to Basil only a few minutes before he was killed," their father says. "He said: 'We are under a very heavy attack. If we repel it, I will call you back. Tell my mother and father I love them and not to worry.'" This is the last trace the family has of Basil, and Ali sits in silence for a few seconds. He has one unwounded son.
"We thank God for what he has given us and our survival is linked to our homeland," Ali says at last. "Syria is worth lots of sacrifices. We just wish peace could be restored."
Everyone knows that the mayor of the next mountain village has just lost his son in the war and is waiting for his remains to be sent home. At least he will receive his soldier-son's body. Ali and Ebtisam Mohamed seem to accept all this – as if losing sons is a natural thing for parents to endure.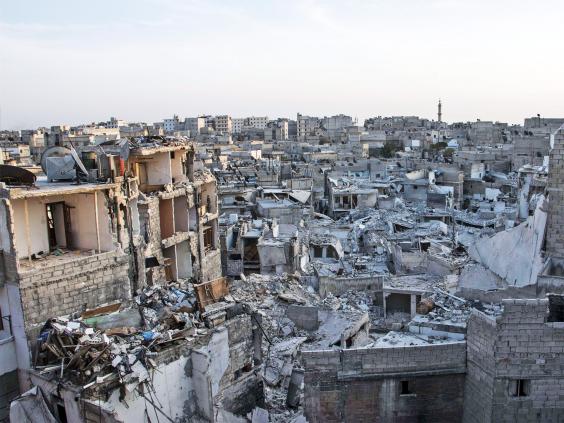 I chose to search for this family because an old friend of mine knew them. They spoke in very simple language – there was no mention of Bashar al-Assad or the government, no propaganda – and when I asked Ali and Ebtisam how they met, they both burst into laughter. "We were neighbours in this village and I always liked her," Ali replied. "I was 23 and she was 16 when we married." Ebtisam quietly interrupts him. "It's our destiny to get married early and to have such heroes."
There is another moment of silence before she continues. "No one ever thought this would happen in Syria. This was always a civilised place. We were liked by our neighbours. No one knows the future. God willing, Syria will come through this."
The death notices that smother the walls of Wadi Alqala show just how dearly the Alawites have paid for this terrible conflict. In this tiny village of less than 2,000 people – just 337 families – 25 soldiers have died. Of the 25,000 people in Wadi Alqala and its seven neighbouring villages, up to 150 men have been killed.
As I am saying goodbye to Ali and Ebtisam, there are bursts of rifle fire on the main street and a flashing of ambulance lights. This is how the villagers greet their dead. Everyone knows whose body lies in the ambulance. The mayor's son is coming home.
Reuse content