Mohammed Derham, a 50-year-old shop keeper in Taiz, a war-torn city in the Yemeni Highlands, had just finished reading his Koran when the rocket struck.
Walls collapsed overhead; twisted steel rods and cement chunks mingled with bodies of seven female relatives, including his two daughters. "In the hospital, I saw her brains," he said of his daughter Somaiya, 17. He he did not recognise Mariam, 15, his other daughter, until "the head was found two hours later". Mr Derham is one of hundreds of thousands trapped in Taiz by a blockade of Shia Houthi rebels.
Yemen's most densely populated city has become a crucible of the war between the Houthis, troops loyal to former president Ali Abdullah Saleh, and a coalition of the resistance, almost half of which are Sunni Salafists. The resistance in Taiz, close to the Red Sea's Mocha port, includes an al-Qaeda branch which is now practising "integration" with other factions. By the summer the resistance had pushed the Houthi rebels from the centre of the city, only prompting Houthis to tighten the blockade.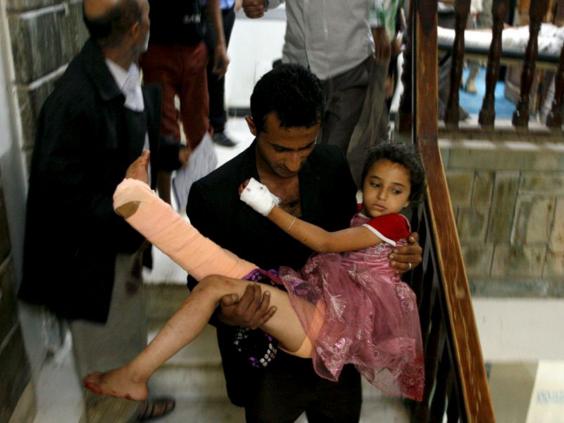 In Souk al-Samil, the district of Taiz where al-Qaeda rules, men with long beards guard checkpoints. "They warn us of al-Qaeda but in fact they are much better than Houthis," said one resident. "At the very least, we move freely unlike the days under Houthis." He said that he witnessed an execution of a man accused of "witchcraft" by al-Qaeda militants in the district.   
The conflict has deeply polarised Yemen, splitting it along sectarian, regional and tribal lines. On one side is President Abd Rabbu Mansour Hadi and his backers in the Saudi coalition, on another the Shia Houthi movement and elements still supporting former president Saleh.
Welcomed into the resistance against the Houthis is al-Qaeda. Nabil Wasil, the top Salafist commander of the resistance in Taiz, said that Salafists form around 40 per cent of the resistance and that they are the second largest after Yemen's Islamist Islah party. He said that the  al-Qaeda faction has been battling Houthis alongside the rest of the resistance. 
He said that the number of al-Qaeda militants is around 50 and what worries him is the "random killing". "Now the enemy is one [the Houthis]," he told The Independent. "Al-Qaeda, like all of us, have one goal: to fight this enemy. All the factions are united. We [Salafists] have a revenge with the Houthis."
Mr Wasil was referring to battles in northern Yemen between Salafists and Houthis that ended with the Houthis' expulsion of a Salafist community last year. He said that while all resistance groups answer to tribal leader Hamoud al-Mekhlafi, al-Qaeda militants answer to the group's leader Qassim al-Rimi, controlling areas in the city centre. Speaking to The Independent, Mr al-Mekhlafi said that he is fighting with only 10 per cent of his force's capacity due to lack of weapons, ammunition and funds.
Al-Qaeda will find itself isolated if it tries to impose its hardline ideology on society here
The al-Qaeda commander of Taiz, Harith al-Ezzi, says al-Qaeda is mainly concentrated in Souk al-Samil, where they are in control of key state institutions such as taxes and security headquarters. He said that the group's leaders are following a different strategy of "integration" with the rest of the resistance across the country without making public announcements, so not to affect the flow of weapons and money going towards the resistance. 
"This is the strategy of the sheikhs and they know the good and the evil," the young commander told The Independent. He said that the resistance abstains from giving his group weapons except for "few Kalashnikovs". 
World news in pictures
World news in pictures
1/30 19 May 2016

Families of passengers who were flying in an EgyptAir plane that vanished from radar en route from Paris to Cairo react as they wait outside a services hall at Cairo airport

Getty Images

2/30 18 May 2016

A man clashes with policemen during a protest against new emergency powers decreed this week by President Nicolas Maduro in Caracas. Public outrage was expected to spill onto the streets of Venezuela, with planned nationwide protests marking a new low point in Maduro's unpopular rule

Getty Images

3/30 18 May 2016

A police car explodes after being set on fire during an unauthorized counter-demonstration against police violence in Paris, as Police across France demonstrate today against the "anti-cop hatred" they say they have endured during a wave of anti-government protests since early March

Getty Images

4/30 18 May 2016

Sri Lankan military personnel take part in relief and rescue efforts following a landslide in the village of Bulathkohupitiya. Rescue workers recovered the bodies of 17 villagers buried in landslides in Sri Lanka after three days of torrential rain. The disaster hit two small villages in Kegalle, a mountainous area northeast of Colombo, and takes the overall death toll from flooding and landslides in recent days to 36

Getty Images

5/30 18 May 2016

A protester against visiting Zhang Dejiang, the chairman of China's National People's Congress, confronts police in Hong Kong

Reuters

6/30 18 May 2016

Chicks dyed to draw attention are offered for sale at a small poultry market in Jakarta, Indonesia

Reuters

7/30 17 May 2016

A man throws a fire extingusher at Parliamentary security behind a closed door after members of Julius Malema's Economic Freedom Fighters (EFF) were evicted from Parliament during President Jacob Zuma's question and answer session in Cape Town, South Africa

Reuters

8/30 17 May 2016

Supporters of Federal Alliance, a coalition of Madhes-based parties and other ethnic political parties and organizations, protest against the constitution near the Prime Minister's official residence in Kathmandu, Nepal

Reuters

9/30 17 May 2016

Members of a Sri Lankan Army rescue team carry a woman to safety through floodwaters in the suburb of Kaduwela in capital Colombo. Emergency workers in Sri Lanka found the bodies of a woman and two children killed in a landslide, taking the toll from two days of heavy rain to 11, with thousands more forced to flee their homes

Getty Images

10/30 16 May 2016

Protesters light flares and wave flags marching through a street, during an anti-government protest in Skopje, in series of protests dubbed "Colorful Revolution". Macedonia has been politically gridlocked for two years but the crisis rose a notch on 12 April when President Gjorge Ivanov halted a probe into more than 50 public figures suspected of involvement in corruption and a wire-tapping scandal. The move triggered street protests against Ivanov and the ruling party's leader, Nikola Gruevski. Fresh demonstrations drew several thousand, mostly young people who demanded Ivanov resignation

Getty Images

11/30 16 May 2016

Kenyan riot police officers raise batons over a man during a demonstration of Kenya's opposition supporters in Nairobi. Opposition protestors led by former Prime Minister Raila Odinga gathered outside the Indepedent Electoral and Boundaries Comission building to demand the dismissal of IEBC commissioners, after alleged bias towards the ruling Jubillee Alliance Party

Getty Images

12/30 16 May 2016

Pilgrims gather around an statue of the virgin Mary as it is carried during a procession in the village of El Rocio, southern Spain. El Rocio pilgrimage, the largest in Spain, gathers hundreds of thousands of devotees in traditional outfits converging in a burst of colour as they make their way on horseback and onboard decorated carriages across the Andalusian countryside

Getty Images

13/30 15 May 2016

A clothing shop displays its merchandise beside a damaged building in the rebel-controlled area of Maaret al-Numan town in Idlib province, Syria

Reuters

14/30 15 May 2016

A police dog jumps through a burning ring during a show in Guiyang, China

Reuters

15/30 14 May 2016

Participants march during the Belgian Gay Pride parade in Brussels

AP

16/30 14 May 2016

An Iraqi boy walks past the blood stains and debris at a cafe, that was popular with local fans of Spain's Real Madrid football club, in the Balad area, north of the capital Baghdad, a day after a deadly raid claimed by Islamic State group militants. At least 16 people were killed and 30 wounded, including several members of the security forces, in the attack in the town of Balad and the ensuing chase

Getty Images

17/30 13 May 2016

A visitor takes a picture of a display bearing hand prints of war heroes from the War of Resistance against Japan, at Jianchuan Museum Cluster in Anren, China

Reuters

18/30 13 May 2016

Black clouds of smoke are produced by tyres burning in an uncontrolled dump near the town of Sesena, Spain

Reuters

19/30 12 May 2016

Cars driving on the winding L401 country road past rapeseed fields near Nienstedt close to Bad Muender am Deister, central Germany

Getty Images

20/30 12 May 2016

A Bangladeshi boatman makes his way through hyacinth plants in the Buriganga River during a strike called by the Jamaat-e-Islami religious political party to protest against the execution of leader Motiur Rahman Nizami in Dhaka

Getty Images

21/30 12 May 2016

LAPD officers climb two fire ladders to reach a man on the historic KTLA radio tower in Hollywood. For nearly three hours the man clutched the trestles of the 160-foot (53 meters) tower located at the Sunset Bronson Studios before being safely returned to the ground, where he was taken into police custody for mental evaluation

Getty Images

22/30 11 May 2016

Indian father Mohinder Singh Gill, 79, and his wife Daljinder Kaur, 70, pose for a photograph as they hold their newborn baby boy Arman at their home in Amritsar. An Indian woman who gave birth at the age of 70 said she was not too old to become a first-time mother, adding that her life was now complete

Getty Images

23/30 11 May 2016

People gather at the scene of a car bomb attack in Baghdad's mainly Shia district of Sadr City, Iraq

Reuters

24/30 10 May 2016

Performers take part in a torchlight parade on Kim Il-Sung square during festivities marking the end of the 7th Workers Party Congress in Kim Il-Sung square in Pyongyang

Getty Images

25/30 10 May 2016

Tea garden workers carry sacks of tea leaves at Fatikchera tea garden estate on the outskirts of Agartala, India

Reuters

26/30 10 May 2016

A police officer takes pictures at the train station after an attack in Munich. One person has been killed and several injured after suspected Islamist stabbed passers-by at a railway station in Grafing

Reuters

27/30 10 May 2016

People react as they see North Korean leader Kim Jong Un during a mass rally and parade in the capital's main ceremonial square, a day after the ruling party wrapped up its first congress in 36 years by elevating him to party chairman in Pyongyang

Reuters

28/30 9 May 2016

A tornado rips through a residential area after touching down south of Wynnewood, Oklahoma

Getty Images

29/30 9 May 2016

A Jordanian Bedouin sits on a camel in front of the Treasury Building in the ancient city of Petra in Jordan. Established as the capital city of the Nabataeans, the rose rock city is Jordan's most popular touristic site and was chosen as one of the seven New Wonders of the World in 2007

Getty Images

30/30 9 May 2016

Russian servicemen march at Red Square during the Victory Day military parade in Moscow. Russia marks the 71st anniversary of the Soviet Union's victory over Nazi Germany in World War II

Getty Images
"We have our own sources of money and weapons, mostly from those seized from Houthis," he said, adding "the resistance is fearful of giving us weapons for fear that we become stronger". Meanwhile he said, "we supported the resistance with fighters." 
Many buildings in Taiz are gutted, with shattered windows and walls with shell holes. The city falls into darkness during lingering power outages when fuel bound for the power stations has been prevented from entering. Women smuggle in small quantities of supplies past the Houthi barricade in their private cars, along with medicine and food supplies.
Even if the Houthi are defeated, there may be more suffering for many of the city's residents. Harith al-Ezzi said that the state buildings under the control of al-Qaeda will only be handed over to those implementing Sharia law. "If the resistance doesn't implement Islamic Sharia, we will keep what we have in our hands," he said. But Osama Salama, a young activist, said: "Taiz is a modern civilized city that won't accept radicals. We have no doubt that al-Qaeda will find itself isolated if it tries to impose its hardline ideology on society here."