Mohammed Derham, a 50-year-old shop keeper in Taiz, a war-torn city in the Yemeni Highlands, had just finished reading his Koran when the rocket struck.
Walls collapsed overhead; twisted steel rods and cement chunks mingled with bodies of seven female relatives, including his two daughters. "In the hospital, I saw her brains," he said of his daughter Somaiya, 17. He he did not recognise Mariam, 15, his other daughter, until "the head was found two hours later". Mr Derham is one of hundreds of thousands trapped in Taiz by a blockade of Shia Houthi rebels.
Yemen's most densely populated city has become a crucible of the war between the Houthis, troops loyal to former president Ali Abdullah Saleh, and a coalition of the resistance, almost half of which are Sunni Salafists. The resistance in Taiz, close to the Red Sea's Mocha port, includes an al-Qaeda branch which is now practising "integration" with other factions. By the summer the resistance had pushed the Houthi rebels from the centre of the city, only prompting Houthis to tighten the blockade.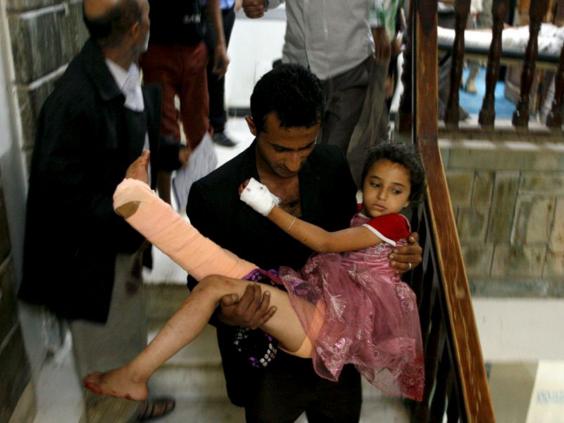 In Souk al-Samil, the district of Taiz where al-Qaeda rules, men with long beards guard checkpoints. "They warn us of al-Qaeda but in fact they are much better than Houthis," said one resident. "At the very least, we move freely unlike the days under Houthis." He said that he witnessed an execution of a man accused of "witchcraft" by al-Qaeda militants in the district.   
The conflict has deeply polarised Yemen, splitting it along sectarian, regional and tribal lines. On one side is President Abd Rabbu Mansour Hadi and his backers in the Saudi coalition, on another the Shia Houthi movement and elements still supporting former president Saleh.
Welcomed into the resistance against the Houthis is al-Qaeda. Nabil Wasil, the top Salafist commander of the resistance in Taiz, said that Salafists form around 40 per cent of the resistance and that they are the second largest after Yemen's Islamist Islah party. He said that the  al-Qaeda faction has been battling Houthis alongside the rest of the resistance. 
He said that the number of al-Qaeda militants is around 50 and what worries him is the "random killing". "Now the enemy is one [the Houthis]," he told The Independent. "Al-Qaeda, like all of us, have one goal: to fight this enemy. All the factions are united. We [Salafists] have a revenge with the Houthis."
Mr Wasil was referring to battles in northern Yemen between Salafists and Houthis that ended with the Houthis' expulsion of a Salafist community last year. He said that while all resistance groups answer to tribal leader Hamoud al-Mekhlafi, al-Qaeda militants answer to the group's leader Qassim al-Rimi, controlling areas in the city centre. Speaking to The Independent, Mr al-Mekhlafi said that he is fighting with only 10 per cent of his force's capacity due to lack of weapons, ammunition and funds.
Al-Qaeda will find itself isolated if it tries to impose its hardline ideology on society here
The al-Qaeda commander of Taiz, Harith al-Ezzi, says al-Qaeda is mainly concentrated in Souk al-Samil, where they are in control of key state institutions such as taxes and security headquarters. He said that the group's leaders are following a different strategy of "integration" with the rest of the resistance across the country without making public announcements, so not to affect the flow of weapons and money going towards the resistance. 
"This is the strategy of the sheikhs and they know the good and the evil," the young commander told The Independent. He said that the resistance abstains from giving his group weapons except for "few Kalashnikovs". 
World news in pictures
World news in pictures
1/30 29 June 2016

A mother of victims reacts outside a forensic medicine building close to Istanbul's airport, a day after a suicide bombing and gun attack targetted Istanbul's airport, killing at least 36 people

AFP/Getty Images

2/30 28 June 2016

An injured woman covers her face as she is carried by paramedics into ambulance at Istanbul Ataturk airport, Turkey, following a blast. A triple suicide bombing and gun attack has killed at least 36 people, including foreigners, with Turkey's prime minister saying early signs pointed to an assault by the Islamic State group

REUTERS

3/30 28 June 2016

Caimans swim in an artificial reservoir in the San Jorge cattle ranch near the dried up Pilcomayo river, close the town of Fortin General Diaz, Paraguay. Apart from the lagoon, 18 wells have been dug to secure water sources for the reptiles

AP

4/30 28 June 2016

Women pose with guns in front of journalists in the Christian village of Qaa, where suicide bomb attacks took place, in the Bekaa valley, Lebanon

REUTERS

5/30 28 June 2016

French anti-riot police officer detain a man during a demonstration against controversial labour reforms in Paris

AFP/Getty Images

6/30 27 June 2016

Fishermen use a fire to attract fish on a traditional fishing boat in New Taipei City, Taiwan

REUTERS

7/30 27 June 2016

Members of Iraqi police forces celebrate on a street in western Fallujah, 50 kilometres (30 miles) from the Iraqi capital Baghdad, after Iraqi forces retook the embattled city from the Islamic State group

AFP/Getty Images

8/30 27 June 2016

A man pushes a tub carrying children as he gets them back home after school at a flooded area in Duchang, Jiangxi Province, China

REUTERS

9/30 26 June 2016

A LGBT member waves a rainbow flag during a rally staged by the LGBT community on Istiklal avenue in Istanbul. Riot police fired tear gas and rubber bullets to disperse protesters defying a ban on the city's Gay Pride parade. Authorities in Turkey's biggest city had banned the annual parade earlier this month citing security reasons, sparking anger from gay rights activists

AFP/Getty Images

10/30 26 June 2016

A burned out truck rests on a roadside after the Erskine Fire burned through Weldon, California

REUTERS

11/30 26 June 2016

Men flagellate during the Shiite Youm Ali procession in Islamabad, Pakistan

REUTERS

12/30 25 June 2016

A man raises his hands as he runs from the scene of a suicide bomb attack outside Nasahablood hotel in Somalia's capital Mogadishu

REUTERS

13/30 25 June 2016

A Ukrainian Forces soldier fires a heavy machine gun during a battle with pro-Russian separatists at Avdeyevka, in Ukraine's Donetsk region

AFP/Getty Images

14/30 25 June 2016

A man practices his contact juggling skills in Manila, Philippines

AFP/Getty Images

15/30 24 June 2016

A rider rears up on his horse while surrounded by a cheering crowd during the traditional Fiesta of Sant Joan (Saint John) in downtown Ciutadella, on the island of Menorca, Spain

REUTERS

16/30 24 June 2016

A man throws a bucket of water at a motorcyclist as residents join in a water-splashing frenzy to honor their patron St. John the Baptist's Feast Day in San Juan, Metro Manila, Philippines

REUTERS

17/30 23 June 2016

Migrant workers supporting Myanmar Foreign Minister and State Counselor Aung San Suu Kyi wave to her during a meeting at the coastal fishery centre of Samut Sakhon, Thailand

REUTERS

18/30 23 June 2016

A general view shows the financial district of Lujiazui in Shanghai

AFP/Getty Images

19/30 23 June 2016

A cat walks past Muslim women offering afternoon prayers at a mosque at the shrine of Sufi Saint Khawaja Naqashband during the holy month of Ramadan in Srinagar

REUTERS

20/30 23 June 2016

A test launch of ground-to-ground medium long-range ballistic rocket Hwasong-10 in North Korea

REUTERS

21/30 22 June 2016

Family members cry near coffins containing the bodies of Nepali nationals, who were killed when a suicide bomber struck a minibus in Kabul, lined up after being flown from Afghanistan at Tribhuvan International Airport in Kathmandu, Nepal

REUTERS

22/30 22 June 2016

Villagers carry banners which read "Plead the central government to help Wukan" (in red) and "Wukan villagers don't believe Lin Zuluan took bribes" during a protest in Wukan, China's Guangdong province

REUTERS

23/30 21 June 2016

A plane drops retardant on a wildfire as it attacks the flames on a hillside in the San Gabriel mountains near Monrovia, California

REUTERS

24/30 21 June 2016

Aymara indigenous hold up their hands to receive the first rays of sunlight in a New Year's ritual in the ruins of the ancient city Tiwanaku, Bolivia. Bolivia's Aymara Indians are celebrating the year 5,524 as well as the Southern Hemisphere's winter solstice, which marks the start of a new agricultural cycle

AP

25/30 21 June 2016

A resident making his way through a flooded area in a village in Poyang county, in southeast China's Jiangxi province

AFP/Getty Images

26/30 20 June 2016

Seagulls fly as the full moon rises behind the ancient marble Temple of Poseidon at Cape Sounion, southeast of Athens, on the eve of the summer solstice

AP

27/30 20 June 2016

An aerial view shows people practising yoga on a glass sightseeing platform ahead of the International Day of Yoga, on the outskirts of Beijing, China

REUTERS

28/30 20 June 2016

Dessana indigenous shaman Raimundo Dessana holds the Olympic Torch during a ritual at the Tupe Reservation in the outskirts of Manaus, Amazonas, Brazi

AFP/Getty Images

29/30 20 June 2016

An emu runs to escape an approaching wildfire as it burns near Potrero, California

REUTERS

30/30 20 June 2016

Wales' supporters cheer downtown Toulouse, before the Euro 2016 football match of Russia vs Wales

AFP/Getty Images
"We have our own sources of money and weapons, mostly from those seized from Houthis," he said, adding "the resistance is fearful of giving us weapons for fear that we become stronger". Meanwhile he said, "we supported the resistance with fighters." 
Many buildings in Taiz are gutted, with shattered windows and walls with shell holes. The city falls into darkness during lingering power outages when fuel bound for the power stations has been prevented from entering. Women smuggle in small quantities of supplies past the Houthi barricade in their private cars, along with medicine and food supplies.
Even if the Houthi are defeated, there may be more suffering for many of the city's residents. Harith al-Ezzi said that the state buildings under the control of al-Qaeda will only be handed over to those implementing Sharia law. "If the resistance doesn't implement Islamic Sharia, we will keep what we have in our hands," he said. But Osama Salama, a young activist, said: "Taiz is a modern civilized city that won't accept radicals. We have no doubt that al-Qaeda will find itself isolated if it tries to impose its hardline ideology on society here."