Abdel-Aziz Jubari's home was no more. After the exiled Yemeni politician spent an evening in Geneva discussing "rules" for stalled peace talks, the Houthis made their demonstration of intent. The Shia rebels who have thrown Yemen into chaos packed his property with dynamite and reduced it to rubble.
Mr Jubari, speaking after the destruction of his home in the central city of Dhamar, appeared sanguine. The deputy head of the delegation sent to Switzerland by the ousted President, Abed Rabbo Mansour Hadi, told reporters: "This is regrettable that people's manners and behaviours can reach this point. Of course my house is not the only house in Yemen. A lot of people's homes and properties have been targeted in an unbelievable way."
Racked by civil war between the Houthis and forces loyal to Mr Hadi, and the strengthening presence of the jihadists of al-Qaeda in the Arabian Peninsula (Aqap), the prospect of peace in Yemen appears more distant than ever. Overhead, Saudi jets continue to bomb targets. On the ground, the bodies lie unburied on the streets. Women and children fleeing the conflict continue to be killed. In the southern port city of Aden, horrors abound.
Reports have emerged of a series of suicide attacks on the headquarters of the Houthi and mosques in the rebel-controlled capital, Sanaa. No group claimed credit for the attacks.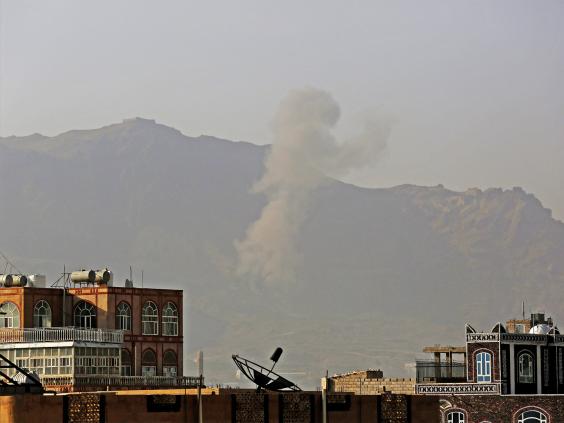 On Tuesday night, much of the discussions in Geneva were centred on the "terms and conditions" to be followed at the UN-brokered talks. Indeed, a UN source told The Independent that agreement to implement a humanitarian ceasefire may be delayed because the delegations have brought too many people when only 10 are allowed per delegation.
"The clock is starting to work against us," the UN source said. "We will just have to wait and see what will happens..." Ban Ki-moon has urged parties to agree a ceasefire before the month-long Ramadan begins on Thursday.
Yemen's Foreign Minister Reyad Yassin Abdulla, the head of the exiled Yemeni government delegation in Geneva, said of the attack on Mr Jubari's home: "It is in this spirit of revenge that they are dealing with all the Yemeni people." Speaking about the possibility of a truce, Mr Abdulla said "no progress" had been made because the Iranian-backed Houthi delegation was "sitting in their hotel making all kind of rumours".
Meanwhile, a convoy of civilians, including women and children, fleeing the fighting in Aden was hit by air strikes which killed at least 31 people, medical officials told the Associated Press. 
The medics described a scene of carnage, with body parts scattered across the highway and smoke billowing from charred vehicles. Fierce fighting continues in the oil and gas-rich Marib province, south of Sanaa, where Sunni tribes have attempted to fend of advances from the Houthis. In Taiz, Houthi shelling is reported to have killed more than 30 civilians.
Unicef, the United Nations children's agency, says that the number of children killed in Yemen has almost reached 300 in the last 10 weeks.
"The recruitment and use of children has also sharply increased," said a Unicef statement. "Children in Yemen are being used by armed groups, manning checkpoints or carrying arms. Children continue to be killed, maimed or recruited to fight."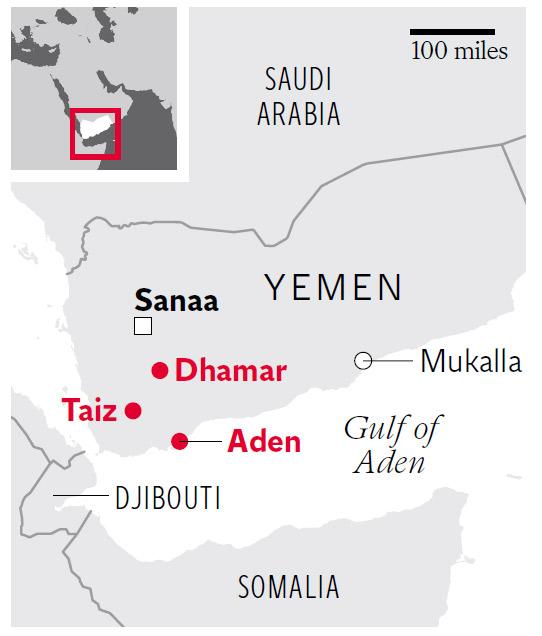 One person to escape the fighting was an Aden resident, Bilal Hussein, who fled with only two pairs of trousers and a T-shirt. There was little time for indecision when Aden appeared certain to fall to the Houthis in April. "All of a sudden you wake up and there's a war in your street," Mr Hussein said. "It turns your life upside down."
Mr Hussein jumped into a friend's car and drove to a "steamer point" on the coast in Tawahi, also in Aden province. There, an Indian navy ship was due to depart for Djibouti.
While driving to Tawahi, large swathes of streets were filled with uncollected piles of waste. Stray cats and dogs ate dead bodies, Mr Hussein claimed. The buildings were reduced to debris by the shelling and gunfire. "We were surrounded by snipers in the mountains and city. They shot at anything that moved, including the elderly, women and children," he said.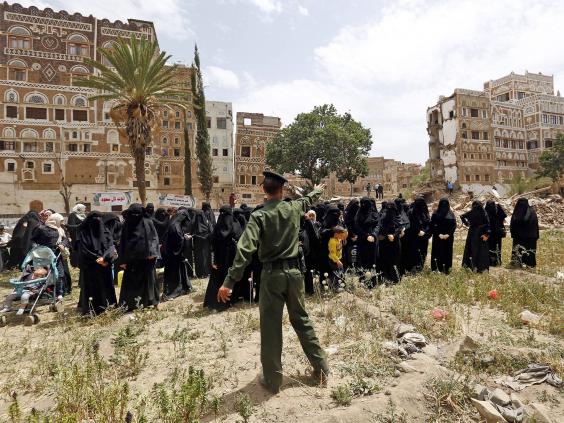 The Houthis deny indiscriminately killing the vulnerable. They blame the Saudi-led coalition for the loss of civilian lives. "There were many times I thought we were not going to make it," Mr Hussein said. Mohammed Mackawi, an activist who recently escaped Aden said the city was "uninhabitable".
"They [the Houthis] besieged the city and destroyed houses and cut off everything that gave us life and then started killing people," said Mr Mackawi. 
According to a Human Rights Watch report, forces from both sides of the conflict have committed "serious abuses" at the al-Jumhouri hospital in Aden. Staff at the hospital said that in late March fighters executed two Houthi rebels who were patients and used the hospital as a defensive position until driven from the area.
"There is nothing hindering a political solution; the solution is available, but they [Saudis] are the ones who ruin it with their aggression," said the Houthi leader Abdel-Malek al-Houthi, on Tuesday. And after another day of "aggression" from both sides, the chances of peace appear more remote than ever.
Al-Qaeda executions: 'Spies' hung from bridge
Al-Qaeda in the Arabian Peninsular (Aqap) militants in Yemen killed two men accused of spying for the US and hung their bodies off a bridge.
Witnesses said al-Qaeda gunmen in the southern city of Mukalla read out charges before shooting the two men, one of whom was accused of guiding the US drone that killed an al-Qaeda commander in April.
Supporters posted pictures online that showed the two men blindfolded on a sandy beach, said to be the site of a previous drone strike. Another picture showed a body in bloody clothes with its arms spread apart and lashed to a pole, dangling off the side of a bridge.
The killings came a day after Aqap said its leader, Nasir al-Wahishi, was killed in a US drone strike last week.
The militants captured Mukalla in April after Yemen's army splintered between allies and opponents of Shia Houthi rebels. But the city has proven to be something of a death trap, with several US drone strikes in and around Mukalla killing senior Aqap figures. In a series of online postings, al-Qaeda members said one of the men killed was a Saudi national loyal to Isis.
AP
Reuse content