Yemen could become a new breeding ground for child soldiers, Unicef has warned, as the rise of extreme violence around the world undermines efforts to end the practice. 
Twenty years on from a landmark report that put child soldiers on the global agenda, Unicef says tens of thousands of children are engaged in warfare, as conflicts rage in the Middle East and East Africa. 
Around a third of combatants in Yemen's civil war are children, Unicef estimates. Both the Houthi rebels and militias fighting on behalf of the internationally recognised President Abdullah Mansour Hadi have recruited children to fight on their behalf in the 11-month war, which has so far killed at least 2,800 civilians. 
Children as young as 14 are fighting on the front line, according to a Unicef report to be formally published today, which says that both the Houthis and the government have gone back on pledges to the UN that they would end the practice. 
Meanwhile, the widespread destruction of schools and infrastructure in the Saudi-led bombardment of the country is further encouraging more children to pick up guns and fight, in exchange for pay of between £3 to £6 a day. 
Elsewhere, the rise of terrorist groups such as Isis and al-Shabaab has made negotiation over the issue impossible. 
In Iraq and Syria, Isis have featured very young children prominently in their propaganda, and have employed new tactics, such as the use of social media, to lure children into the fight. The group has released videos showing children beheading prisoners and training in military camps.
Lost boys: What became of Liberia's child soldiers?
Lost boys: What became of Liberia's child soldiers?
1/12

Jim Smith, 42, a former fighter loyal to Taylor, was seriously injured by a grenade in 1998; he says Taylor gave him food and shelter after his injury

Simon Akam

2/12

Charles Taylor, leader of the rebel National Patriotic Front of Liberia (NPFL), in 1990

AFP/Getty Images

3/12

John 'Easy Water' Kolubah, 32, says: 'We were soldiers. Now we're parasites'

Simon Akam

4/12

'Scorpion King', now a scrap metal collector, fought as a child in both Sierra Leone and Liberia

Simon Akam

5/12

Alfred 'Sex' Sargbah, 31, with his daughter Sameria, in the Sinkor area of Monrovia. 'I was picked because I was the strongest,' says the former child soldier

Simon Akam

6/12

Diana Korgbaye, 30,was an unwilling rebel 'wife'

Simon Akam

7/12

Starface Mannaray, 32, received help to re-train after his military 'career'

Simon Akam

8/12

Edwin 'Bubbles' Kelly, 25, who refrets being a child soldier

Simon Akam

9/12

Dustine 'Trouble' Tegli, 31, volunteered for the militia aged 11. He now has a job in a woodworking shop

Simon Akam

10/12

Taweh Golafale, 33, was a general in the 'Wives Unit'

Simon Akam

11/12

The Old GSA, in Monrovia, where ex-child soldiers gather

Simon Akam

12/12

Liberian president Charles Taylor in court in The Hague in 2011

AFP/Getty Images
South Sudan remains the greatest source of concern, with some 16,000 children recruited by both sides in the country's two-year civil war. Many are taken from their homes, often after local communities are threatened into giving them up in exchange for protection. 
But children sometimes volunteer to join the conflict, said Anthony Nolan, a Unicef child protection specialist in the country, driven by a lack of resources, or a desire to seek revenge for their families. Their recruitment threatens to prolong the conflict for generations to come, he said.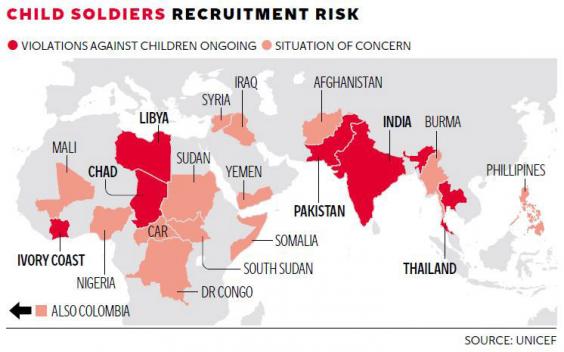 "This conflict has become ingrained and inter-generational," Mr Nolan said. "You're seeing the cycle continue. Children are being killed because they are being seen as future fighters. Kids are being brought up to hate." 
Unicef's report, which was unveiled at the British Parliament on Monday night, makes several recommendations for reducing the prevalence of child soldiers across the world. These include better birth registration, and investment in local communities, particularly in schools.
Reuse content