The surprise victory of Donald Trump in the US elections has provoked dismay across the world's media with one notable exception. 
Russian state TV anchor, Dmitry Kiselyov, triumphantly declared the nation was "congratulating themselves with Trump's election" during his weekly news show Vesti Nedeli. 
He hailed Mr Trump's shock victory over Hillary Clinton in the US electoral college saying it would restore relations between Moscow and Washington which have deteriorated sharply over the past few years following Russian intervention in Ukraine and Syria. 
He praised Mr Trump for not using words like "democracy" and "human rights" which he said were "not in his lexicon" because Barack Obama and Ms Clinton had "soiled" them.
The Kremlin has dismissed all criticism of its actions in Aleppo where it has been accused of deliberately targeting civilians and aid convoys – prompting fears of a second Cold War.
He said the Russian people were so happy about the results of the election because "in Russia, there is no real anti-Americanism", the Moscow Times reported.
Despite this, earlier this year Mr Kiselyov still thought it wise to threaten the US saying Russia is still the only country in the world which can turn it into "radioactive dust".
World reaction to President Trump: In pictures
World reaction to President Trump: In pictures
1/29

London, England

AP

2/29

London, England

Reuters

3/29

Manila, Philippines

Getty Images

4/29

Manila, Philippines

Getty

5/29

Mosul , Iraq

Getty

6/29

Manila, Philippines

AP

7/29

New Delhi, India

Reuters

8/29

Karachi, Pakistan

EPA

9/29

Jakarta, Indonesia

Reuters

10/29

Lagos, Nigeria

AP

11/29

Kabul, Afghanistan

AP

12/29

Jerusalem. Israel

Reuters

13/29

Moscow, Russia

Reuters

14/29

Seoul, South Korea

AP

15/29

Lagos, Nigeria

AP

16/29

Peshawar, Pakistan

EPA

17/29

Jakarta, Indonesia

Reuters

18/29

Hyderabad, India

AP

19/29

Kolkata, India

AP

20/29

Sydney, Australia

Getty

21/29

Sydney, Australia

AP

22/29

Aleppo, Syria

Reuters

23/29

Mexico City, Mexico

AP

24/29

Port-of-Spain, Trinidad and Tobago

Reuters

25/29

Jerusalem, Israel

EPA

26/29

Baghdad, Iraq

Rex

27/29

Gaza Strip, Palestinian Territories

Rex

28/29

Tokyo, Japan

Rex

29/29

Mexico City, Mexico

Getty
Mr Kiselyov also used the opportunity to praise his own president, Vladimir Putin, for being the only world leader to predict the result. 
He called on European voters to do similar in upcoming elections saying far-right National Front leader Marine Le Pen a good choice for the French presidency and said anti-immigration party Alternative For Germany should oust German Chancellor Angela Merkel. 
Although Mr Kiselyov was the most effusive in his praise for the election result, he was the only one to crow about the perceived triumph of Russian foreign policy.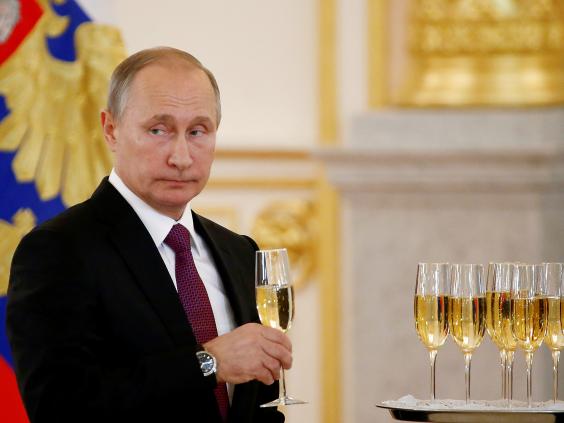 On Wednesday morning, state-owned news company RT featured several English-language articles on its homepage mocking the Western countries who previously criticised Mr Trump's campaign but were now sending congratulations to him.
It highlighted several U-turns including that of Italian Prime Minister Matteo Renzi who openly supported Ms Clinton, saying Mr Trump was a man "who invests a lot in a policy of fear". 
Following the result, he said: "I wish him well. The Italo-American friendship is solid". 
One piece said  "Leaders around the world who previously spoke out against Donald Trump now face the unenviable task of swallowing their pride and issuing grudging congratulations to the president-elect to ensure continuing good relations with the US".
Another article claimed that analysts were predicting he would "propose a new world agenda".
It quoted the leader of Russian upper house of parliament, Valentina Matviyenko said: "One may express the hope, a cautious hope so far, that the US foreign policy will change and that the person who is not burdened with the previous administration's decisions will be a realist, a pragmatist. 
"There is a hope that constructive cooperation between Russia and the US will be built".
Reuse content