Hundreds of millions of people across the world are celebrating Christmas Day.
While those in the UK, America and much of Europe celebrate the birth of Christ in December , there are roughly 100 to 200 million Orthodox Christians for whom January 7 is the traditional day of celebration. 
That's because they still observe the Julian Calendar, which is currently 13 days behind the Gregorian calendar used by most of the modern world. 
Christmas celebrations around the world
Christmas celebrations around the world
1/30 Virginia, USA

A man dressed as Santa Claus water skis alongside reindeer on the Potomac River in Alexandra, Virginia.

2/30 Berlin, Germany

A volunteer dressed in a Father Christmas (Santa Claus) outfit distributes gifts to children of asylum-seekers, as they arrive at the Schoenefeld train station near Berlin on December 24, 2015, before being dispatched to various refugee centres in or near the German capital.

3/30 Rio De Janeiro, Brazil

Leandro Wendell dos Santos, 14, wearing a Santa Claus costume, plays with kids as he walks along the alley of the Mare slums complex to distribute presents to children in Rio de Janeiro, Brazil. Leandro is part of a volunteer group of residents of Mare slums complex that distributes donated toys to children of the community.

4/30 Heilongjiang province, China

Winter swimmers (L) look on as a man (R) wearing a Santa Claus hat and beard jumps into a pool carved into thick ice covering the Songhua River, to celebrate the upcoming Christmas, in Harbin, Heilongjiang province, China,

5/30 Tokyo, Japan

In Japan Christmas is not a national holiday, however it has developed into a celebration of western culture with KFC being the most popular place to eat on December 25th. KFC's around Japan regularly see street-long lines and advanced bookings

6/30 Manila, Philippines

Filipinos crowd a store that is popular in selling hams as they do last-minute shopping on Christmas eve in Manila, Philippines. The predominantly Roman Catholic Philippines boasts of having the longest Christmas celebration that starts every last quarter of the year.

7/30 Budapest, Hungary

A man buys Christmas sweets at a supermarket on the outskirts of Budapest, Hungary. Hungarians could outspend last year's record on seasonal treats and Christmas fondants, giving some premium brands a hard time to keep up with strong demand.

8/30 Bethlehem, West Bank

Nigerian pilgrims gather at the Church of Nativity in Bethlehem, West Bank. Every year thousands of Christian pilgrims travel to the church that marks the site of the cave in which Jesus is said to have been born.

9/30 Bogota, Colombia

Christmas lights adorn the Usaquen park in Bogota, Colombia. The blow to Colombiaís holiday tradition is poignant given that El Nino is thought to be a reference to the baby Jesus, a name given to the climatic phenomenon long ago by South Americans who noted that it seemed to arrive around Christmas time.

10/30 Cairns, Australia

Bon Bon, a 12-month-old koala, celebrating with Christmas decorations at the Rainforestation Nature Park in Cairns, Australia,

11/30 Ayutthaya, Thailand

A young Thai student wearing a Santa hat poses for a photograph during a Christmas event at a school in the world heritage city of Ayutthaya, north of Bangkok, Thailand, 24 December 2015. The annual event is one of many held to celebrate the Christmas season in predominantly Buddhist Thailand.

12/30 Colombo, Sri Lanka

Sri Lankan pedestrians walk past a decorated Christmas tree in Colombo. The leader of Sri Lanka's Catholics urged priests on not to put up Christmas trees in their churches over the festive period, saying they had no religious significance. Sri Lanka is a mainly Buddhist country but around 1.2 million of its overall population of 21 million people are Catholics.

13/30 Seoul, South Korea

Models wearing Santa Claus costumes wait to attend a special event to promote business in coincide with Christmas at Shinsegae department store in Seoul, South Korea. A lot of South Korean companies take advantage of the Christmas season to promote their business amid weak sales and economic slowdown.

14/30 Ayutthaya, Thailand

A young Thai student wearing a Santa hat poses for a photograph during a Christmas event at a school in the world heritage city of Ayutthaya, north of Bangkok, Thailand, 24 December 2015. The annual event is one of many held to celebrate the Christmas season in predominantly Buddhist Thailand.

15/30 Oaxaca, Mexico

Carved radishes are displayed during the celebration of the "Night of the Radishes" at the Ocototlan de Morelos community in Oaxaca State, Mexico. The Night of the Radishes is an annual carving event two days before christmas that has its origins in the colonial period when radishes were introduced by the Spanish. Farmers began carving radishes into figures as a way to attract customers attention during the Christmas market.

16/30 Seoul, South Korea

A man dressed as Santa Claus walks on zebra crossing during a Christmas charity event in central Seoul, South Korea

17/30 Istanbul, Turkey

A Greek school's principal, Yani Demircioglu, surrounded by Greek Orthodox children, plays an accordion during a Christmas celebration at the main shopping and pedestrian street of Istiklal in central Istanbul

Reuters

18/30 Kuala Lumpur, Malaysia

A boy meets Father Christmas at a shopping mall in Kuala Lumpur

19/30 Manila, Philippines

A fire-breather performs during a street show on Christmas Eve in Baclaran, City of Paranaque

20/30 Saltillo, Mexico

Volunteers take part in a traditional Mexican Christmas celebration known as Posada Mexicana at a migrant shelter in Saltillo, Mexico. Posada Mexicana commemorates the journey of the Holy Family from Galilee to Bethlehem

21/30 Rio de Janeiro, Brazil

Italian artist Gaspare di Caro, right, lights up Christ the Redeemer in Rio

Reuters

22/30 Allahabad, India

A view of All Saints Cathedral, decorated ahead of Christmas celebrations, in Allahabad

23/30 Guatemala City, Guatemala

Firefighter Hector Chacon, centre, dressed as Father Christmas, delivers gifts to impoverished children after descending from a 150-metre bridge, behind

24/30 Karachi, Pakistan

A Father Christmas is painted onto a wall in a Christian neighbourhood in Karachi

25/30 Valletta, Malta

3D projections designed by students of the Malta College of Arts, Science and Technology are projected onto the facade of the Presidential Palace

26/30 Moscow, Russia

A snowman and Christmas tree erected in Red Square

EPA

27/30 Taipei, Taiwan

People crowd around for a view of a 3D Christmas tree erected in a shopping park

EPA

28/30 Tokyo, Japan

Cleaners dressed in a Father Christmas and a reindeer costume clean the windows of a shopping mall

EPA

29/30 Shanghai, China

A woman prays at the Shanghai International Chapel during a Christmas Eve Mass

Reuters

30/30

A Bangladeshi man dressed as Father Christmas entertains children during an event to mark Christmas Day in Dhaka
Countries including Russia, Belarus, Egypt, Ethiopia, Georgia, Kazakhstan, Macedonia, Moldova, Montenegro, Serbia, and Ukraine are marking the occasion with their own unique national traditions.  
In Russia, which has the largest Orthodox Christian community in the world, an estimated 350,000 people were in Moscow for Christmas liturgies, traditionally held on Christmas Eve, January 6.  
Families then return home for a 12-course supper, with a dish for each apostle.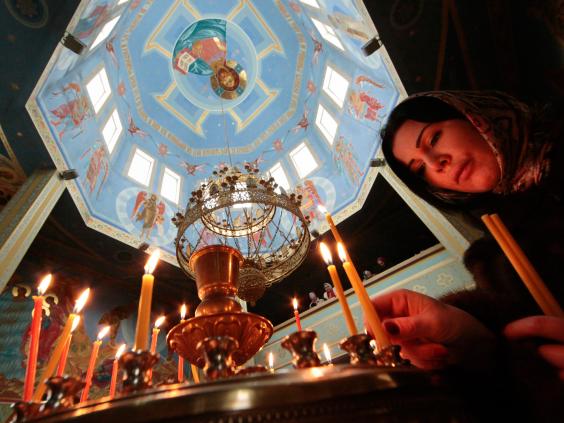 The following day they attend church and enjoy a Christmas feast – goose in sour cream sauce being a popular delicacy.
Ukraine holds similar celebrations, with the addition of dressing up and carol-singing door to door.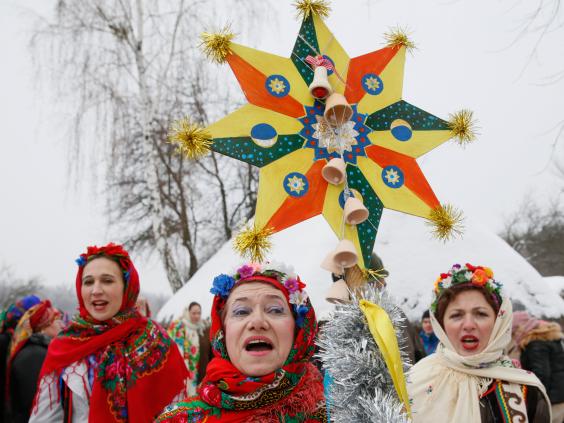 In Serbia, Christmas begins when an oak log or branch known as a badnjak is brought into the home and placed on the Christmas fire. 
Worshipers in Ethiopia are up for a 4am mass to celebrate 'Ganna', having fasted for the previous 43 days.
Many wear a thin white cloth garment known as a shamma. A traditional Christmas meal would be a 'wat'  - a hot, spicy meat stew, washed down with honey wine.
For Romanians, today is the last day of celebrations which began on December 20. Traditional meals include gammon and pork chops carved from a pig slaughtered on the first day of the festivities (St. Ignatius's Day).
A similar tradition to Serbia is prominent in Macedonia, where celebrations traditionally start a few days earlier on December 5, a day called 'Kolede'. 
On this day, children sing carols to their neighbours and are and given fruit, nuts and money in return.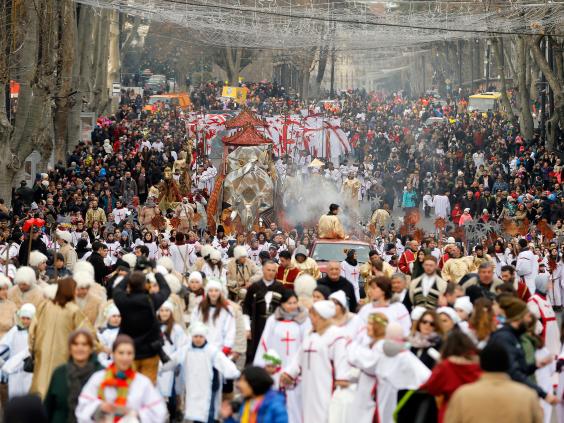 They eat a vegan meal on Christmas Eve, which is preceded by the lighting of the yule log, called a 'badnik'.  
As in Ethopia, Christians in Egypt celebrate the run up to Christmas by fasting for 43 days, subsisting on a mainly vegan diet. The fast is broken on Christmas Eve with a meal containing meat, eggs and butter. A popular dish is a lamb soup called Fata.
Georgians celebrate Christmas with a parade through the street, known as an Alilo. Curiously, although celebrations are held on January 7, they sing a popular Christmas  song which includes the words: "On 25th December, Christ was born in Bethlehem." 
Reuse content