Britain, Germany and other Western governments put fresh pressure on Russian President Vladimir Putin on Sunday night to take steps towards a peaceful solution to the crisis over Crimea by engaging in talks with the government of Ukraine and acquiescing to the creation of a high level "contact group" of diplomats to seek a way out for all sides.
Efforts to corral Moscow onto some sort of diplomatic path intensified amidst warnings that a failure to get all sides to the table soon could lead to a rapid deterioration of the worst East-West confrontation since the Cold War particularly if Moscow were to expand its incursion into parts of eastern Ukraine beyond the Crimean peninsula.
The White House said that Ukraine's Prime Minster Arseniy Yatsenyuk would be traveling to Washington on Wednesday for talks with President Barack Obama to seek ways to end the crisis which has seen soldiers apparently under Moscow's command seizing control of the Crimean peninsula and a decision by its parliament last week to seek unification with Russia and to hold a referendum potentially to endorse it next Sunday.
In pictures: Ukraine crisis
In pictures: Ukraine crisis
1/12 Ukraine crisis

People shout slogans during a pro Russian rally at a central square in Donetsk. Pro Russian activists continued to gather on Saturday in the eastern Ukrainian city of Donetsk, as Russia was reported to be reinforcing its military presence in Crimea.

2/12 Ukraine crisis

In the same pro Russian rally, demonstrators show their support. Ukraine's ambassador to Russia and a deputy Russian foreign minister held a "cordial" meeting on Saturday, Moscow said, without giving details of any discussion of Russian-occupied Crimea.

3/12 Ukraine crisis

Crimean ethnic tatars stand on the roadside as Russian troops move towards to Simferopol in the settlement of Kok-Asan, some 70 kilometres from Simferopol in Crimea.

4/12 Ukraine crisis

Russian troops stand on a roadside in the settlement of Opytnoye, some 70 kilometres from Simferopol.

5/12 Ukraine crisis

Armed members of the first unit of a pro-Russian armed force, dubbed the "military forces of the autonomous republic of Crimea" march before the swearing-in ceremony in Simferopol, Ukraine. Some 30 men armed with automatic weapons and another 20 or so unarmed, were sworn in at a park in front of an eternal flame to those killed in World War II.

6/12 Ukraine crisis

A group of Cossacks march past a statue of Soviet revolutionary leader Vladimir Lenin in Simferopol as tensions in the area continue to rise.

7/12 Ukraine crisis

An armed member of the first unit of a pro-Russian armed force, dubbed the "military forces of the autonomous republic of Crimea" signs the oath during the swearing-in ceremony in Simferopol,

8/12 Ukraine crisis

9/12 Ukraine crisis

Ukrainian soldiers load their armed personnel carriers (APCs) into boxcars in the western Ukrainian city of Lviv. Pro-Kremlin militia fired warning shots as unarmed foreign observers tried to enter Crimea on the 8th.

10/12 Ukraine crisis

An abandoned naval ship sunk by the Russian navy to block the entrance is seen in the Crimean port of Yevpatorya on March 8th.

11/12 Ukraine crisis

Ukrainian sailors stand guard on top of the Ukrainian navy ship at the Crimean port of Yevpatorya.

12/12 Ukraine crisis

Crimea's pro-Moscow leader Sergei Aksyonov speaks to the media in Simferopol on the 8th March. He has defended a decision to hold a referendum on whether the region should join Russia, saying on Saturday that "no one" could cancel the voting.
In telephone talks on Sunday with Mr Putin, the British and German leaders, David Cameron and Angela Merkel, jointly insisted that the proposed referendum would be a violation of international law and the Ukrainian constitution. A top US National Security official, Tony Blinken, said "if there is an annexation of Crimea, a referendum that moves Crimea from Ukraine to Russia, we won't recognize it, nor will most of the world."
However, there was scant sign of concession from Moscow. In a statement, the Kremlin said Mr Putin had underlined to Ms Merkel and Mr Cameron "that the steps taken by Crimea's legitimate authorities are based on international law and aimed at guaranteeing the legitimate interests of the peninsula's population" and he was responding to "the rampant behaviour of ultra-nationalists and radical forces in the capital and in many regions".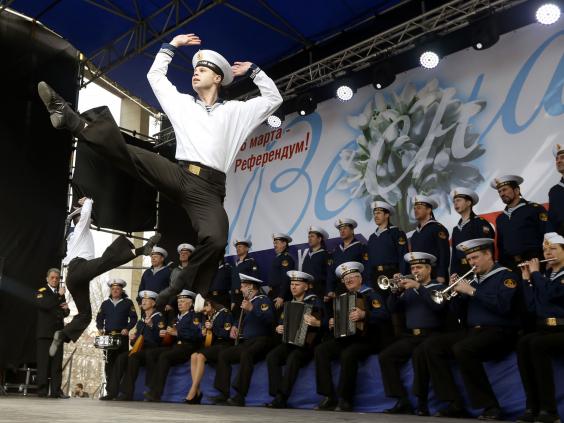 There was also defiance from Kiev where Mr Yatsenuk told a rally called to celebrate the 200th anniversary of the birth of a revered Ukrainian poet that the country wouldn't surrender a "single centimeter" of territory. "This is our land," he said. "Our fathers and grandfathers have spilled their blood for this land." However, Ukraine's acting Defence Minister, Ihor Tenyukh, said there were no plans to send the country's armed forces to Crimea.
Among those warning of the risk of a worsening of the crisis was former James Baker, the last US Secretary of State who served during the Cold War.  "I would say we are in a Cold War light already and we don't need to move further down that road because it could lead to some serious problems in the heart of Europe," he said.
John Kerry, the serving Secretary of State, told Russian Foreign Minister, Sergei Lavrov, at the weekend that Moscow risked closing the window for talks if it escalated the situation. "He made clear that continued military escalation and provocation in Crimea or elsewhere in Ukraine, along with steps to annex Crimea to Russia, would close any available space for diplomacy, and he urged utmost restraint," a US official said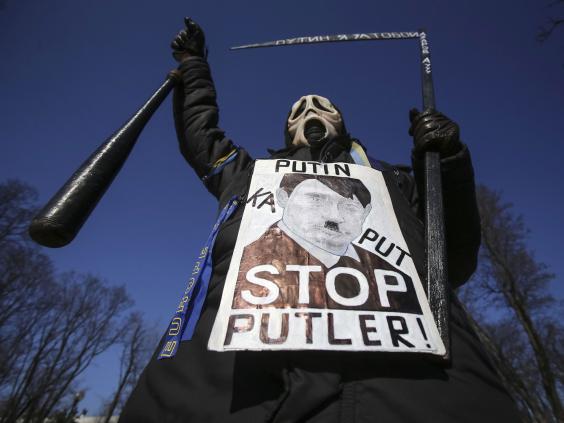 There were meanwhile calls by some in Congress to extend financial sanctions to wealthy Russians in the US and Europe.  "I think the first thing to hit home will be to freeze the assets of Russian oligarchs and top Ru