Despite world leaders committing themselves to defeating Isis, the way forward in Iraq and Syria appeared as unclear as ever amid the continuing stand-off between the US and Russia and fresh evidence that the self-declared "caliphate" is attracting ever greater numbers of foreign recruits.
"This is not an easy task," President Barack Obama said at a summit on fighting Isis on the edge of the UN General Assembly in New York, adding that military defeat will not be enough. "We have to prevent it from radicalising, recruiting and inspiring others to violence in the first place. And this means defeating their ideology. Ideologies are not defeated with guns, they're defeated by better ideas."
A new report from the US Congress said nearly 30,000 people have travelled from their countries, including 250 from the US, to join terror groups in the Middle East and Isis in particular, double the numbers of one year ago. "We are witnessing the largest global convergence of jihadists in history," the report warned. It was highly critical of the US government's inability to stem travel from the US to Isis recruiting camps.
Anguish over the expansion of Isis and its horrors, something Jordan's King Abdullah II described as the "greatest collective threat of our time", eclipsed all other business in New York. The world witnessed a head-on collision on Monday between Russia's Vladimir Putin and Mr Obama with the former calling "an enormous mistake" the drive by the West to remove Syrian President Bashar al-Assad from power. 
Mr Obama reiterated that beating Isis back will need "a new (Syrian) leader and an inclusive government that unites the Syrian people in the fight against terrorist groups". Mr Putin did not attend the Isis summit, which Mr Obama chaired, but Russia will hold its own meeting on countering extremism on Wednesday in its capacity as president of the UN Security Council for September.
The divides were obvious, despite both sides describing the meeting between Mr Obama and Mr Putin as "constructive". Pettiness was seemingly not off the agenda either. The US had invited Kosovo to attend the summit, although Kosovo is unable to join the UN. This is as long as veto-carrying Russia – a close ally of Serbia from which Kosovo seceded – opposes its membership. 
Russia's UN Ambassador Vitaly Churkin said the invitation to Kosovo showed "in this building, everything is under Barack Obama's command." 
The sides are "still miles apart" the Prime Minister, David Cameron, conceded in an interview with CBS TV, having spoken with the Iran's President Hassan Rouhani on Monday night. 
"In the end, however far apart we might be whether with the Iranians or the Russians, those two countries have an influence over what happens in Syria and we need to convince them that a new Syria with a different leader wouldn't necessarily be against their interests,"  he said.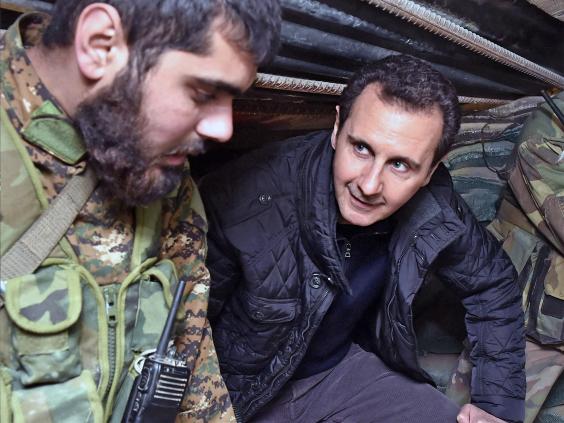 Mr Assad has faced international condemnation for attacks on his own citizens during Syria's civil war, particularly via the apparent use of barrel bombs. John Kerry said that is something that Russia and Iran could help with. 
"They are both in the position, in exchange perhaps for something that we might do, they might decide to keep Assad from dropping barrel bombs," he told MSNBC.
Mr Putin, who in recent weeks has alarmed Washington by sending fighter jets and other hardware to Syria, suggested that Russia might launch its own strikes against Isis in Syria if permitted by the UN. Mr Kerry said he plans to meet Russian Foreign Minister Sergei Lavrov on Wednesday to discuss the Syrian conflict. 
Elsewhere, two days after French President Francois Hollande announced the first French air strikes against Isis targets in Syria, his foreign minister, Laurent Fabius, boasted that his government was doing more than others in the effort. 
"We do it efficiently, which is different from others, who only talk about fighting" the militants, he said. "We have to fight them not only in the media, but also on the ground."
At Britain's request, four Britons known to have joined Isis in Syria were this week added to the list of individuals to be hit by UN sanctions. They are Omar Hussain from High Wycombe, Nasser Muthana from Cardiff, Aqsa Mahmood from Glasgow and Sally-Anne Jones from Chatham.
Reuse content