Athletes will be forced to swim and boat through human excrement and run the risk of falling ill with serious diseases at next year's Olympics in Rio, an investigation has found.
A probe of the Brazilian city's Olympic and Paralympic sites by the Associated Press (AP) revealed water containing dangerously high levels of viruses and bacteria from human sewage.  
The tests did not find one water venue safe for swimming or boating, according to global experts – results which have alarmed competitors training in Rio, who run the risk of falling ill with viruses known to cause respiratory and digestive illnesses before even being able to compete in the games.
Serious heart and brain diseases can even be caused by exposure to such viruses.
Brazilian officials, who vowed to spend $4 billion improving basic sanitation as part of its Olympic bid, have assured the water will be safe.
But the government has said it does not test for viruses.
Ten British Gold Medal Prospects At Rio 2016
Ten British Gold Medal Prospects At Rio 2016
1/10 CHARLOTTE DUJARDIN - Individual Dressage

The defending Olympic champion in the individual and team dressage disciplines, barely a competition seems to go by in which the 29-year-old Dujardin and her horse, Valegro, do not increase their standing with yet more world records. The pair are looking invincible. Prospects: 24 carat gold

Steve Parsons/PA Wire

2/10 GILES SCOTT - Sailing (Finn class)

Arguably one of the best sportsmen to not feature at an Olympics, Scott has suffered the misfortune of competing in the same event as Sir Ben Ainslie with only one spot available. But Ainslie's Olympic ambitions are now over. Prospects: Gold digger

Getty

3/10 WOMEN'S TEAM PURSUIT - Cycling

Once unbeatable, the trio of riders, which later became a quartet – Katie Archibald, Elinor Barker, Laura Trott and Joanna Rowsell, with Dani King vying to win her place back – went four years without a defeat before being outdone by Australia at the World Championships in Paris in February. Such is British Cycling's ability to peak at the right time, expect them to be back on top next year. Prospects: Going for gold

Getty

4/10 ALISTAIR BROWNLEE - Triathlon

Only fifth in the world, but the Olympic champion had a late start to the season. He has won two of his three races in 2015 and his rivalry with Spain's Javier Gomez will be captivating up to the Games. Prospects: Going for gold

Getty

5/10 SCOTT BRASH - Individual Show Jumping

The multi-million-pound horse Hello Sanctos has helped put Brash, a gold medallist at London 2012 in the team event, comfortably at the top of the world rankings. He is currently on course to become the first rider to win showjumping's Triple Crown. Prospects: Going for gold

Getty Images

6/10 MO FARAH - Athletics – 5,000m and 10,000m

Britain's leading athlete may have been in the headlines for the wrong reasons in past weeks but he remains the world's leading distance runner. A repeat of that golden double over the 5,000m and 10,000m will be a hard ask but the Londoner ought to come out on top in at least one. Prospects: Going for gold

Getty

7/10 WOMEN'S PAIR - Rowing

Helen Glover and Heather Stanning halted their successful partnership in 2012 so the latter could resume military duties. Now reunited, they are gradually getting back to being the sport's powerhouses. Prospects: 24 carat gold

AFP/Getty

8/10 MEN'S COXLESS FOUR - Rowing

British Rowing has turned its attention to the eight as the lead boat this year in order to qualify for the Olympic Games. However, the coxless four will once more be the No 1 boat for Team GB in Rio. The make-up of the boat is still unknown but Britain will be bidding to achieve a fifth straight win in the event at the Games.

Getty

9/10 KATARINA JOHNSON-THOMPSON - Heptahlon

The 22-year-old from Liverpool has just one Olympic appearance to her name dating back to London, where she finished 15th while Jessica Ennis shone. But she has become the world's leading female eventer and ought to be Olympic favourite. Prospects: Going for gold

Getty

10/10 JADE JONES - Taekwondo 57kg

Ranked second in the world behind Eva Calvo Gomez, the attack-minded Jones beat the Spaniard at last year's World Grand Prix and was recently crowned the first European Games champion. She believes the world title would have been hers if not for a scoring system error. Prospects: Gold digger

Getty
Leonardo Daemon, coordinator of water quality monitoring for the state's environmental agency, said officials are following Brazilian regulations on water quality, which are all based on bacteria levels.
Concerns were raised, ahead of the AP investigation, about the state of Rio's Guanabara Bay - where the sailing will take - which a number of competitiors have described as the dirtiest place they have ever trained or competed.
Training sailors have complained of having to dodge dead animals, discarded sofas, plastic bags and dead fish while in the bay.
Nick Thompson, hoping to sail for Team GB in the games, said: "Water quality is my biggest personal concern.  If you are sick during the games, it's game over."
Germany's sailing team have also branded it a "dump".
Luiz Fernando Pazao, Rio Governor, has admitted "there's not going to be time" to finish cleaning up the bay before the games start on 5 August next year.
Most sewage is not treated in Brazil and waste runs through open-air ditches to streams and rivers which feed the Olympic water sites.
More than 1,000 athletes will be sailing in the waters near Marina da Gloria in Guanabara Bay, swimming off Copacabana beach, and canoeing and rowing on the brackish waters of the Rodrigo de Freitas Lake.
Some of AP's tests measured up to 1.7 million times of disease-causing viruses at the level of what would be considered hazardous on a Southern California beach.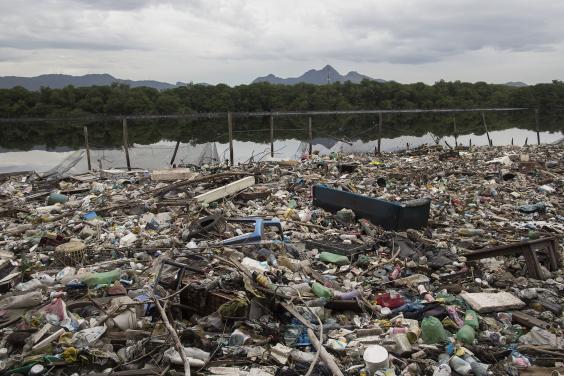 Kristina Mena, an American expert in risk assessment for waterborne viruses, said international athletes at all water venues would have a 99 per cent chance of infection if they consumed just three teaspoons of water.
"It's all the water from the toilets and the showers and whatever people put down their sinks, all mixed up, and it's going out into the beach waters," John Griffith, a marine biologist at the Southern California Coastal Water Research Project, who examined the AP tests, said.
"If I were going to be in the Olympics I would probably go early and get exposed and build up my immunity system to these viruses before I had to compete, because I don't see how they're going to solve this sewage problem."
Ivan Bulaja who coaches Austria's 49-er class sailing team says he has already seen his sailors fall ill during training, saying entering the waters was "a huge risk for the athletes".
"The Olympic medal is something that you live your life for and it can really happen that just a few days before the competition you get ill and you're not able to perform at all," he said.
As part of its Olympic bid, Brazil promised to build eight treatment facilities to filter out sewage and stop household waste flowing into the Guanabara Bay, but only one has been built.
"Brazilian authorities promised the moon in order to win their Olympic bid and as usual they're not making good on their promises," said Mario Moscatelli, a biologist who has spent 20 years lobbying for a clean-up of Rio's waterways.
But the Rio Olympic organising committee's website still states that a key legacy of the games will be the "rehabilitation and protection of the area's environment, particularly its bays and canals" in areas where water sports will take place.
Additional reporting by AP
Reuse content