Russia's military defence has taken to the skies for a massive - and unexpected - air force exercise.
In a sign of ongoing tensions over Ukraine, 250 aircraft and 12,000 service personnel are involved in the drill, according to its defence ministry.
The ministry described the four-day practice - ordered by President Vladimir Putin - as a "massive surprise inspection" to check combat readiness.
It comes as one of Putin's closest aides, Deputy Prime Minister Dmitry Rogozin, issued a chilling warning to the West.
He said: "It is our territory, it is our shelf, and we'll provide its security. And we will make money there.
"I have always joked about it, that they will not give us visas.
"They will put us on a sanctions list - but tanks do not need visas."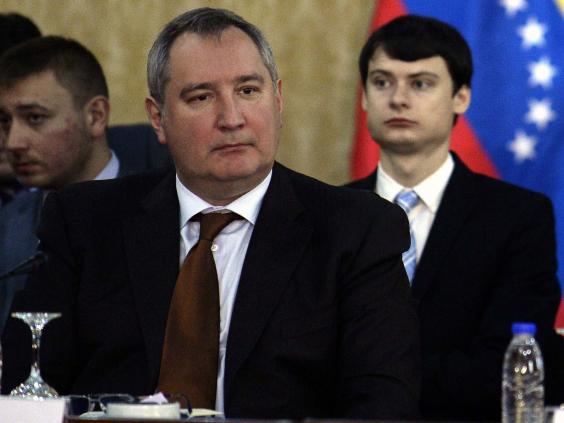 It is the third major military exercise staged by the Kremlin in the past three months.
The tests also began on the same day as Nato and some of its partners started an Arctic training exercise.
Russia's actions in Ukraine and incursions into Western airspace have led to rising tensions with the West.
Video from February 2015: Russian bombers intercepted in Cornwall
According to reports on the Russian agencies Interfax and Tass, the inspection of the aviation group and air defence forces in the central military district involves almost 700 weapons and pieces of military hardware.
During the exercise, Russia's long-range aircraft are due to carry out cruise missile strikes on practice targets in the Komi republic.
The outspoken politician is himself on EU and US blacklists as part of sanctions following Russia's annexation of Crimea last year, limiting his travel options.
Russia has been heavily criticised in recent months over increased air activity around the Nordic countries, including several airspace violations by military aircraft.
Tensions between Russia and the Western world
Tensions between Russia and the Western world
1/7 Russia

Vladimir Putin leaves G20 early after criticism from world leaders over Ukraine. David Cameron warned Vladimir Putin, face to face, that Russia's whole post-Cold War relationship with the West is at a "fork in the road" over Ukraine

Getty

2/7 Russia

A mysterious Russian object is being tracked by space agencies, giving new life to fears about the increase of space weapons. The satellite, dubbed Object 2014-28E, has grabbed the interest of official and amateur satellite-watchers because it is taking a confusing path and its purpose has not been identified

Getty Images

3/7 Russia

Russian warplanes are risking the security of civilian passengers as they play a dangerous game designed to test Western air defences, according to Nato's secretary general

FRA

4/7 Russia

Russia has warned Ukraine that a resumption of hostilities against pro-Russian separatists in the east would be catastrophic for Ukraine

Reuters

5/7 Russia

A Swedish minesweeper searches for suspected "foreign underwater activity" near Stockholm. A Russian sub in Swedish waters has slipped away into the sea...leaving recriminations in its wake

Reuters

6/7 Russia

Russian government agencies have been accused of editing a Wikipedia article to suggest the Ukrainian military was responsible for shooting down the Malaysia Airlines flight MH17, a Twitter account monitoring state IP addresses has claimed

AFP

7/7 Russia

Australia's prime minister Tony Abbott has promised he will "shirtfront" Vladimir Putin over the downing of Malaysia Airlines flight MH17, which killed 38 Australian citizens

AP
Nato's two-week training exercise in the region - which began on the same day as Russia's tests - will be based in the north of Norway, Sweden and Finland. It will involve 115 fighter planes and 3,600 troops from nine countries.
The Arctic Challenge Exercise will also involve troops and planes from the US, Britain, Germany, France and the Netherlands - all Nato members - as well as neutral Switzerland.
The exercise is the second of its kind, following similar tests in 2013.
The defence ministers of Norway, Sweden, Finland and Denmark, along with Iceland's foreign minister, signed a joint declaration in April in which they called Russia's military aggression "the biggest challenge to European security".
Reuse content