Thousands of motorcyclists gathered in Manila yesterday protesting proposed government legislation stopping riding pillion in an effort to curb crime, which campaigns say unfairly targets bikers.
Over a thousand cyclists rode through Quezon City, in central Manila, on Sunday after Mayor Joseph Estrada announced plans were being considered to prevent bikers riding pillion in the city.
Quezon City is considering requiring all motorbike users to wear a vest with their motorbike's plate number displayed, alongside considerations requiring all motorists to wear registered white helmets as well as a proposed 30-kph speed limit.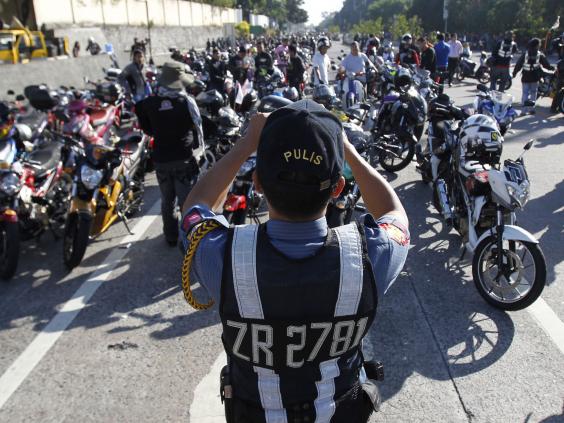 After a recent spate of crimes, usually thefts or assassinations committed by two people on a highly mobile motorbike, local governments are considering the measures in an effort to tackle the national problem.
But a Motorcycle Rights Organisation (MRO) spokesperson commented motorcycle riders should not be punished for crimes that happen around the city.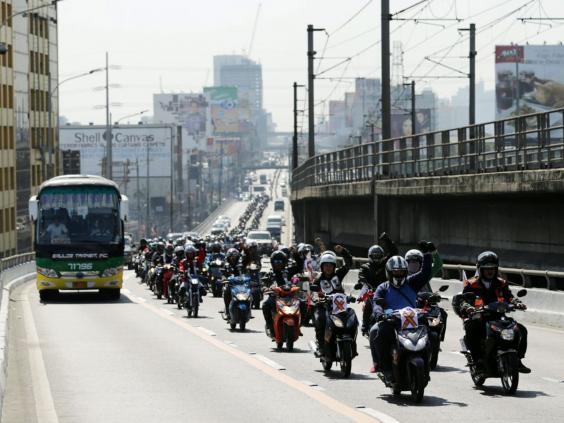 Wilson Fortaleza, a spokesperson for the political party Partido ng Manggagawa, stated that motorbikes were a common form of transport for many workers because they were more affordable.
He refuted the connection between motorbikes and crimes and said: "Not all riders are criminals, and thus do not deserve a ' person of interest' kind of profiling."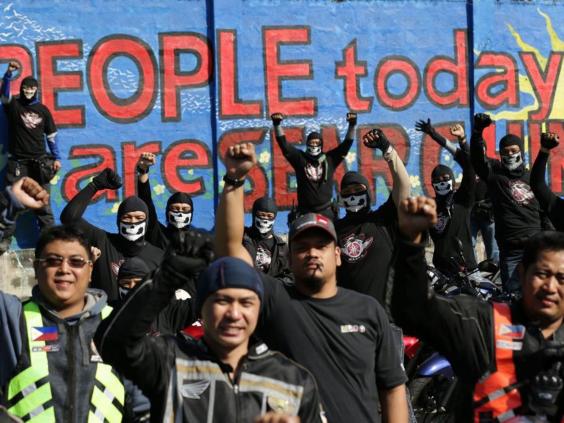 Despite still being only proposals, local media outlets report it is already common for police to flag down motorcycle riders to check their registration papers.
---
In pictures: Squatters clash with police over demolition of their homes in Quezon City
In pictures: Squatters clash with police over demolition of their homes in Quezon City
1/15 Philippines

Filipino resident Brix Mercado (C) is being shielded by his family to prevent the local police from arresting him during a demolition of shanties at Sitio San Roque in Quezon City

2/15 Philippines

A squatter carries his children as they leave their shanty house during the demolition of a squatter colony in Quezon City

3/15 Philippines

A squatter throws a bottle at riot police during clashes in Quezon City

4/15 Philippines

Police detain a squatter (C) caught throwing rocks at them during clashes in Quezon City

5/15 Philippines

Dozens were hurt during clashes triggered by the demolition of a squatter settlement for business developments in suburban Quezon City

6/15 Philippines

Throwing rocks, pillboxes, and even human waste, illegal settlers barricaded the demolition team in Baranggay Bagong Pag-asa. Four residents were arrested and twelve were reported injured in the clashes with riot police

7/15 Philippines

A woman cries at the entrance of her shanty house during the demolition of a squatter colony in Quezon City

8/15 Philippines

Plainclothes police arrest a resident who allegedly threw rocks at them as they enforce the demolition of their shanties at the sprawling community of informal settlers at suburban Quezon City

9/15 Philippines

A girl covers the mouth of a boy after being hit with tear gas during a demolition of shanties that turned violent

10/15 Philippines

A Filipino half naked woman tries to help her colleague from being arrested by plainclothes policemen during a demolition of shanties at Sitio San Roque in Quezon City

11/15 Philippines

A SWAT member of the Philippine National Police searches for residents who allegedly threw rocks at them as they enforce the demolition of their shanties at the sprawling community of informal settlers at suburban Quezon City

12/15 Philippines

Children cry as SWAT members of the Philippine National Police scour the area for resisting residents who threw rocks at them during protests

13/15 Philippines

Demolition crew start tearing down the shanties of informal settlers after riot police paved the way its demolition at the sprawling community at suburban Quezon City

14/15 Philippines

Riot police throws back rocks at residents as they enforce the demolition of their shanties at the sprawling community of informal settlers at suburban Quezon City

15/15 Philippines

Riot police chase squatters during clashes in Quezon City