Why should I care?
The world's poster boy of chess is taking on a Kremlin-backed Russian grandmaster on Wednesday in a match that is already stoking Cold War sentiment.
Norwegian world No 1 Magnus Carlsen will play Sergey Karjakin for the 2016 World Chess Championship crown. But this isn't just any old chess match. Pundits are drawing, and overhyping, parallels with the legendary 1972 "match of the century" between American Bobby Fischer and the Soviet Union's Boris Spassky.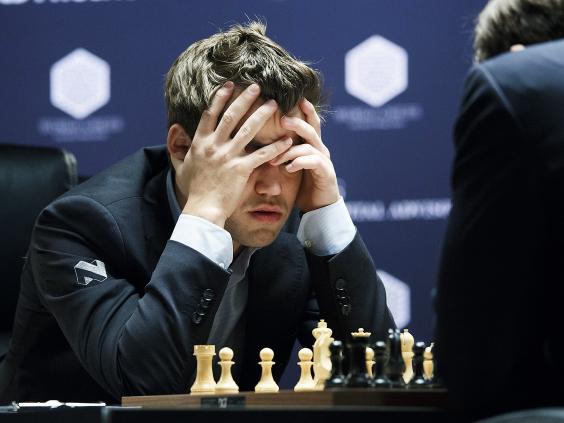 Fischer's defeat of Spassky, which made front pages around the world, was seen as a blow to the Soviet Union's intellectual superiority at the height of the Cold War. 
Now, the denouement of professional chess will be played in the US for the first time since the 1995 final.
Who are the players?
Karjakin, who was born in the Ukrainian Crimea, became a Russian citizen in 2009 and has shown support for President Vladimir Putin. The 26-year-old posted a photo on his Instagram account in 2014 showing him wearing a T-shirt with Mr Putin's face on it and a message reading: "We don't let our people down."
"I would describe him as a political opportunist," said British grandmaster Nigel Short, speaking to The Guardian. "Karjakin is totally backed by Putin and the Russian machine. The state wants him to do well."
Carlsen, who became a grandmaster at 13, won his first world championship in 2013, and has the highest chess rating in history.
The 25-year-old G-Star Raw model, selected as one of Cosmopolitan's sexiest men of 2013, was asked to be in JJ Abrams' 2013 Star Trek Into Darkness movie, but could not get a US work permit in time for shooting.
OK, how does this work then?
The two of them have played 11 matches over three weeks: nine draws and one victory each.
Short tweeted: "If the 12th game … were a restaurant dish, I would send it back to the chef."
Wednesday's finale match is a tie-breaker. They play four games. In each of these games, Carlsen and Karjakin are limited to just 25 minutes of playing time each. The previous matches allowed three hours of play.
If the pair are drawing on two games each, there will be a final tie-breaker "armageddon game", where the competitor playing with whites has five minutes, and black has four. Whoever starts with black will only have to draw to win the title.
The winner takes home $637,000 (£510,000) and the loser leaves with $425,900.
When, where and how do I watch it?
The final takes place at the Fulton Market Building at the Seaport District in New York City beside Brooklyn Bridge and within walking distance of Trump Tower at 2pm local time, 7pm UK time.
Tickets are selling for between $100 and $500. Spectators can enjoy a "luxurious purpose build auditorium" and "discuss the action with fellow chess fans". Otherwise, you can pay $7 to watch the live stream on worldchess.com.
More than six million people have checked in on the World Chess Championship website to watch the live video.
What is Chess?
Chess is an ancient strategy boardgame traced back to India, at least 1,500 in the 200s and 300s AD.
Players use 16 pieces, made up of eight pawns, two knights, two bishops, two rooks, one queen and one king, to attempt to defeat the opposition's same collection of pieces. The winner is the player who fatally traps the opposition's king: a checkmate.
Reuse content