Lord Mayor's Day in London is the traditional date for planting tulips, which are best put in the ground later than other spring bulbs, such as daffodils and crocus. This year, Lord Mayor's Day falls on 8 November, so you've a week to sort out your tulips, if you've not already done it.
Actually, of course, gardening doesn't work like that and tulips are forgiving creatures. You can plant up till Christmas, if the soil allows, and still expect a decent display. Early November is the perfect time, but Christopher Lloyd, who planted tulips by the hundred in his Great Dixter garden, sometimes confessed to planting forgotten bags of tulips as late as February, and still enjoying their flowers in April.
But that treatment will exhaust their resources, so if possible get the job done early this month. Most of the tulips I buy I use in pots. After flowering (if they have been as good as I was hoping) I plant them out in the borders, where they either come up again or they don't. The point is, I'm not depending on them to perform. In pots, they have to, because that's why we use pots – to bring extra spotlights of action into the garden.
The only bulbs I plant direct into the ground are the purple varieties that go into the two long strips of border in front of the house. They face south and tulips do quite well there, but each year I top up with a fresh batch, hoping to spread the flowering over as long a period as possible. Over the years, I've used 'Ronaldo' and 'Negrita', 'Black Hero' and 'Burgundy', all of them excellent.
With us, last season, 'Ronaldo' came into flower on 10 April, making a fine flower, about 50cm tall, of deep crimson purple, not as dark as 'Black Hero', but a good colour. It makes a squareish bloom, with huge rounded petals, each of which has a complex, greyish bloom on the outside. Inside, at the base of the flower, there's an indeterminate blotch of a deep purplish-blue.
'Black Hero' is a double tulip, bred from the famous dark variety 'Queen of Night'. It comes usefully later than 'Ronaldo', and at 60cm, taller too. For a double tulip, that height could be a problem, but 'Black Hero' has exceptionally strong stems. So many petals are packed into the heads, they make stubby round balls, but the green overlay on the outside petals gives a wonderful effect.
With these dark, saturated purples, I plant paler tones, such as fabulous 'Bleu Aimable', a Single Late tulip of a beautiful, dull mauve-purple, the kind of soft, gentle colour that never comes out properly in photographs. Pictures of the flower are always too pink or too blue. It's an old tulip, and got an award of merit from the Dutch bulb growers as far back as 1916. But it is as tall (sometimes taller) than 'Black Hero' and later, flowering generally with us in early May.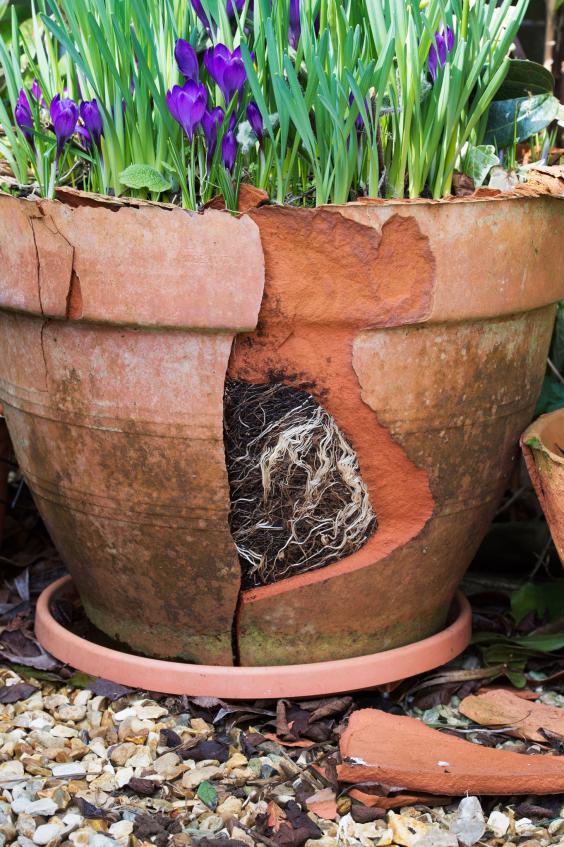 A new favourite is a strange, sandy-coloured tulip called 'Cairo' which I first saw some years ago on a trial field. It reintroduced into the palette the toffee-coloured tones of an old English Florist's tulip called 'Absalon' which I thought I would never see again. It grows to about 45cm and I used it in the two pots by the front door mixed with the elegant lily-flowered tulip 'Purple Dream'. Orange mixed with purple sounds harsh, but tulips can bring off this combination triumphantly.
If you are planting in pots, there are a few general points to bear in mind. First, size. The bigger the container, the happier your tulips will be. One big container massed with two or three kinds of tulip will make an unforgettable splash. Three smaller pots scattered in different places can be overlooked. A big container provides a more stable planting environment than a small one. The potting compost does not heat up or cool down so fast. Watering and feeding are easier (provided there are plenty of crocks at the bottom to allow excess water to drain away).
In exposed situations, use a loam-based compost rather than a multipurpose or coir-based one. Loam-based composts (John Innes No 3) are heavy. If you have to lug bags upstairs to a balcony or terrace, this is a disadvantage, but a loam compost (mix it two parts loam to one part 6mm grit) adds weight to > pots and makes them more stable. A heavy container will be lighter to move about if you use polystyrene chips at the bottom for drainage, instead of crocks. In a light, plastic container you need weight at the bottom or it will become top-heavy when your tulips are in full flower.
Find time to
Check pots. Terracotta pots that have been standing in saucers of water all summer should now have those saucers removed. Pots are less likely to crack open in icy weather if the compost is well-drained. Raise pots on small, even blocks of wood to ease drainage problems. Style queens may wish to use the terracotta lion's paws specially made for the job.
Repair jobs. Carry out any repair work necessary on fences, trellis or boundary walls now while climbers and wall shrubs are dormant and can easily be taken down from their supports. Clematis, especially, will start to bud up again quite early in the New Year and you will inevitably damage them if you try to start staining or painting supporting trellis next spring. We use the Garden Shades wood stains made by Cuprinol: 'Birch' is an easy, soft grey, 'Holly' a usefully recessive dark green, excellent for trellis.
Think about
Planting raspberries. If you can find some way to protect them from birds, raspberries are an excellent crop to grow, as they are always expensive to buy. Bundles of canes are usually available during autumn and you should plant them 45cm/18in apart in rows 2m/6ft apart. Prune them hard after planting. It's difficult, reducing to nothing plants for which you've just paid good money, but you will benefit in the long term, as the plants can concentrate on getting properly established. If you have room, plant both a summer fruiting kind such as 'Malling Jewel' and an autumn fruiting variety such as 'Autumn Bliss'. Both are available at £13.95 for six canes from Pomona. Order online at pomonafruits.co.uk or call 01255 440410. Canes are supplied from late November onwards.

To see
The Waterscape Garden (above), with its emphasis on collecting and recycling rain water, won a gold medal for the young designer, Hugo Bugg, at this year's Chelsea Flower Show. The garden is now being rebuilt in the Vauxhall Pleasure Gardens, and will become part of a green walkway connecting the new US embassy at Nine Elms with the rest of London's South Bank. The garden shows how, with the use of the right materials and a careful attention to gradients, rainfall can be captured and absorbed, rather than disappearing fast down the nearest drain.
Reuse content