Homes with a chequered past can lose 20 per cent of their value, according to a new survey.
More than three quarters of the 135 estate agents polled said that former crime scenes or rumours the property is haunted can devalue a house by up to a fifth and can be twice as difficult to sell compared to a 'normal' property.
"A house with a chequered past can come with a stigma attached to it, particularly to those who live locally and have preconceptions of the property," said Robin King, Director at Move with Us who conducted the research. "With this sort of property, buyers often put in a lower offer or will use the history as a bargaining tool."
Battersea roof gardens: latest plans
New images - pictured top and below- have been released showing the planned rooftop gardens at Battersea Power Station designed by Field Operations, famous for New York's 'High Line'.
The 335m long gardens will be one of the largest roof gardens in London and will have a 360 degree view of the London skyline. They will be illuminated at night and feature walkways, a lawned area, a deck for fitness sessions, parties and film screenings, Woodland Walk planted with birch trees, and eating area.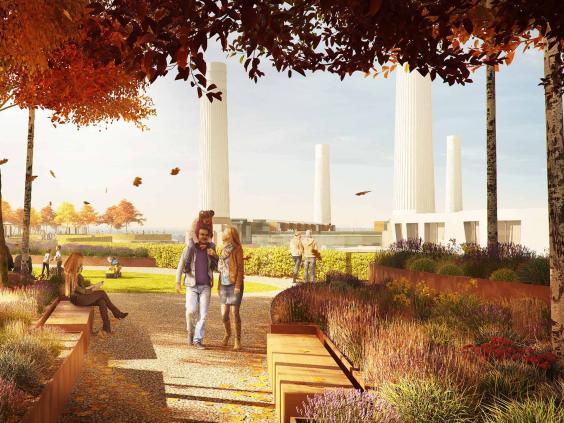 Remortgage lending up
Latest figures from Legal Marketing Services indicated that monthly remortgage lending rose 19 per cent in September to £4.4bn, the largest value of remortgage lending since September last year.
LMS estimates that the number of remortgage loans leapt by 16 per cent to 27,734 in September, but down 14 per cent from the same time a year ago. The average remortgage loan is now £158,661.
London Prime prices
Prime London house prices will stay stable until 2015, according to estate agent Marsh & Parsons.
Peter Rollings, CEO of Marsh & Parsons, said although Prime London property had risen more than 11 per cent in the last year, between July and September it had only gone up 0.5 per cent.
"We've reached a plateau in the course of house price growth, and the path paved out for London property prices for the rest of 2014 looks to be levelling off," he said. "This isn't terminal, but just a necessary pitstop in the long-term growth and sustainability of the market."
The estate agency's latest report shows house prices in 'Outer Prime' London are rising fastest, at 14.5 per cent year-on-year compared to nine per cent in 'Prime Central' areas - Brook Green is up 22 per cent, Clapham 20 per cent and Balham 17 per cent.
Overall, one and two bedroom properties in 'Outer Prime' London have seen the biggest growth, up in value by nearly a fifth in the past 12 months; the average one-bedroom property in this area has leapt in price by £86,880 in the last year
Flatsharing policies
Half of just over 2,000 people polled by flatsharing social network Weroom said a dedicated renting minister should be appointed to help manage situations for the growing number of renters or flatsharers across the UK.
"The list of tenant and landlord disputes is endless and as more people are forced into renting due to the rise in the average house price, it is more important than ever before for the UK's politicians to communicate the changes they'll make to the existing policies surrounding flatsharing and renting," said Thomas Villeneuve, CEO and Founder of Weroom.
The study also showed that 20 per cent of people believe that landlords should include television license fees, water, gas and electricity bills within the overall rent and half that their landlords should be required to fix any issues reported to them in under seven days.
In terms of flatsharing, the main benefit (cited by a third of those surveyed) was the opportunity to afford to live in a location of their choice.
Reuse content