Swish blue chairs sit below naked light-bulbs, swinging from a fashionably-distressed industrial ceiling. On polished concrete walls, inspirational talks are advertised: "Create and fulfil your vision." Through glass "swipe" doors, you are whisked to a private cinema, a plush karaoke room and a theatre with fierce, jagged seating. And above soar 33 storeys of student accommodation. For this isn't a bleeding-edge arts centre or boutique hotel, but Nido, a student residence in Spitalfields, London. The students seem happy, hanging out on the glass and steel balcony. "The views are great," says one from Malaysia. "It's so easy. The location's great and everything's here."
It has been claimed, by its architects Tigg Coll, that Nido is "more akin to a members' club than a standard accommodation block". Certainly, it carries the slightly eerie sense of a brochure come to life. But it's also a very glossy vision of future student life. As students, some readers will probably have lived in shared houses where wood chip partitions led to mouldering sinks and unspeakable toilets, and where the interior decor extended to greasy bongs and bottles with crayon lines drawn on by untrusting housemates. Well, we can only gasp and stretch our eyes at Nido: a latte-powered boutique hotel-cum-airport lounge with the weightless air of global transit.
"You've got to forget The Young Ones," says Simon Thompson, director of company Accommodation for Students (all discussions about student housing reference the 1982 sitcom). "I've seen an extraordinary transition since those days." Since Thompson began his company 17 years ago, his firm has tapped into a huge and growing market. The Higher Education Statistics Agency recently showed that the number of students living in private accommodation blocks, known in the industry as Purpose Built Student Accommodation (PBSA), has leapt from 46,000 in 2007 to 102,000 now – many, like Nido Spitalfields, in places that come on like cool hotels on steroids.
Indeed, says Stewart Moore of CRM Students – the UK's leading independent student accommodation manager, with more than 19,000 student beds in 23 cities – these PBSAs are hotels, of sorts: "They're hospitality led and branded like hotels. In fact, we're hiring our managers from the hospitality sector." So, very different to old student digs, then? "Only journalists use the word 'digs' any more," he says. "This is a whole new world." And while PBSAs are an international phenomenon, the British are leading the way. At regenerated King's Cross, a segment of once unlovely York Way now hosts a group of student housing blocks, with the blank, computer-generated look that comes with newly-unwrapped towers.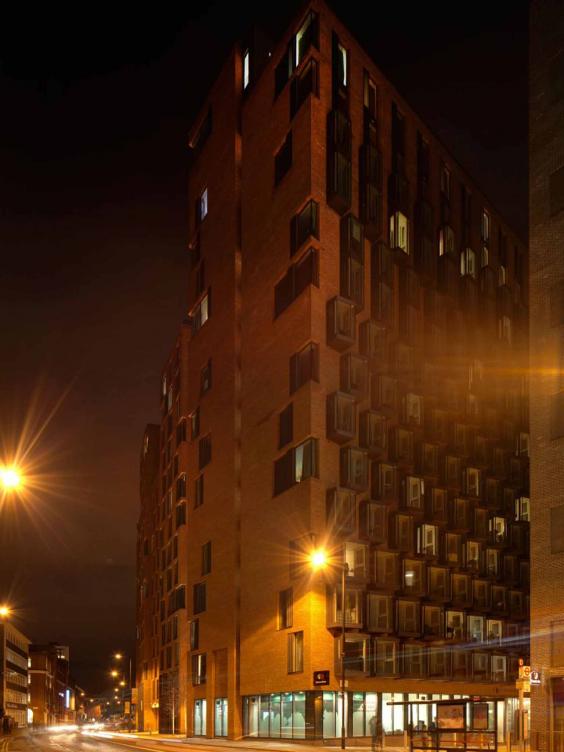 James Pullan, Knight Frank's head of student property, says the PBSA phenomenon took off about 15 years ago. "Unite [which has about 20 per cent of the market] was an early player." Now there are about 460 developments on CRM's site from 50-odd providers. Many have natty names and brands: Unilife, Liberty, Prodigy Living... and the sector is growing at a rate of knots. The developer Knight Knox has completed eight PBSAs since late 2012, mostly in Leeds, Liverpool and Manchester. There's a fierce market of buyouts and leasing
It's easy to see the reason for these blocks. Student numbers have almost doubled since the 1990s, and the current cohort includes around 1.5 million from overseas, who – as well as many older postgrads – want peace, quiet and user-friendliness over parties, booze and squat-chic pinned-up curtains. "[PBSAs] are mostly for international students and postgraduates, whose numbers have risen ten-fold in the last 10 to 15 years," says Pullan. "They prefer 'plug and play' accommodation. They don't want hassle, like sorting out their own council tax. Nor do their parents, who are paying."
Ultra-diligent and ambitious, they don't want to live surrounded by Animal House-style frat parties. And while the British fresher typically decompresses for a year in an uncool hall of residence then hits a cool shared house, this crowd stay in PBSAs for the duration. (It should be said that Brits prefer the earlier model: partly for financial reasons, and also because they enjoy the mayhem as part of the process of moving away from home.)
"PBSAs are mainly let to first year and overseas students," says Simon Tyrell of Oxford student-letting agency Finders Keepers. "UK-based second and third year students still prefer shared houses." But you can see the point of the international set. With wi-fi, services, security, the chance to study together – and avoid the sheer aggravation of poring over Gumtree for mouldy places – a PBSA is a problem-solver.
Meanwhile, the houses in multiple-occupation (HMO) that sustained The Young Ones – the once-neglected Victorian inner-city stock – are starting to empty out. "The majority of students still live in HMOs," says Pullan. "But there's a shortage of them and of university-provided halls of residence, particularly in small towns like Durham and Exeter." Now the old student ghettoes – Redland in Bristol, Jesmond in Newcastle, Cowley in Oxford, Fairfields in Nottingham, Headingley in Leeds – are coming back on the family market. This is partly driven by Article 4, a 2010 change in law whereby landlords are expected to gain planning permission to let family houses to between three and six non-related sharers. So, unsurprisingly, student housing is 20 per cent down in Headingley, while two miles away, Unite's 2009-vintage Sky Plaza is thriving. And universities don't want the aggravation of building new halls of residence any more. "It costs £30m-£40m to build 600 bed spaces," says Moore. "If the UK wants to attract students we simply have to support these buildings."
PBSAs can be pricey. As Thompson says, they range from £100 a week in Aberdeen to almost £400 a week in Nido. "Annual rents are roughly £4,500 in a shared house, £5,000 in a traditional halls and £7,000 private," he says. "They're a premium product." They're also increasingly high-concept, competing with each other for wow factor. The Hatbox in Luton is hat-themed (Luton being a hat-making town) with lights that look like top hats. "Students take Instagram pictures of them," says Moore. The Printworks in Exeter is a startling, industrial-style edifice with gym and lounges within; and Bristol's Kings Square Studios have Union Flag painted walls, zumba classes and low-slung lounge areas. Some PBSAs can even be test-beds for new residential housing – this is one of the claims behind Ab Rogers' Scape, housing 600 students in London's East End, inspired by the space-saving aspects of train carriages – while nearby iQ Shoreditch has been dressed by TV designer Naomi Cleaver, with antique furniture mingling with contemporary design.
"Students want more now," says Moore. "They want studios with kitchens. They want what we call 'community beyond the bedroom'." So the Urbanest in King's Cross (a high PBSA zone) has table football and pool. The Stay Club has a café and 24-hour reception. Yes, PBSAs are non-smoking, but this doesn't unduly faze residents. "These new students don't party as much," says Moore, citing a survey claiming that 55 per cent of students don't drink. "When you go to university and come away with £27,000 debt, are you going to risk your career by boozing? You need a 2.1 to get any kind of a good job now."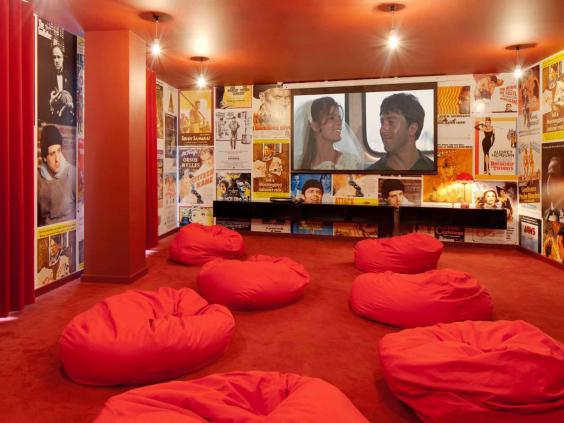 Yet in some quarters there's a sense of disquiet brewing. Martin Hyde of The Student World, which places international students in courses across Europe, thinks that they have the potential to "infantilise" students. "From my perspective, negotiating your own place is part of leaving home and social development," he says. "Dealing with landlords and local communities is a good thing. I was a student in Exeter and it was: 'Going to college isn't just about getting a result: it's about growing up, reaching adulthood, finding your place in the world'."
Moreover, PBSAs could lead to a kind of student apartheid, he reckons: "They have the potential of becoming like gated communities for richer students, creating a two-gear system." Hyde says that the Eastern European students he helps to place in UK universities never use them. "They're just too expensive, and they find places for half the price." PBSAs tend to attract more risk-averse students from the Far East, who want predictability.
Jack Rivlin, the founder and editor of student newspaper The Tab also has concerns about PBSAs. "Grimy university halls were a great leveller, where students from different classes mixed together on the same terms," he says. "Now higher fees are separating students according to their wealth." Yes, cash-strapped universities need the fees from wealthy foreign students. "But the result is that students from different backgrounds live apart, and one of the key spiritual benefits of university – meeting and living with people who aren't like you – is being lost."
As for British students: canvassing a small group from Goldsmith's College in south-east London reveals that the idea of PBSA life doesn't appeal, even if they can afford it. "It's expensive and restrictive," says Sophie, 23. "I wouldn't want to be surrounded by the same people I sat with in lectures." "The smoking thing would have done it for me," adds Tom. "Anyway, even if I could afford one, I'd much prefer to be living under my own steam."
But PBSAs aren't going away, and there's another vital dimension to them: they're a huge lure to investment funds. If you're lucky enough to have a pension, it's mostly likely helping a PBSA spring up. Private-sector investment has soared from £350m in 2009 to £2.1bn last year and PBSAs are considered safe and future-proof: Scottish Widows, Henderson, Royal Mail, Greystar, BlackRock, Goldstar and Goldman Sachs are among the firms with stakes in them. "It's a multi-million pound investment platform," says Pullan, "and we're not yet at the maturity of the market."
To some, PBSAs bring a difficult whiff of the ongoing marketisation of education; to others they raise issues about planning. Student housing does not need to offer community "planning gain", so there's potentially more profit per square foot, and by hoovering up brownfield sites, they can get in the way of sorely-needed settled housing plots.
True, local authorities often pass them through planning to aid regeneration in marginal areas, but those arguments are becoming harder to make in the housing crisis. In Cambridge, for example, more than 2,300 homes are occupied solely by students. The same number is on the social housing register.
Yes, but PBSAs bring money into the country and anyway, they're not a money-making certainty, counters Thompson. "There have been private student developments in Bradford and Birmingham that have been built in the wrong locations and have under-performed," he says. "There's enormous risk."
Also, there's a tendency for investors to want top universities rather than less lustrous colleges, as well as a backlash from private landlords – and the perennial British problem of finding land to build on. "It's getting very competitive," says Thompson, who can see Tesco versus Sainsbury-type rivalries developing between big PBSA providers. "Yields are falling." On top of that, as a combination of high UK tuition fees and mooted immigration controls lead to a slowdown of incoming students (Indian students have shown a marked drop) there's also a concern that PBSAs will become an investment bubble. Finally, could they create ghettoes? In Liverpool there's a Chinese-only block. With the PBSA boom, a danger is that the eternal divide between "town and gown" – a bone of contention with deep medieval roots – may just gain a new, global dimension. 
Reuse content