There can be much that is hurtful, hateful, distasteful and sometimes just outright wrong about what sport has become today. In broad terms it has never been bigger, richer or more prominent in our lives. But what is its place in society?
Can football's authorities really do something to improve the rights of workers in Qatar? Have the huge sums of money sloshing around football and the omnipresence of gambling, both legal and illegal, around the game tarnished it forever? Can racism ever be expunged? Will the wrongs of Hillsborough ever be put right in some small way? Can the Olympic movement really sway the Russian government's damning of homosexuality? How can Britain's major golf tournament be played at a club that refuses to allow women to be members? Was the London Olympics actually an awful lot of our money spent in this straitened time on the best sporting party ever only for us to turn over to another TV channel – BT Sport probably – to watch some other people exercising?
And then a young man from Camberwell dressed all in black leaped off the Wembley turf and won the FA Cup for little Wigan Athletic against Manchester City, the world's richest club. A couple of months later the sun shone on Wimbledon, where a man from Dunblane dressed all in white seized the prize for which Britain has waited three quarters of a century. That was sport in black and white.
The shades of grey may bring ever-increasing swirls of off-field uncertainty, but on pitches, roads, courts (that's sporting courts) and courses, 2013 provided a sporting year worthy of following 2012, Britain's annus mirabilis of sporting success.
It was a sequel splashed with colour: Chris Froome's yellow jersey – you wait nearly a century for a British winner of the Tour de France and then two come along at once – the British Lions' red after their first series win since 1997; the golds collected by the remarkable Mo Farah and the indefatigable Christine Ohuruogu at the world athletics championships; the rainbow jerseys won by Becky James, Laura Trott and a rising generation of British female cyclists at their world championships; and the rose tint provided by the first Englishman to win a golf major for 17 years, as Justin Rose took the US Open at Merion. It was Andy Murray who had to mind the biggest gap, the one that stretched from so long ago that his predecessor is now better known as a clothing brand than as a sportsman. In 1936, Fred Perry won Wimbledon, which is thought of, in these isles at least, as tennis's blue-riband event.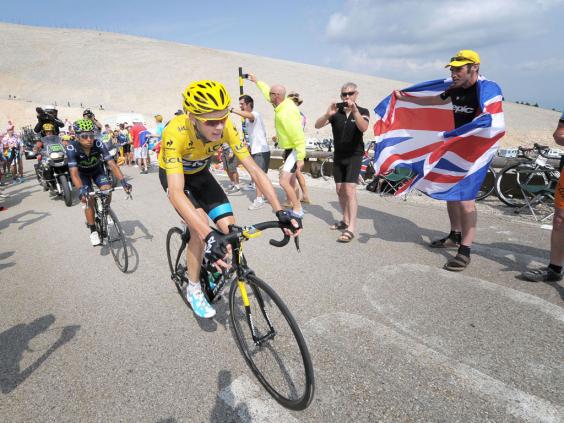 Murray came close at SW19 last year, reaching the final only to be precisely skewered by Roger Federer's immaculate greatness. Murray is playing tennis in an era when the standard in the men's game has never been higher. That may be a misfortune in one way but it does mean that when he does win, he deserves every plaudit – and accompanying end-of-year bauble or honour – that comes his way.
When Novak Djokovic, the dominant player of the previous year, netted a back-hand, Murray's straight-sets victory was complete. He immediately turned to the players' box, fists pumping furiously. After embracing his beaten opponent, he sank to his knees and pressed his forehead against the grass. Up in the players' box, his mother Judy buried her face in her neighbour's embrace. Murray has not always been liked, let alone loved, by many south of the border, with too many unable to recognise that a truculent teenager has  matured into a self-contained, self-motivated athlete of the highest class.
But was Murray's triumph Britain's? Or Scotland's? The complicated and frequently misunderstood relationship between Scotland and England will be one of the non-sporting themes of 2014. This year Britain bowed down to two sporting Scots, belatedly welcoming one, Murray, and finally saying farewell to another.
Football, for all the happy triumphs of the Olympics and numerous successes across the rest of the sporting world – and this is the golden era of British sport – remains the obsession of the masses. Nobody watches football, either in the flesh or via TV, like we do. The second-tier Championship is the fourth best supported league in the whole of Europe.
One figure has stood at the heart of the hurly-burly of the English game for so long, a Glaswegian who seemed to revel in the adversarial nature of it all, lapping up the sound and fury and creating much of it too. So long Sir Alex.
Murray had not been born when Ferguson came south, already a hugely successful manager having taken Aberdeen to a place far above their station. Despite the fact that he will turn 72 this New Year's Eve, it still came as a surprise that he chose to call it a day. It is only a matter of months since he took his retirement, but now when he appears before us – lobbing score-settling grenades via his autobiography – he looks closer to his age than he ever did standing on the touchline at Old Trafford pointing angrily at his watch.
United will miss him. The manner in which the team has stuttered at times this season suggests Ferguson was able to extract from a squad that does not boast the depth available to Manchester City or Chelsea an ability to play consistently at their absolute peak.
He was without parallel in Britain as a football manager. Winning the Premier League title, his 13th, was the only way he was ever going to go out.
Roy Hodgson is of the same generation, although staying in the job he occupies  is, if history is anything to go by, likely  to age him briskly. History also says that when he leaves, it will not be to widespread applause.
That doesn't happen to England managers. It is the great contradiction of the English game –and one with which the Football Association's new chairman Greg Dyke and his already oft-criticised commission are wrestling – that while the club game is more vibrant than ever, expectation surrounding the national side has sunk to an extent that even the irrational optimism that used to stride off confidently alongside the men in white shirts now stays home.
England were underwhelming in qualifying for next summer's World Cup finals in Brazil. Victories against Montenegro and Poland got them there along with a couple of performances that offered brief encouragement. Subsequent friendly defeats  by Chile and Germany offered a sobering reminder of England's current international standing.
England's cricketers of yesteryear will know the feeling. Perhaps the greatest compliment to pay their successors is that the summer's victory over Australia, a heady third successive Ashes win, felt rather matter-of-fact. Which just goes to show how spoilt we have become – it was not so long ago that winning sport's smallest trophy meant a victory parade through the capital.
The subsequent reversal of fortune Down Under demonstrates how quickly it can all change, and acts as a reminder, perhaps, to savour what we have got because, for the all the off-field baggage, on it we have never had it so good.
THINK YOU KNOW THE SPORTING YEAR? TAKE OUR QUIZ OF 2013 TO PROVE YOUR KNOWLEDGE
Reuse content